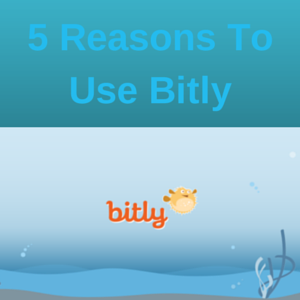 There are countless tools on the web, but Bitly is one of the best tools on the web for marketers. Chances are you may have heard of Bitly before or have seen the Bitly links in action. Someone you know may even use Bitly. It is a tool that many marketers cannot go without, and if you do not have a Bitly account, here are five reasons why you need to have one.
Bitly shortens your links. The main reason why most people run out of characters on Twitter is because they tweet the entire link. Bitly is the solution to this problem.
Bitly takes a link of any length and turn it into a 20-23 characters link that gives you more characters to play around with on Twitter.
Bitly saves those links. Unlike similar services such as TinyUrl, Bitly saves the links so you can constantly reuse them. If you recycle your social media posts, this is a great feature that will allow you to quickly relocate older articles.
Bitly gives you superior statistics on those links. This third reason is what truly separates Bitly from the other link shortening services. Bitly gives you incredible statistics on your links. You get to see how many clicks you got hour by hour for a whole day as well as how many clicks you got within the hour. You can check how many clicks your Bitly links got for as far as 30 days.
You can categorize your links so they are easier to find. Bitly allows you to put multiple links into one bundle. Creating numerous bundles will allow to categorize your links so you can find them with ease. You can categorize blog posts that you recycle in one bundle and the articles that you want to read in another bundle. There are countless ways to categorize your content on Bitly.
You get to see how popular a link is. Some links are very popular which indicates you should be tweeting them out. Chances are if you tweet a popular link, more followers than usual will click on the link and retweet it to everyone.
Those are the five reasons why you should be using Bitly. What are your thoughts on the list? For the Bitly users out there, do you have any additional reasons why you use Bitly? Please share your thoughts below.