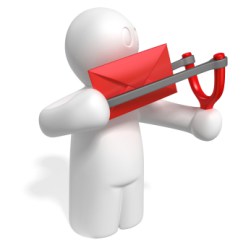 There are many emailing tips out there. There are ways to write an attractive email that grabs a client's attention, get someone to say yes, or build a strong connection. However, the life of sending out emails, and life in general, will result in some people disagreeing with what you think. It may have taken a few days to craft the email and even longer to build the conversation. After spending all of that time and effort building the connection, there is nothing worse at that moment than for the person to cut the connection and say they do not like what you provide.
I encountered something like that. I will not go into any of the details, but I will say that it took me several weeks to build the connection. In the end, I got a "no." I did not anticipate getting rejected since I spent a lot of time building the connection, and I was not sending this person any sales pitches (I almost never send those). The first thing I thought of when I read the email was to respond by telling that person that he/she made a terrible mistake and I do not want this connection to continue in any way, shape, or form. I was not happy that the person cut the connection. In fact, I was angry.
Luckily, I was not able to send that email because it was time for me to eat. When I know my food is ready, I put my business on pause, rush to the kitchen, and eat. By rushing to the kitchen, I was unable to send the email. After eating and working on a full stomach, I looked back at the email I was able to send. I realized that I acted rashly when I was writing the email. Although it took me some time to build that connection, that person would have not been happy to read the email I was thinking of sending. It would have tainted that person's image of me which is something I certainly did not want to do.
In the end, I revised the email (as in deleting everything I wrote before and writing an entirely new email) and sent it to the person with a more positive outlook on the situation. The person who reads the email feels grateful that I was not angry (luckily I came to my senses), and I feel grateful that I did not have to go as low as to send out the original email. It's a win-win for everyone.
Believe it or not, you are going to face rejection in the form of emails. There are going to be people who email you and say no to what you proposed. The easier decision is to respond as soon as you get the email and saying how horrible that person is. The harder (but better) decision is to take a break from the keyboard, ignore the email, and then respond to that email with a new mindset.
It is better to wait a little bit to respond to an email than it is to respond to your email while you are angry.