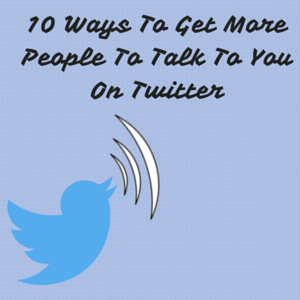 Twitter Power Users are able to get their followers to engage with their tweets. By getting their followers to engage with their tweets, these Power Users are able to get more traffic, sales, subscribers, and credibility in their niche. While increasing engagement by having more conversations with people on Twitter is important, a majority of Twitter users do not know how to have conversations with their followers. These people struggle to find people to talk to instead of becoming someone who people would want to talk to. There is a way to get people to talk to you on Twitter without searching these people out. Here are 10 ways to do that:
Have a bio that gives people a reason to talk to you. Your bio is a big factor that decides whether people will want to talk to you or not. Your bio allows everyone to know who you are, what you do, and what your hobbies are.
Tweet good stuff. People will comment on those tweets, and when they do that, you will be able to swoop in and respond to that tweet. The better your tweets are, the more people will respond.
Ask questions. Asking questions encourages engagement because the only way to answer the question is by sending you a tweet. Then, you can go to your notifications and read all of the answers you got and respond to each one.
Tweet at the moment. When you ask questions, it is important to tweet in the moment. Tweeting in the moment allows you to respond faster which allows conversations with your followers to become longer.
Schedule tweets. Scheduling tweets will allow all of your followers to see your content throughout the day. Your followers need to be able to see your content whether they log on at 7 am or 7 pm. You can use HootSuite Pro to schedule numerous tweets in 6 clicks.
Tweet pictures. Tweets with pictures get 10% more engagement than tweets without pictures. If you include the right picture in your tweets, you can get 10 times as many retweets for the tweet with the picture that you would have gotten from a tweet without the picture.
Talk to the people who mention you. When people mention you on Twitter, you have a chance to build on the conversation. If someone shares your blog post, you  can simply reply by thanking that person for sharing your blog post. Then, a conversation develops. Having a lot of conversations will show your followers that you talk to a lot of people, and if they start a conversation with you, then those followers know that you will be very likely to continue the conversation.
Establish yourself as an expert. When you establish yourself as an expert, people will ask you questions about your niche. If you are able to give people the answers they are looking for, these people will be more likely to buy your products and tell others about you.
Host a giveaway every quarter. If you announce a $50 Amazon Gift Card giveaway, all of your followers will suddenly become your best friends. Although most of these people are in it for the giveaway, some of the connections you build because of the giveaway will become very strong. The larger your audience on Twitter, the more powerful the giveaway will be.
Grow a targeted following. A targeted following is the most important factor that decides how many people talk to you on Twitter. If your audience has no interest in what you are tweeting about, then the work you put in does not matter to them. If your audience is a targeted audience, then all of the work you do matters to your audience.
By getting more people to talk to you on Twitter, you will have more conversations. Starting a conversation is the starting point towards a strong connection. What are your thoughts on this list? Do you have any additional tips on getting people to talk to you on Twitter? Please share your thoughts and advice below.