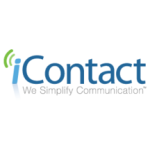 I recently made the switch from WordPress' free emailing service to iContact. I knew that if I wanted to reach tens of thousands of subscribers, something needed to change. Now I am wondering why I did not make the switch before. iContact has proven to be a more powerful option than WordPress' free emailing service, and here's why:
iContact allows me to customize the emails I send out. Instead of being linked to an RSS Feed and sending out an email each time I come out with a new blog post, iContact gives me the power to craft my own emails and include links to blog posts. This allows me to send one email every week containing links to all of the blog posts that I published that week.
iContact allows you to create autoresponders. Autoresponders are a series of emails that everyone gets when they subscribe to your blog. You can space out how long it takes for people to receive an email from the autoresponder and use it to promote one of your products in a way that people would want to buy it. WordPress' emailing service did not provide this option.
iContact allows me to interact with my subscribers in a better way. No matter which service you use, there is a certain degree of automation. iContact allows you to schedule messages while WordPress would just send a message each time you came out with a new blog post. However, iContact allows me to craft my own message which allows me to interact with my subscribers in a better way. I get to ask subscribers how their day was, what they want to do differently, and anything else I want to ask them all in one email.
I have more control over the confirmation and welcome messages. Not only do I get to write anything I want for these two messages, but I also get to change the way these messages look. I decide what the backgrounds for these messages look like, the size of the font, and everything else as well.
More plugin capabilities. There are more WordPress plugin capabilities associated with iContact that WordPress' free emailing service. Switching over to iContact has allowed me to do numerous things with my blog such as include a subscription form at the end of every blog post. This was previously not possible with WordPress' emailing service, and now this form at the bottom at every blog post has been responsible for a majority of my subscribers.
There are some costs associated with making it as a full-time blogger. Buying access to an emailing service is one of the best investments any blogger can make to grow their email list. What are your thoughts on iContact and using paid email service options to get access to more features? Please share your thoughts below.