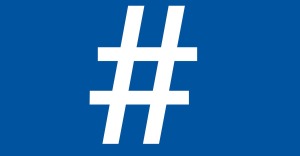 One of the most common questions I get from Twitter newbies is "what is a hashtag?" They appear in numerous tweets, and if you are on the Twitter home page seeing the updates from other people rushing in, it won't take a while for you to see a tweet with a hashtag.
Hashtags in essence are the SEO for Twitter. All you have to do is put "#" in front of a word, and then you have your own hashtag. When using hashtags, be sure to only use them for keywords. Since my blog is about social media, I tend to use #SocialMedia instead of Social Media in my tweets.
There is a distinct difference between the two because #SocialMedia is a clickable link that leads people to all of the tweets with "#SocialMedia" in it. That means if someone else tweeted #SocialMedia, and someone clicks on that link, the person who clicked on the link will be able to see all of the tweets on Twitter with "#SocialMedia," including yours. People who enter "#SocialMedia" in Twitter's search engine also have a chance of seeing your tweets. Of course, this is also true with searching "Social Media," but every tweet that contain "#SocialMedia" contains that clickable link which can potentially bring more exposure to your tweet.
It is important to use hashtags often and for certain keywords. It is better to dominate one popular keyword such as #SocialMedia than it is to have a mediocre presence from 10 hashtags. In addition, you should make it a point to only have 1-2 hashtags in each tweet. Hashtags have been proven to increase the number of retweets a tweet gets, but the more hashtags are in a tweet, the harder it is to read.
That's everything you need to know about hashtags. What are your thoughts about hashtags? Do you use hashtags often? Too often? Please share your thoughts about hashtags below.