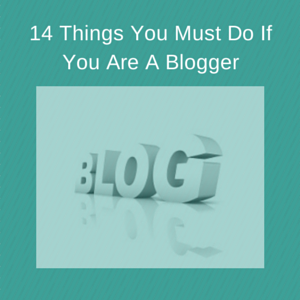 Blogging can potentially be a great experience that brings in a big profit and allows you to grow a list of email subscribers who you can easily communicate with. The only way to tap into this wonderful experience and turn your content into a stream of revenue is if you know what to do as a blogger.
The journey from new blogger to full-time income takes a few years, and there is no such thing as an overnight success. There are certain things that all bloggers must do in order to make it big. Here are 14 of them.
#1: Utilize social media
Growing a social media audience will allow your blog posts to reach out to more people. It is important to choose one social network and excel at it instead of being bad with multiple social networks. Once you master a social network, continue mastering it while trying to master another social network.
As your audience grows, you will be able to use social proof to entice people to stick around and come back. Many people like to go back to the things that are popular. If you have thousands of followers on one social network, you will be able to use this large number to indicate that you are popular. Indicating that you are popular will result in your visitors coming back for more.
#2: Use an email service like iContact to communicate with subscribers
The money is not just in the list. The money is also in your ability to properly communicate with that list. A service like iContact makes it dramatically easier for bloggers to interact with their subscribers.
Interacting with subscribers is not the same thing as having them subscribed to an RSS feed. By interacting with your subscribers, you are able to develop a deeper connection. You can ask your subscribers how their day was before you mention your article. You can even promote your products to the people on your list so you get more sales. They say the money is in the list for a reason.
#3: Grow your email list
The larger your email list is, the more people there are who get your emails. No matter which emailing service you use, you need to get people on that list to communicate with in the first place.
There are plenty of ways to grow your email list. One of the most successful methods of growing an email list is something that many marketers refer to as the bribe. A bribe is a free prize that you give to the people who subscribe to your blog. PDFs, reports, videos, and digital books are popular bribes that result in more subscribers.
Another great way to get more subscribers is by including a call-to-action at the end of all of your blog posts. I use the Optin Forms plugin by Codeleon to easily create an effective call-to-action at the bottom of my blog posts. The plugin gives you different themes to choose from and allows you to change the colors of the optin form.
#4: Create Your Own Products 
Creating your own products definitely beats relying on affiliate marketing. I know that there are some people who are bringing in a full-time income from affiliate marketing, but the problem with affiliate marketing is that you are dependent on another seller. You never want your income strategy to be dependent on affiliate marketing because it is an inconsistent income stream. Even for the best affiliate marketers, there are some really good months, but there are also really bad months.
Creating products is the better approach towards building a strong income with a blog. By creating products, you are able to bring in a more reliable income. Creating your own products makes you closer to bringing in consistent revenue.
#5: Enhance your blog's SEO
Although having good SEO is not a do or die stage for a blog, enhancing your blog's SEO has the potential to bring in thousands of extra visitors.
Getting people to share your blog posts more often and growing your social media audience are two great ways to boost your SEO. In order to get more people to share your blog posts, you want to either go in depth in a certain area or be concise. My suggestion would be to have a mix of both of those kinds of blog posts so you are able to identify which ones get shared more often.
Growing your social media presence and constantly posting links to your blog posts will also boost the amount of shares your blog posts get (as long as the blog posts are valuable to your targeted audience). Writing longer blog posts also helps out in the process. Here are some more tips to help you enhance your blog's SEO.
#6: Know your market
#5 kind of led into knowing your market. In order to be a successful blogger, it is important to know who the desired visitor is. This desired visitor needs to be interested in your blog's topic before visiting your blog in the first place. Just ask yourself what kind of content you write and what kind of person would be interested in reading it.
For this blog, I pursue people who are interested in growing their online presence and making a strong income on the web. If you have been reading this blog post word for word, I know you are definitely a part of my target market.
#7: Write 1 blog post every day
Writing 1 blog post every day is essential to getting more traffic. Writing 1 blog post every day gives you more of your blog content to share on your social networks so you are able to generate more traffic.
In addition, the math supports writing numerous blog posts. If you have 1,000 blog posts, then each of those articles only needs to get 1 daily visitor for your blog to get 1,000 daily visitors. If your blog only has 10 blog posts, then each of those articles needs to get 100 daily visitors in order to bring in 1,000 daily visitors.
Although that is a big difference, the quality of your content is a decisive factor towards how much traffic it will get. Just because something is up on the web does not mean people will automatically come.
Writing 1 blog post every day is especially valuable to newbie bloggers. The best way to get better at writing is by writing every day. The best sports athletes in the game got to where they currently are by practicing every day. Writing is no exception, and you need to be a skilled writer to attract a large following of people who easily remember you.
#8: Write down blog post ideas
One of the biggest challenges that stops bloggers dead in their tracks is writer's block. This occurs when a blogger runs out of ideas. Writing new content becomes more challenging when a blogger encounters writer's block.
This is why it is important to write down your blog post ideas so you do not forget them. I write down blog post ideas the moment I think of them, and in most cases, I end up writing a blog post around that idea many days later. Relying on your memory to remember all of the blog post ideas is a mistake.
#9: Look at articles on the web about blogging
Most of my knowledge of blogging has come by looking at other people's articles and experimenting with my own methods along the way. Since you are reading this article about blogging, then you are already ahead of the game!
Problogger and Copyblogger are two great blogs (other than this one) that provide tons of valuable information about blogging.
#10: Read books
The only reason I do not sound like your English teacher right now is because I'm not asking you to read Shakespeare books. Reading books as a blogger serves two major benefits:
You get to see other writers' styles.
You get to learn new things (core values, things about your niche, etc).
Since you are a blogger who should be writing about what you enjoy, you should also be choosing books that you enjoy to read. The reason why people see reading as dull is because few people get to pick and choose the books they read. As a result, you should only choose to read the books that you would enjoy reading.
If you want to read Shakespeare, then go for it. If you want to read something more modern, that's also great. Your decision should be based on what you want to read.
#11: Improve your blog's speed
Google loves a fast blog which means if your blog is slow, it's not getting as much search engine traffic. There are plenty of simple ways to make your blog load faster. One method is to show an excerpt for your blog posts. If a headline catches a visitor's attention, that visitor can click on the headline to read the entire blog post.
Another great way to make your blog load faster is to upload smaller images. In many cases, it is the images that make a blog take forever to load. I use Smush.it which is a free plugin that has the power to shrink images.
#12: Create a compelling About Me Page
For thousands of years, human beings have loved a good story, and this love for a story has not outgrown us. We enjoy hearing good stories, and we remember them very well. Stories like Old Yeller and Unbroken are unforgettable to the people who read them.
Although you do not have to turn your bio into a novel, you should be sure to create a compelling About Me Page. Tell your visitors your story, where you came from, how you struggled, how to progressed, and where you are today. Make your story one of those stories that people feel obligated to pay attention to.
#13: Show off your popular articles
All of the people who visit your blog for the first time will have no idea what to expect. The advantage you have with a new visitor is if that new visitor likes the headline and content of the first blog post they see, that visitor will become curious.
For those curious new visitors, showing off your popular articles on your blog's sidebar is a great way to get more blog traffic while reducing your blog's bounce rate. If your popular articles are really good, some people will browse through all of them. At that point, you can rest assured that this person will become a returning visitor.
Showing off your popular articles is also great for the visitors that you currently have. Showing this option will give your visitors more content to browse through, and popular articles are usually associated as the best articles on the entire blog.
That means all of your visitors, new or returning, will go into those blog posts thinking that they are extremely valuable. All you have to do at that point is live up to the promise and provide your readers with valuable content.
#14: Make your blog easy to navigate through
One of the most under looked ways to get more blog traffic and decrease bounce rate is by making your blog easy to navigate. You must make it easy for people to…
Access the pages on your blog
Access your content
See your popular posts
See your subscription form
By making it easy for people to navigate through your blog, they will stick around longer. The longer someone sticks around, the more likely that person is to become a customer.
In Conclusion
Blogging is an exciting journey that has allowed many people to work at home while making a full-time income. If you do not have a blog, I highly recommend starting one, and if you already have a blog, then you're in good shape. Always enjoy every moment of the journey and strive to raise the bar higher for yourself.
And don't forget to continue practice writing. The more you practice at it, the better you get.