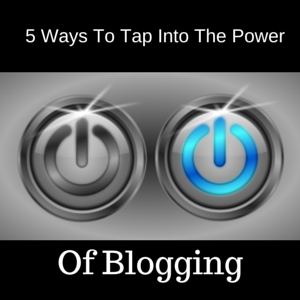 Blogging has quickly emerged as a powerful resource to make a strong income. Before 2000, if you heard the word blog, you would have no idea what someone was talking about. WordPress did not even exist, and Blogger was launched in the middle of 1999. Less than 10 years after the first few blogs were created, many people reference blogs in their conversations. Blogging has become one of the core components towards online marketers' successes. Millions of blogs are on the web, and more people want to get a piece of the action.
Now, blogs continue to grow in number. More bloggers want a reliable way to make a full-time income from the comfort of their own homes. The phrase home sweet home now has a new meaning. However, it does not take long for new bloggers to realize that the road to success and a full-time income is a long one. Many bloggers give up before they see their traffic increase at an exponential rate.
You don't have to be one of those bloggers who gives up in the middle of the journey. You can stick with it and make a full-time income. In fact, with the right knowledge, you can reach the goal of making a full-time income from your blog quicker than most of the successful bloggers out there. In order to tap into the power of blogging, get the traffic you want, and get that full-time income, follow these five tips:
#1: Be Committed    
Blogging is not an activity that you can halfheartedly do. In order to become a successful blogger, you must be committed. You must write valuable blog posts that empower your readers, and you must write those blog posts at a consistent rate. I know there are some bloggers who succeed by writing at an inconsistent rate, but new bloggers who are not making as much revenue need to nail the consistency to boost commitment.
As you get more comfortable as a writer, I encourage you to write more blog posts and even increase the length of the blog posts that you write. The best way to become a better writer is by writing often. The amount of commitment you have for blogging determines how much you accomplish in that area of your life.
#2: Grow A Large Social Media Audience 
One of the most powerful methods of boosting blog traffic comes from growing a large social media audience and promoting your blog posts to that audience. My Twitter audience brings in a large portion of this blog's visitors.
Not only does Twitter directly help attract more visitors, but Twitter also indirectly attracts more visitors. I know that there are several readers who visit my blog daily. Many of those people probably heard about my blog post in a tweet. Not only do people remember me from Twitter, but one of the big factors in SEO is the social media traffic that your blog gets. If my blog's Twitter traffic doubled, then my SEO traffic would eventually double in a few days as well.
A large social media audience provides more direct traffic, better SEO, and more connections. I interact with dozens of my followers every day, and some of those interactions have turned into strong connections.
[tweetthis url="http://bit.ly/13NEK6j"]A large social media audience provides more direct traffic, better SEO, and more connections.[/tweetthis]
#3: Optimize Your Blog For Getting More Subscribers
A blogger's revenue is defined by how many people are on the email list. The most successful bloggers on the web also happen to have tens of thousands of blog subscribers. That's not a coincidence. The difference between a blog subscriber and any other visitor is that blog subscribers can be notified about your latest blog posts through email.
I notify my blog subscribers at least once every week about my latest blog post. I don't overwhelm them with multiple emails every day, and you don't have to send daily emails in order to see life changing traffic. All you need to do is grow your email list larger and larger so each of the emails you send out attract larger audiences.
One great way to get more subscribers is by creating and effectively promoting a landing page that collects email addresses. Pop-ups are also great at getting more blog subscribers.
#4: Create Your Own Products
Most successful bloggers make a large percent of their revenue from the products they create and sell to customers. Creating products such as books and training courses that a service automatically gives to customers will allow you to make money in your sleep. How cool would it be to wake up to an extra $200? I think that would be a great way to start off the day.
Many bloggers decide to offer consultation sessions and have ads on their blogs. I like the idea of offering consultation sessions. However, consultation sessions can only bring in so much revenue since you can only be available for your clients for so many hours. I believe consultation sessions can be used to achieve a five figure income, but a six figure income would be a bit too much (unless you charge a very high price for your consultation sessions or have numerous hours available for sessions).
Having advertisements on a blog, however, is simply not worth it. Most bloggers only make a few dollars from their ads every month. Advertisements can only provide a somewhat stable income for the big players who get hundreds of thousands of visitors every month. Even then, it would be more effective to promote your product instead of an ad. 99% of the time, a product sale leads to more revenue than an ad click. Offering multiple products also brings forth the possibility of returning customers. Who would possibly want to be a returning ad-clicker?
[tweetthis url="http://bit.ly/13NEK6j"]Most successful bloggers make a large percent of their revenue from the products they create and sell to customers. [/tweetthis]
#5: Optimize Your Blog For SEO
SEO is a powerful outlet for getting more blog traffic. Over three billion people search something on Google every day which means understanding the language of SEO will allow you to boost your blog traffic. I wrote an article about boosting SEO, but don't stop there.
The Huffington Post wrote an article about SEO. So did Forbes. SEO is one of the most important ways to boost your blog traffic. Growing a social media audience is a reliable way to boost your SEO, and there are other methods as well.
To many new bloggers, intermediate, and even some advanced bloggers, SEO sounds very confusing. I remember when I first started blogging and struggled to understand what I needed to do to boost my blog's SEO. Although writing valuable content is one factor towards good SEO, there are other factors that go deeper than providing valuable content. When I started on my journey, I found SEOmoz extremely helpful. Be sure to take a look at their free guide.
In Conclusion
Blogging is a fun activity that has the potential to bring in a large income. There are some bloggers on the web who make over $1 million from their blogs. Regardless of what you think of the idea right now, you could be the next blogger who makes a six figure income, a seven figure income, and beyond.
Blogging, and the web in general, has given our culture the unique ability for anyone to succeed despite the amount of revenue they currently make, age, and any other limiting factors. The web and blogging is filled with limitless possibilities. Utilizing these possibilities to spread your message will allow you to not only make a strong income, but also live the ideal life. I'd rather make no money at all than be at a despised $500,000/yr job that tears my family apart.
You have the option to love what you write blog posts about because you can write about anything that interests you. Frank Kerns, a very successful online marketer, started with dog training videos. His training courses he provided for dog trainers and owners got a large number of sales. No matter what you have a passion for, it can be turned into a blog and products.
Which of these tips did you like the most? Do you have any other tip you would like to add? Please share your thoughts and advice below.