Affiliate marketing alone presents its set of advantages and disadvantages. The main advantage is you get to earn a commission by promoting products that other people created. Sometimes, the product creators will even provide you with copy that converts well.
The main disadvantage is that relying too much on affiliate marketing makes you dependent on other people creating products and putting you in their affiliate networks.
For most of my journey, I haven't given affiliate marketing much thought. I started off as an Amazon Associate, and after making only 4-6% commissions for each product sale, I thought affiliate marketing would never be my cup of hot chocolate (I not a big fan of tea).
Then, I randomly got an email from an affiliate marketer. This affiliate marketer gave me the opportunity to promote a copywriting training course and get 40% of the commission for every sale. Since the course was high-end, each sale I got as an affiliate brought in over $100.
I was immediately sold and decided to give affiliate marketing a second try. Now, it's slowly growing into a big part of my business. As I started to explore affiliate marketing, I paid more attention to other affiliate marketing promotions. I noticed that many of the people who created successful products of their own were also affiliate marketers. How does that happen?
The answer is that it can take a very long time to create a product. For some people, it takes them several months just to create a new product that is bound to perform well. Mega training courses for instance can have over 10 hours of video with complementary PDFs, quizzes, and other interactive activities.
And for many successful products, the time spent towards marketing usually exceeds the time spent towards creating the actual product. Call it crazy, but that's how it works.
While these people are creating their products, how do they make money? The revenue they generate usually comes from their old products but also through affiliate marketing.
I am an ambitious teenager but schedule conflicts are part of the norm. I anticipate on creating one mini training course on Udemy every week. Sometimes I accomplish that goal. At other times, the amount of homework and upcoming tests prevents me from reaching that goal.
When it comes to product creation, time will not always be on your side. As an affiliate marketer, time is always on your side. Even if you don't get many sales from one of your affiliate offers, you can always search out the next affiliate offer.
Now that you know why affiliate marketing can potentially bring in revenue, I am going to share with you how you can generate revenue from a powerful affiliate marketing strategy.
#1: Get The Right Affiliate Offers
Most people are introduced to affiliate marketing for the first time when they become Amazon Associates. It's one of the largest affiliate network known to mankind, and you have millions of products to choose from. The only problem is that most people only get a 4% commission rate for their efforts.
The reason I went back to affiliate marketing was because I started to make real money. I'm not talking about the 4% rate that Amazon provides. I am talking about making over $100 just for making one sale. Sell 10 of those products every month and you make over $1,000 every month. The math is as simple as that.
When you have a lower commission per sale, you need more sales to reach the same milestones. If you get a $5 commission for each product you sell, you would have to sell 200 products to make $1,000. For the product with the $100 commission, you only need to sell 10 of those products. In most cases, it is easier to get 10 sales of the same product than it is to get 200 sales of the same product, regardless of price.
The best part about some affiliate networks is that you may be provided with email blasts, social media posts, and sales pages that convert well above the average sales page. I was an affiliate for Ray Edwards' Copywriting Academy course. As a part of his affiliate network, I was provided with email blasts that were designed to convert far beyond the average.
Basically, he knows more than me about getting sales. I promoted his videos and webinars that led up to the course. Then I promoted the course itself. His sales pages are some of the most optimized sales pages out there. Getting some of my visitors to that sales page resulted in more revenue for Ray and me. The best part is that the people who bought the course are going to learn a lot about copywriting and making more sales.
And I did no work. I just copied and pasted a few messages and sent them out accordingly. Ray put together the entire product, the entire sales page, and everything else along with it. In the end, Ray made far more revenue than me from his product launch, but I got my fair share too.
#2: Promoting Your Affiliate Links
The way you promote your affiliate links depends on where those affiliate links lead your visitors. When promoting Copywriting Academy, I had links to videos and webinars that required an email address in order for the visitor to gain access to the video/webinar.
I tweeted these links but never tweeted the link to the sales page (Twitter isn't the place to promote the sales page of a product, especially high-end products. People rarely go on Twitter thinking "What will I buy next?").
Most of the clicks I got from my affiliate links were directly from Twitter. In the end, over 5,000 people clicked on the link and over 100 people opted in. The final result was one sale and I made over $100 from that one sale.
Two takeaways:
That commission for one product sale is way better than any Amazon affiliate link.
Not bad for my first try
Some people make six figures from affiliate marketing alone. While you shouldn't rely on affiliate marketing for your income, it can still be quite profitable.
#3: Repurposing The Commissions
I believe in making a profit and having a high net income. I also believe in efficiently spending money. I don't buy many things for myself with my own money. When I spend money, I spend it on my business.
I spend it on online advertising. AdWords and Facebook ads in particular. My goal is to grow my audience exponentially. Spending money on online advertising helps with that.
YouTube is the next social network I am taking seriously. I want to leverage that platform and create videos more often. Eventually, I want to have more videos on my YouTube channel than blog posts on this blog. Oh, and I want this awesome YouTube trophy.
When I identified YouTube as the next social network to work on, I knew that my current approach wasn't working. At just 2,500 subscribers, I knew I needed to make massive changes to get to 100,000 subscribers. It's still a goal of mine, but I am taking action—by investing in online advertising.
I decided to run an ad with AdWords and see what that would do to my channel views. I started off at a budget of $3/day. Not much, but I just wanted to see what types of results I would get.
The results were awesome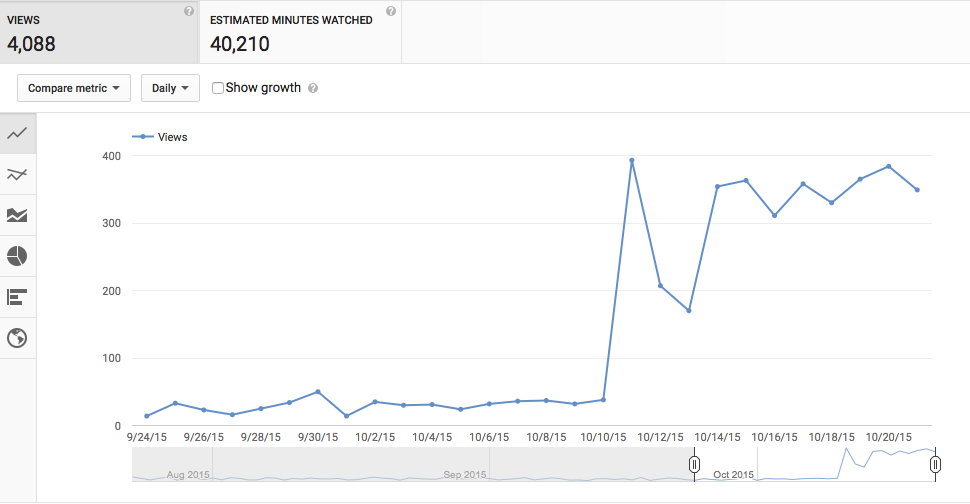 I was getting targeted views, and I was paying $0.01 for one view. My video promoting my writing course suddenly went from getting zero views to getting over 300 views every day.
I only repurposed $3/day from my revenue, and I am growing my platform.
But if you frequently visit this blog, then you know the most important platform of all. The email list. Entrepreneurs are spending more time and money trying to master online advertising because it can be highly profitable.
Consider this: Every email list has a certain number of subscribers on it. When you make money from your email list, each subscriber, when averaged with the others, results in a certain amount of revenue. If you have 100 subscribers and make $200 from a promotion, each subscriber (on average) results in $2 for you.
Let's say that rate of making $2 per subscriber remains constant, and you discover a method where you can spend $1 to get one new subscriber. No matter how much money you spend, you are going to make a profit. This dream of exponential profits inspires people to invest their time and money into online advertising.
POWER TIP: Have Your Own Affiliate Program
Ever notice an opportunity that was right there the entire time? That's what recently happened to me. Udemy has become the main focus in my business strategy, and it's paying off. Since I made that decision, my revenue from Udemy has significantly increased.
It didn't take much of an investigation to determine most of the revenue I made came from my own promotion. What I didn't initially realize is that affiliate promotions also contributed to my revenue increase.
The great thing about Udemy is that they have an affiliate program set up for you. All you have to do is give people the affiliate links to your courses and then they can start promoting them. Your affiliates get paid without your involvement, and you get a slice of the pie too.
So I decided to let people know about Udemy's affiliate program. In all of my courses, I included a document with affiliate links to my courses. My students now have the option to promote my courses, make money for themselves, and then some of that money comes back to me.
Don't think you have to make all of the sales by yourself. It's okay to have a team of people who help you. Even if that means sharing some of the money.
In Conclusion
Affiliate marketing is huge. It's not the holy grail, but it is valuable nevertheless. If you find yourself struggling to create products at a rapid pace, affiliate marketing gives you a product to promote.
I didn't put together the Copywriting Academy course. But I made money by promoting the course as an affiliate. That's affiliate marketing in a nutshell.
What are your thoughts on affiliate marketing? Are you a part of an affiliate program? Do you have any affiliate marketing tips for us? Want to promote one of my courses? Sound off in the comments section below.