Most blogs see a consistent level of traffic. No big increase and no big decrease. Stuck at the same level whether that by 10 daily visitors or 100 daily visitors.
Just because a blog is stuck at the same level does not mean that will always be the case. By striving to turbocharge your blog's growth, you may get thousands of daily visitors to your blog in just a few months.
It all depends on how much work you are willing to put in.
Turbocharging blog traffic is what allows people to get twice as many visitors in just one month. It results in the exponential growth of your blog.
Interested in learning how you can make that happen for your blog? Here's how you can start turbocharging your blog traffic today:
#1: Get Hyper Active On Social Media
Getting active on social media means going on social media often and posting content whenever you feel like it.
Getting hyper active on social media means going on social media and scheduling numerous posts to get published each day.
On Twitter, I tweet more than 100 times per day. On Pinterest, I have a freelancer pinning my content dozens of times throughout the day.
90% of these posts should focus on promoting your blog posts. Most of the tweets I send promote my blog posts. That's why Twitter is my #1 source of blog traffic and routinely brings in hundreds of daily visitors.
If you want to get hyper active on social media, then you need to use HootSuite. HootSuite does a great job at connecting all of the social networks together.
That way, you don't have to log into and out of each of them.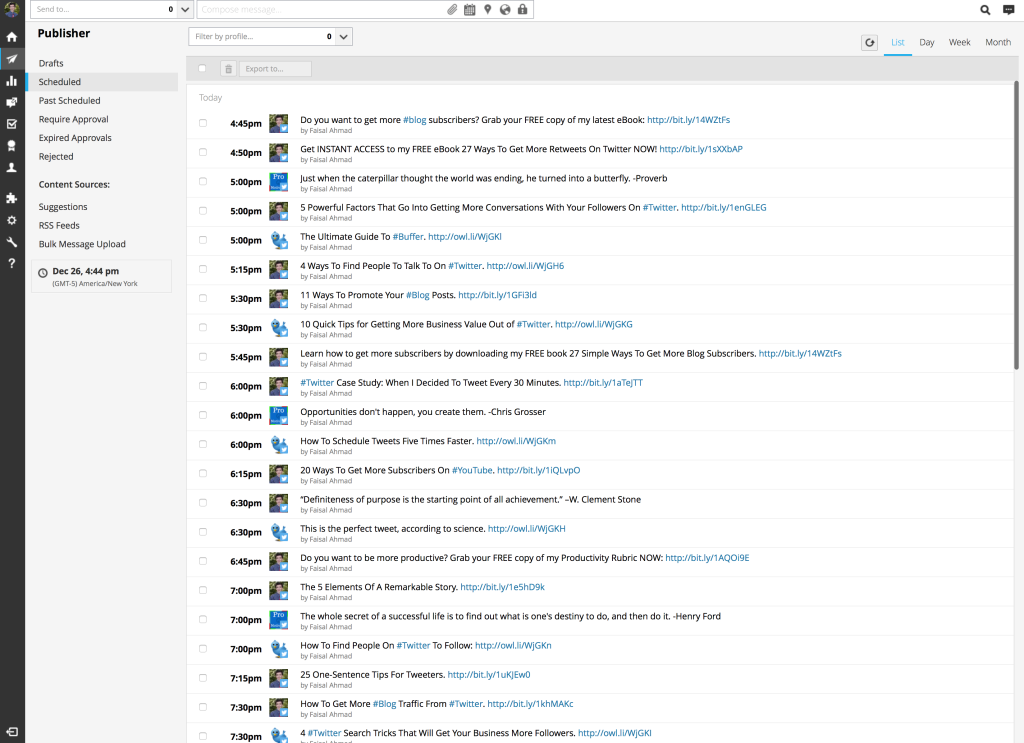 If there was a holy grail to social media, it would be this dashboard. I don't need to have 10 tabs open on my browser to update all of my social media accounts. I don't have to use my iPhone to post something on Instagram.
My social media strategy's foundation is within the HootSuite dashboard.
#2: Become Comfortable With Writing Blog Posts
The more comfortable you become with writing blog posts, the easier it will be to provide value. The more valuable your content is, the longer people will stick around.
Becoming comfortable with writing blog posts also enforces consistency. Consistently updating your blog will help out with SEO since your blog would always be fresh with new content.
The more important benefit of consistent blog posts is that some of your readers will discover your publishing pattern.
Just as all Big Bang Theory fans tune in on Thursday nights for new episodes, your readers will learn what times to tune in for new content on your blog.
I publish content on Mondays, Wednesdays, and Fridays, and always at 9 am. Maintaining that consistency for over a year creates a schedule that my readers can rely on.
I'm sure some of my blog readers are back on my blog during those days and times just to see what I published next.
The more comfortable you get with applying a skill, the better you get at applying that skill. Writing blog posts is no different.
#3: Focus On Growing Your Email List
I won't go into the spiel about why it's so important. I have done so before, and I'm sure you have heard many marketers go into their spiels about the email list.
I'll save you the speech and end off by saying focus on growing your email list. That's how you get consistently rising traffic and revenue.
I wrote a blog post that goes into detail about growing your email list.
#4: Communicate With Your Email List Often
No matter how large your email list is, if you don't communicate with that email list, it is worthless.
You could have one million subscribers, but if you don't communicate with them, then you're no better than the person with one subscriber.
Don't wait until you have that many subscribers to start communicating with them. Communicate with them now, even if you have less than 10 people on your list.
Communicate with the people on your email list at least once per week. The more they see you in their inboxes, the more these people will remember you.
Get in the inbox too much, and then people will get annoyed, so be careful.
What would you tell your email list about? Here are a few suggestions;
Your blog posts
Your YouTube videos
New project you are working on
New product
Just start somewhere. Get to know the people on your email list and see what they engage with the most.
If you realize that your email list responds well to blog posts about Twitter, then continue writing blog posts about Twitter.
If you realize that your email list responds poorly to blog posts about chess, then don't write any blog posts about chess for a while (or forever depending on you, your blog, and your audience).
I can't give you the silver bullet and tell you how to communicate with your email list word-for-word.
The truth is that we all have our own silver bullet. We just have to find it in the very bottom of our toolbox. The way we find that silver bullet is by looking for it (also known as taking action).
In this case, you take action by actually communicating with your email list.
#5: Write Guest Posts
Every guest post you write gives you and your blog a little more exposure. If you write a guest post on a popular blog, your blog could get hundreds of extra visitors from that one guest post.
You would definitely get more credibility.
But what does that mean for blog traffic? The first thing is that a guest post on a popular blog is bound to get a lot of exposure. You also get to build a relationship with the guest blogger, and that guest blogger may decide to help you out someday (i.e. by promoting one of your products).
But there is an advanced way to get the best out of your guest post. Turn it into a series. The guest post acts as Part One and should end by leading readers to a specific blog post on your blog.
That specific blog post is Part Two of the guest post. If people loved Part One, they'll enjoy Part Two.
That's why Avengers is so successful and why The Dark Knight trilogy is the best trilogy on the planet.
The lessons we learn from multi-billion dollar businesses can greatly transform the way we blog.
#6: Have An Outreach Strategy In Place
This is the big one. The results can get quite incredible, but it also takes a massive amount of time to pull it off.
The concept of an outreach strategy is that when you publish a new blog post, you tell as many influential bloggers about it as possible.
All of these influential bloggers must be bloggers within your niche.
The masters of the outreach strategy are routinely telling dozens (if not hundreds) of other bloggers about their new blog posts.
A simple email with five or fewer sentences kindly encouraging the person to share your blog post will do the trick. It is critical that you say that sharing the blog post is optional and that you'll continue reading the influential blogger's content either way.
You don't want to aggressively ask for the influential blogger to share your content. Influential bloggers get plenty of emails like that.
You want to take a more gentle approach similar to this email (from Brian Dean's skyscraper technique):

To increase your chances of these people sharing your new blog posts, here are some actions you can take:
Share some of their content on social media first
Mention them with the @username so they can see you shared their content
Comment on their blog posts and try engaging with them on social media
The more action you take to build the relationship, the more likely these people will share your content.
Depending on how strong you build the relationship, some influential bloggers will feel obligated to share your blog post with their audience.
Especially if you mention the influential blogger within the blog post.
But it takes a lot of time to make it happen. If you have the time, then go for it. If not, here's how you can open up more time.
#7: Outsource As Much Of The Work As Possible
I like to believe I am a full-time blogger and entrepreneur. The reality is that I am not. I am a full-time student which means, by definition, everything else is part-time.
Don't tell that to the entrepreneur within me 🙂
It was hard to acknowledge that as of now, all of this is technically part-time. In the long-run, this acknowledgement helped me change the way I work on my business.
My junior year of high school taught me many lessons about work and life. The school workload was challenging. That workload decreased the amount of time I had left for my business.
In the end, my business remained intact and grew a little. I also got good grades so it was worth it.
But I learned a very important lesson about business that applies to all of us.
No matter how productive we are (or think we are), we can't do it all alone.
When the workload got challenging and I was taking standardized tests, I only had time to do what I already knew how to do.
Grow my Twitter audience and write blog posts. I did other things, but those two activities probably took up 90% of the time I put towards my business that year.
I gained over 100,000 new Twitter followers and wrote dozens of blog posts. That work looks good on the surface, but there was no expansion.
I was just expanding on my current platforms without opening the doors to more possibilities.
I recognized this was due to a lack of time. So I made a big decision. I began outsourcing most of my work.
The days of scheduling tweets, manually growing my Twitter audience, sending pins, and creating pictures for this blog were over.
The days of Udemy, rediscovery, and affiliate marketing were beginning. My business began expanding in different directions.
All because I suddenly had more time available. And it makes sense, even for a part-timer.
The reason part-timers don't have enough time to focus on their side work is because time is so short. However, if you outsource some of your workload, you buy back some of your time.
For the sake of argument, let's say working full-time means working for 40 hours every week. As a part-time worker, you may only be able to work for 15 hours every week. That's typically how much time I utilize for my business each week.
That's why summer is my best season for getting stuff done.
Going back to the main point, there is a 25 hour/week deficit. What if, each week, you paid freelancers to do 25 hours of your business work. Then you do the other 15 hours of work on your own every week.
The sum is 40 hours per week. Outsourcing some of the work can turn you from a part-time worker to a full-time income. Even if you put in the same amount of time as a part-time worker.
Even if you are a full-time blogger, outsourcing will still open up a massive amount of time for you. You can't do it alone. You need a team behind you.
#8: Make Your Blog Load Faster
Blog speed is one of the most underrated elements of a successful blog. Google pays attention to blog speed when determining how to rank your content.
Your blog's speed also determines how long your visitors stick around. If your blog only takes 1-2 seconds to load, then visitors will stick around.
If, on the other hand, it takes your blog over 10 seconds to load, you will lose a large percentage of your fan base.
We are busy people who are becoming increasingly busy with the rise of new opportunities and workloads. Every second counts. For Amazon, each second is the difference between making and not making an extra $1.6 billion.
You can use a site speed test to determine how fast your blog is. I recommend QuickSprout because it lets you see…
How long it takes for your blog to load
What is slowing your blog down
Other cool information
Once QuickSprout tells you what to do, the next step is to take action. Every action you take will make your blog load faster. Then your readers will stick around for a longer period of time.
#9: Look At The Data
When you get blog traffic, you get to see where that traffic is coming from. WordPress provides statistics that let you see your daily visitors, where the traffic is coming from, and which of your blog posts are receiving the most traffic.
Depending on how you interpret the data, you can discover what your audience wants, which source you get the most traffic from, and which sources of traffic you need to work on.
The way you interpret the data can impact the future of your blog's growth. You can choose to focus on your strengths, address your weaknesses, or change what type of content appears on your blog.
The possibilities are endless, but you only discover the possibilities through exploration.
#10: Get People To Stick Around
Once you get a visitor on your blog, you want that visitor to stick around for as long as possible. You can get people to stick around with these following tactics:
Write valuable, attention-grabbing content
Include links to your older blog posts in your new ones
Introduce your previous blog post at the beginning of each new blog post
Include a teaser to your next blog post at the end of each new blog post
Get your visitor to enter an email address
Alexa lets you discover how long your average visitor sticks around. You can also use it to see how long the average visitor on your favorite blog sticks around.
In Conclusion
Turbocharging your blog's traffic requires a lot of work. It isn't easy, but once you put in the work and see the fruits of your labor, you will be happy with the results.
The way to approach blog traffic is to focus on the following:
Grow your platform
Leverage other people's platforms in a symbiotic relationship
Putting in the work is what makes it happen.
Which of these tips was your favorite? How do you increase your blog traffic? Sound off in the comments section below.