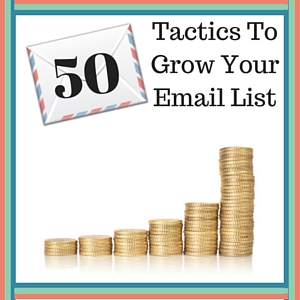 The digital landscape is always changing right in front of us. More opportunities for growing an email list get presented as the days go by. Live streaming was recently introduced to us a little over a year ago.
Based on the number of articles and videos about live streaming since its existence, it seems as if live streaming apps like Periscope have been around for decades.
It is getting harder and harder for us to imagine life without this changing digital landscape.
No matter how often the digital landscape changes, the story will remain the same. Your email list is your most valuable asset. It's where the money and ultimate engagement reside.
To grow an email list, you either increase the conversion rate or you get more traffic that gets directed to an opportunity to join your list. Those are the two underlying principles behind all 50 of these tactics.
#1: Create A Bunch Of Landing Pages
HubSpot came out with an article that helped us learn the importance of creating landing pages in bulk. More landing pages means more free offers that people can choose between…and therefore a bigger email list.
If you have Offer A and Offer B, some people won't like Offer A, but they'll love Offer B and vice-versa. Now imagine having 40 offers. Your visitor could be non-responsive to 39 of your offers, but as long as the visitor responds to at least one offer, you got another qualified lead on your email list.
Why 40 landing pages? According to the graph from the HubSpot blog post, it's very helpful to have that many landing pages to achieve optimal growth for your email list.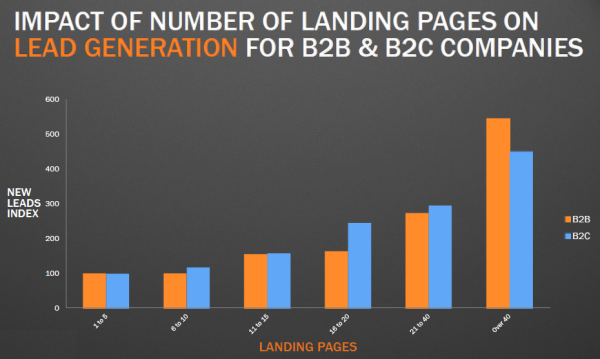 #2: Put A Site Wide Pop-Up On Your Blog
Pop-ups…you either love them or you hate them. Regardless of how you feel about pop-ups, they absolutely work for your email list.
The more your pop-up offer matches your blog's content, the more subscribers you will get. If people aren't interested in the pop-up offer, they can simply x out of the pop-up and continue reading the blog post.
#3: Create Udemy Courses
Udemy is a one of those unexpected places for building an email list since it is more known for course building. You can send email blasts to the students enrolled into your courses. You can segment them based on their progress through your course, when they enrolled, and which courses they are enrolled in.
The key to using Udemy to grow your email list is to promote free coupon codes of your courses into Facebook group pages that are specifically for free Udemy coupons. I got over 20,000 students by leveraging this strategy who I can send emails to.
Sending emails to over 20,000 Udemy students is free, but there are some catches. You can only promote your Udemy courses or learning material that students can access without entering personal info (i.e. an email address).
However, you can send these students to your blog posts and YouTube videos with a CTA at the end. Pop-ups are fine too.
#4: Put Your Udemy Courses On SkillShare
If you put your course on Udemy, you might as well put it on SkillShare. You'll get access to more students who you can email and you'll also make more revenue.
If you don't feel like uploading Udemy videos into SkillShare, then hire a trustworthy freelancer. Putting your Udemy courses on SkillShare allows you to get more out of the same work.
#5: Use HelloBar To Promote Your Landing Page
HelloBar is a plugin that allows you to put a message at the top of your blog. Within this message, you can tell people about your landing page offer. Then you get to add a button which links to your landing page.
Since HelloBar rose to fame for putting that message at the very top of a blog, the plugin has added the capability of putting your message on the bottom left, bottom right, top left, or top right for your blog.
I choose to display another offer on the bottom right of my blog.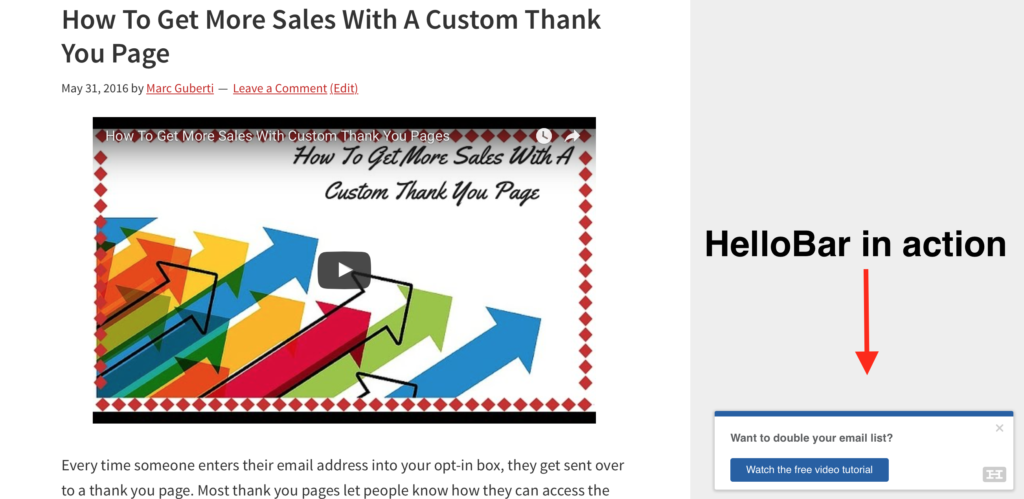 If you are interested in HelloBar, I highly recommend joining here. If you sign up with that link, we both get a free month of HelloBar Pro.
#6: Leverage Your Blog's Sidebar
The goal of a blog sidebar is to grab attention while presenting a compelling offer. The sidebar won't be the highest converting part of your blog, but people will remember your offers.
To get more conversions from your sidebar, fill your sidebar up with awesome pictures that feel like a part of the blog post.
Better yet, have different sidebars for different content categories.
When reading Kim Garst's blog post about Facebook live streaming, she offers her free eBook 27 Killer Facebook Post Ideas 2.0 on the sidebar.
For her blog post about tweeting during live events, she offers her free eBook on Twitter hashtags on the sidebar.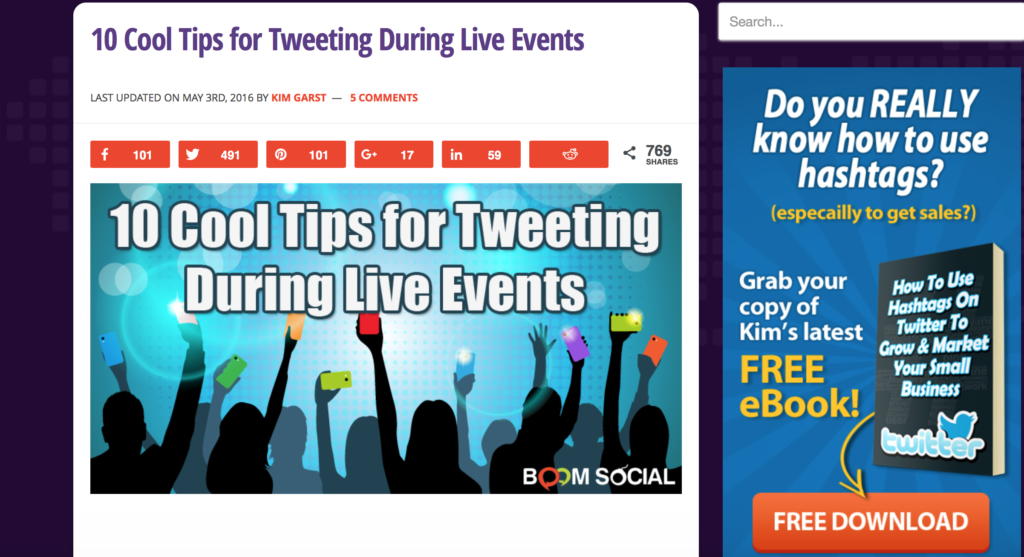 These two free offers promoted on the sidebar are relevant to the blog post. The free offers almost feel like a part of the blog post itself.
#7: Use UpViral To Create A Landing Page
UpViral is a great tool for creating landing pages in a few minutes. They are basic which can sometimes help out with getting conversions.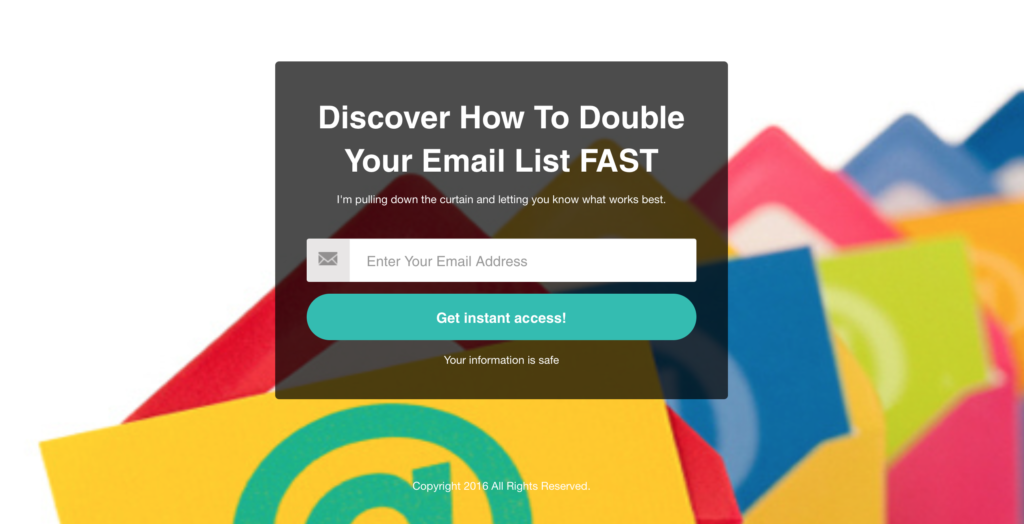 The magic happens when someone subscribes. They immediately get sent over to a Thank You Page that incentivizes visitors to share the landing page URL.
For my Thank You Page, I encourage people to get more leads. Each person who brings in five leads gets exclusive videos.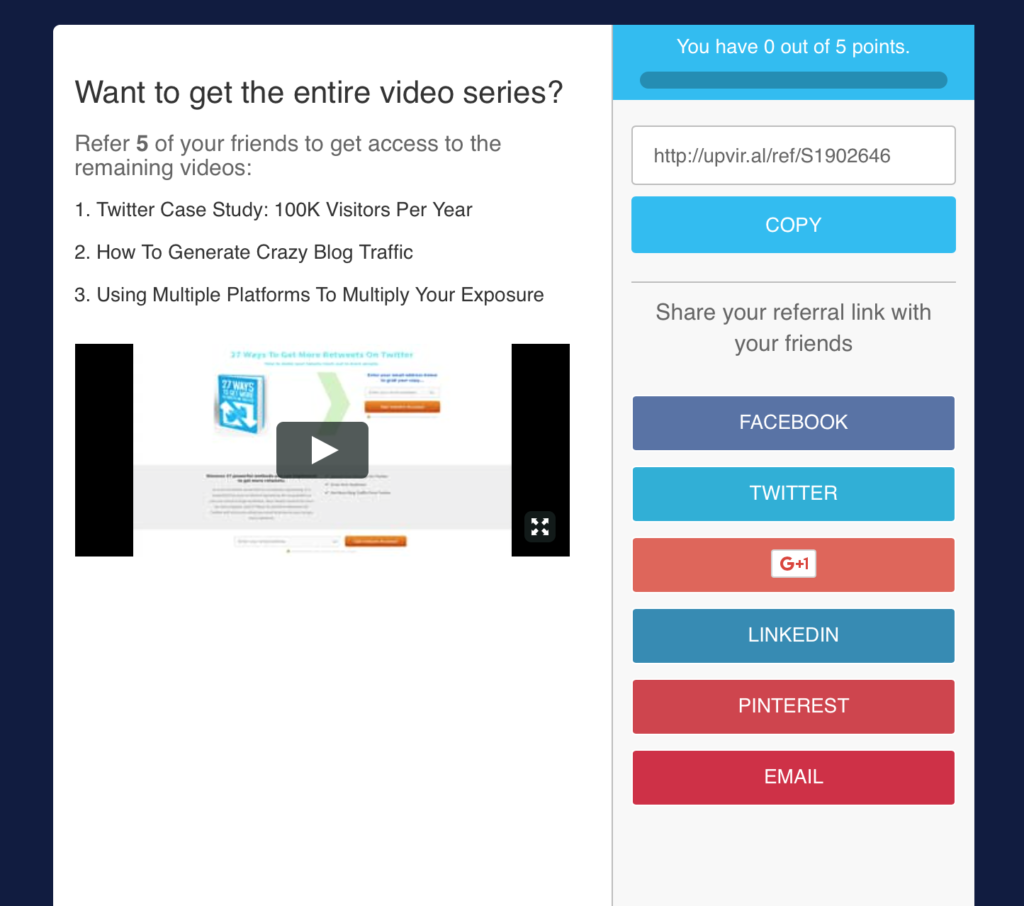 With this set-up, people now have an incentive to drive more leads to my landing page. The final result is that the people who get access to the three exclusive videos add five people to my email list.
UpViral can identify fraudulent sign-ups (probably based on IP addresses) so you don't have to worry about people gaming the system just to get the exclusive videos or content that you offer.
#8: Promote Your Landing Pages On Social Media…A Lot 
You can't complete any type of list without saying "promote on social media." Use Facebook, Twitter, Pinterest, and all of the other social networks that you can think of.
However, don't just stop at promoting your landing page once in a given day. At least 25% of my social media posts send people over to one of my landing pages.
Most of your social media audience will not see your first post about your landing page. The more times you promote your landing page on social media, the more traffic those landing pages will get from your social media efforts.
#9: Include A CTA In All Of Your YouTube Videos
It's easy to promote a landing page on most social networks. Write the right copy, include the link, and then post it.
YouTube is a completely different animal. While the description is a great place to promote your landing page similarly to how you would on other social networks, YouTube requires an in-video call-to-action.
At the end of my recent YouTube videos, I have been adding this CTA.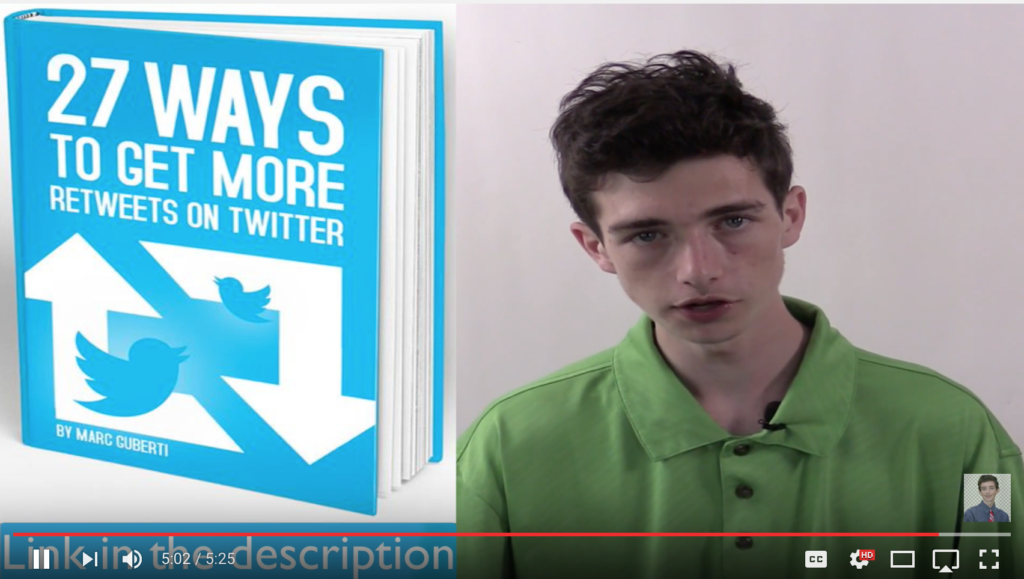 It leads people to my free eBook 27 Ways To Get More Retweets On Twitter. In the future, I plan on promoting specific landing pages that are very relevant to the video topic.
People who make it to the end of your video appreciate the value you provided. That's the exact moment you want to provide those viewers with the CTA.
#10: Appear On Other People's YouTube Channels
Some YouTube channels allow guest contributions similar to guest posts. While these channels are hard to find, it is possible to do a guest video on someone else's channel where you provide the CTA.
Tim Schmoyer of Video Creators provides this opportunity for people with YouTube tips to share. So far the Video Creators channel is the only channel I have found that allows for this type of collaboration.
#11: Create A Podcast With A CTA
If you checked out my May 2016 Performance Report, then you know that podcasting has taken up a large portion of my time lately.
I have learned all about its potential. Podcasting allows you to share your expertise in the form of audio. In a world fueled by content and video creation, audio is one of the lesser utilized methods of getting traffic.
And if you utilize it well, podcasting can bring in a massive amount of traffic. Just ask Pat Flynn 🙂
At the beginning and end of your podcast episodes, you can introduce several CTAs such as leaving a review and subscribing to the podcast.
The critical CTA to mention within all of your podcast episodes is a free offer relevant to that particular episode.
When you mention the free offer, make sure the link is easy for people to remember. This is important because podcasts are all audio unless your listeners are also reading through the show notes.
When Mike Stelzner asks for a review on iTunes, he refers to the link as socialmediaexaminer.com/itunes.
He does not refer to the link as https://itunes.apple.com/us/podcast/social-media-marketing-podcast/id549899114?mt=2&ls=1
Both lead to the same destination, but the first one is much easier to remember. Please have mercy on the person who must recite the longer link.
While this is an example that relates to podcast reviews, the same general rule also applies to landing pages.
#12: Write Guest Posts With The Optimized Author Bio
Writing guest posts on relevant blogs is a great way to get more traffic from people reading your guest posts, and you'll get a high-value backlink.
Whenever you write a guest post, you'll usually get a quick bio of yourself. Within 1-2 sentences, you need to let readers know where else they can find you on the web.
Within this quick bio, you can direct people over to your landing page. In my Business2Community bio, I provide the CTA to check out my landing page.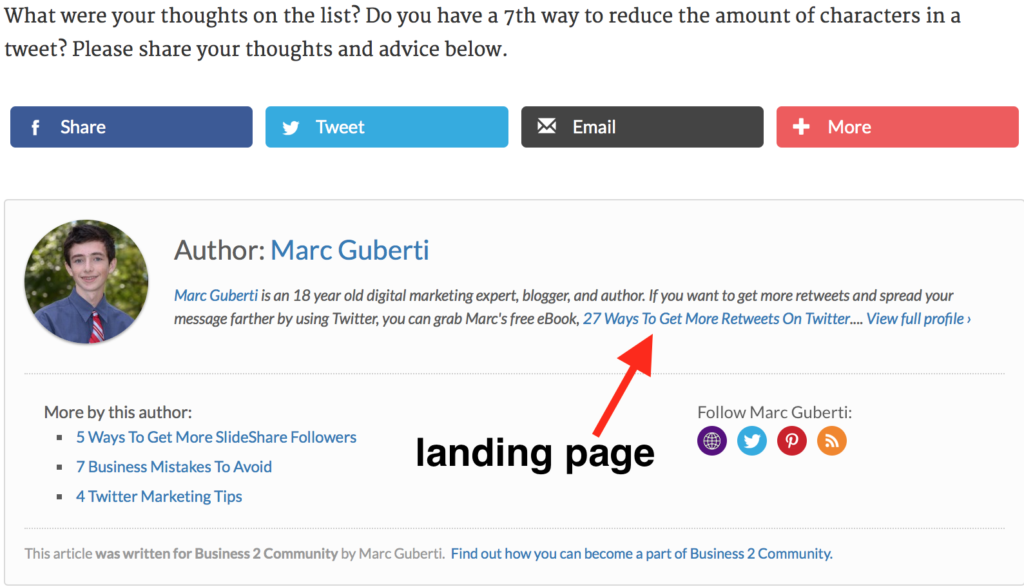 #13: Promote Your Landing Page During Podcast Interviews
The way almost all podcast interviews work is that after all of the questions have been answered, the guest has the ability to tell listeners where they can find him/her on the web.
When you are a guest on a podcast episode, mention your landing page. I have bullet-points in front of me specifically for that question so I know what to say when I have to promote my landing page.
Wondering how to be a guest on more podcasts? Neil Patel shows you how in his article How to Become the Person Everyone Wants to Interview
#14: Provide Perks
Give your subscribers certain perks (i.e. discounts and exclusive content) that people outside of your email list won't get. Then, make it known to your blog visitors that only subscribers get these perks.
You can include these perks as incentives to get more of your visitors to subscribe.
#15: Design Matters
The way you present your free offer is just as important as the value of that free offer. If your free offer has a bad design, people won't want to enter an email address.
One reality of life is that we all judge a book by its cover. If you don't believe me, let me know which book you'd rather want.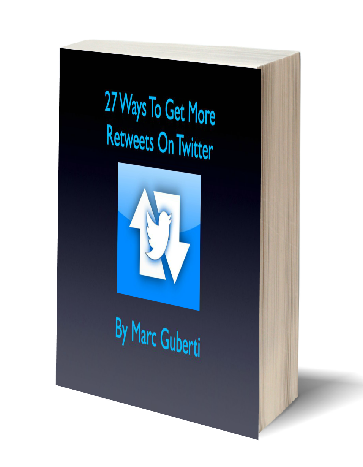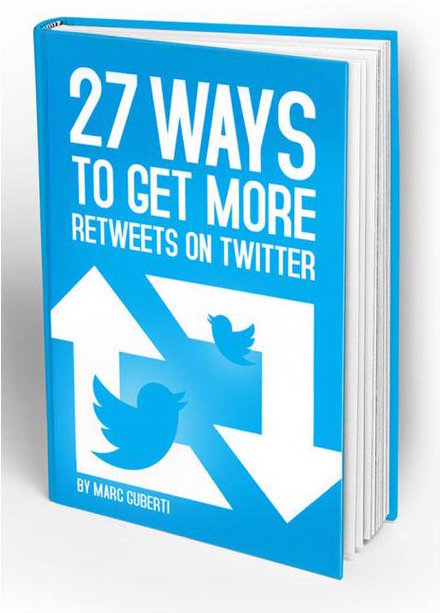 It doesn't matter that the content for both of them is the same. The second one looks better. The better the design, the better the perceived value of your free offer.
All you have to do at that point is deliver on the value.
#16: Live Stream Your Message
Live streaming is the hot thing right now. I think it will stay hot for a very long time (if it ever cools down at all). The attractive lure to live streaming is that you get immediate results.
Promote a landing page with an easy to remember URL, and you'll instantly get a bunch of subscribers if you have a large enough live audience.
On Periscope, you either need the easy to remember URL or a link to your landing page within your bio. For Blab and FB live however, you can drop a link straight into the chatting section for Blab and the comments section for Facebook.
If you feel too stressed to include those links during your live stream, hire a freelancer who will get the job done.
#17: Co-Create An Offer
I have created over 20 courses on Udemy. I created some of those courses alone while I created other courses with some help.
The courses I have co-created with other instructors have combined to bring in over 12,000 new students which I can email at any time. If I didn't co-create some of my courses, I would have lost out on a lot of extra students.
Co-creation is not something that only exists within Udemy. You can co-create a free offer with someone else and share the subscribers who sign-up for the co-created free offer.
The cool part about this type of co-creation is that both you and the person who helped you create the free offer will be actively promoting the landing page. You'll be helping each other out.
#18: Create A Product With An Affiliate/JV Program
This is an advanced method to grow your email list, but depending on who is a part of your program, you can get tens of thousands of new subscribers overnight.
To get at that level, you need a top-notch product and a lot of connections. But even if you don't expect to get 10,000 subscribers in one day from your program, you could still get hundreds or thousands of subscribers that you wouldn't have gotten on your own.
Leverage other people's marketing for the growth of your brand at any moment you get. Your landing page will reach more people and you'll be putting in the same amount of work you put in now.
#19: Publish A Kindle Book
When promoted correctly, a Kindle book can bring in a massive amount of email subscribers. Within all of your Kindle books, promote a free offer relevant to the book people are reading.
Here's how Nick Loper promotes his free offer within the first page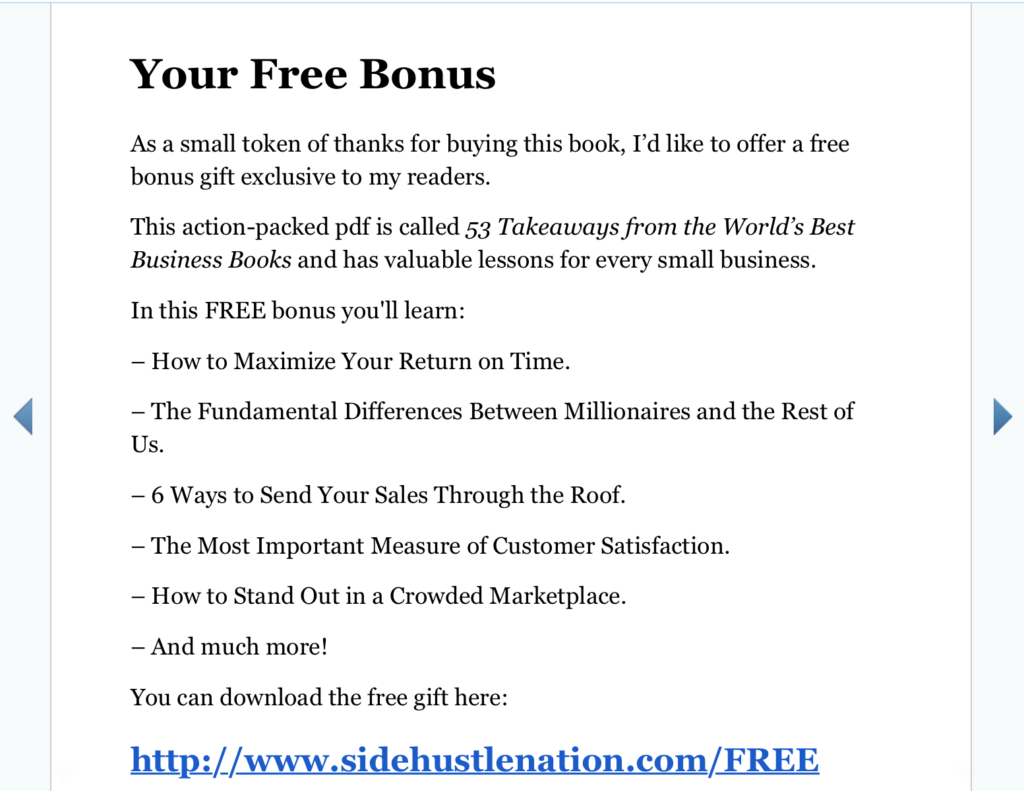 Promoting your free offer on the first page is important because anyone can see that offer through Amazon's free preview option.
If you are wondering how to drive sales to your free Kindle books, Nick Loper had a great podcast episode about that.
#20: Put Your Presentations Up On SlideShare
SlideShare is a social network that people either seem to not use at all or use it often.It takes time to create a quality SlideShare presentation while it only takes a few seconds to send out a quality tweet.
However, SlideShare presentations have viral potential if you make yours awesome and promote it to enough people.
Self-published author Steve Scott uses SlideShare to grow his email list.
For his traffic and income report from 2014, Steve included that he got 1,915 new subscribers from SlideShare within those three months. That's an average of 638 new subscribers per month just from SlideShare.
Steve did hire a freelancer to help out with the presentations to save time, but it will be worth the money if you can get those new subscribers to buy some of your products.
#21: Interact With Your Audience
Interacting with your audience allows you to build trust. The people you interact with will be more likely to enter their email address when your free offer comes up.
Even if you only interact with your audience for five minutes each day, you are creating more trust. The trust results in more people promoting your content and subscribing for updates.
The more interactive your brand is, the more your audience will love you. If you want to take this level of interaction to the next level, you can create a podcast in which you answer your audience's questions.
#22: Analyze Your Results
If you create landing pages, get subscribers, but then don't analyze the results, you can be missing out on a huge opportunity.
Analyzing the results allows you to discover which of your landing pages have the best conversion rates and which ones you are promoting the most.
Let's say you have two landing pages. Landing Page A has an 80% conversion rate. It's the king of all landing pages. Landing Page B has a 5% conversion rate which puts it at rock bottom.
You promote them equally and they each get 100 daily visitors.
The mistake lies right there. You are promoting them equally.
If you have a landing page with an 80% conversion rate, you need to promote that landing page far more often than any of your other landing pages.
If one of my landing pages had a 5% conversion rate, I would stop promoting it or completely change that landing page's design.
#23: Offer A Content Upgrade
A content upgrade is exclusive content or video content that is related to the blog post your visitor finished reading. The only way to get access to the content upgrade is to enter an email address.
Content upgrades are valuable because they are specific offers based on the specific content your visitors were reading. While content upgrades create extra work, they get you a lot of subscribers.
I learned this method from Brian Dean. He wrote a very informative article about the subject which you can read here.
#24: Sprinkle Relevant CTAs To Landing Pages Throughout Your Blog Posts
When you have a content upgrade available, you want to reference it at the beginning and the end of your blog posts. That way, your visitors are constantly reminded of your content upgrade.
If you don't utilize content upgrades, then promote a free offer relevant to the content your visitor is reading.
#25: Write An Expert Round-Up Article
I got the idea from Codrut Turcanu who has written several expert round-up articles. These articles get a lot of traffic because people love sharing articles that they get featured in.
You ask several experts for their #1 tip in something. You choose the best tips and put them in your expert round-up article. Then you email the experts and let them know when the article gets published.
Ask them to promote it.
This strategy works for getting traffic, and more traffic in most cases equates to more subscribers. To ensure you get more subscribers, include a relevant content upgrade within the expert round-up article.
#26: Optimize Your Current Traffic
Let's say you get 100 daily visitors on your blog and you get five of them to subscribe each day. What if you made a few changes on your blog to get 10 daily subscribers with that same audience.
In a rush to grow and get exposure, some bloggers make the mistake of forgetting to optimize the experience for the audiences they have already built.
#27: Advertise Your Landing Page
Facebook ads, AdWords, YouTube ads, and any other type of online ad can be used. Of course, not all online ads are equal, and some of them are downright difficult.
You should only begin to advertise your landing page once it is proven to make money. You should know how much money you make per subscriber so you can identify what a conversion is worth to you.
For instance, if each subscriber is worth an average of $2, and your Facebook ad gets you new conversions at a rate of $3 per subscriber, you need to stop that Facebook ad or make your average subscriber worth more than $3.
#28: Use Permission Marketing On Reddit
The Reddit community is fierce if you get on their wrong side, but if you get on their right side, you'll get a lot of added exposure.
The key to Reddit is leveraging permission marketing. The Reddit community will come at you full force (don't underestimate the Reddit community) if they think you are self-promoting.
If you ask for permission, you have a chance at going viral.
Eddy Azar wrote an awesome article on SumoMe about harnessing the marketing power of Reddit. He does a better job at explaining it than I could.
#29: Capitalize On The 404 Error Redirect
When people enter the wrong URL, they get sent over to the 404 error page. Some 404 error pages don't bring people back to the blog. Others simply reference the homepage.
Why not reference your free offer.  Your 404 error page can have a message like this:
"Sorry! What you were looking for does not exist, but I don't want to leave you empty-handed…"
Then you promote your free offer, and BOOM! People who were once lost are now sent over to your landing page.
#30: Keep Your Current Subscribers On Your List
If you get 100 subscribers per day but you lose 100 subscribers per day, then you are not growing.
Part of growing your email list is providing an awesome experience for your current subscribers so they are more likely to stick around.
#31: Host A Free Giveaway
Giveaways are great for getting subscribers because few people would turn away the opportunity to get something just by entering an email address.
When these people subscribe, you present them with a free offer that everyone gets. Maybe it's a report or a video series. Regardless of what you choose, everyone gets it.
Only a few people will actually win your giveaway. Using UpViral to reward points to the people who share your giveaway landing page will result in more people participating.
But you want the right people to participate. Don't be the marketer who offers a $50 Amazon Gift Card. EVERYONE wants that. You'll get a lot of subscribers, but most of them won't be qualified.
And you have to pay for having those extra subscribers on your list.
To avoid that heartache, offer a giveaway that only the people in your niche would care about.
Matt McWilliams hosted one of the best free giveaways for getting targeted subscribers. He didn't offer the Amazon Gift Card. He offered five free books all related to his niche.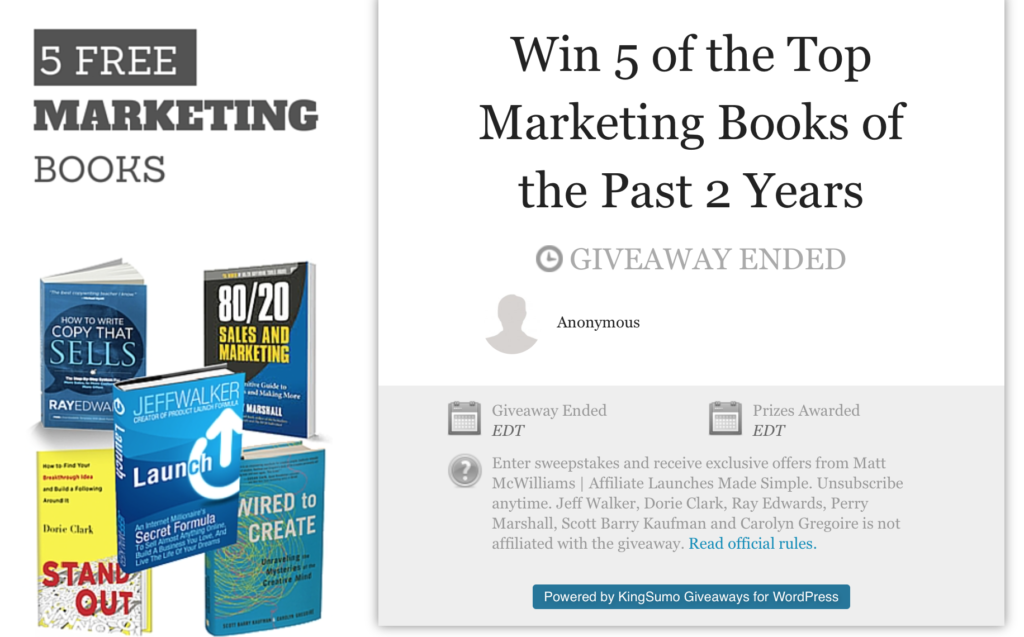 People interested in reading those books participated in the giveaway by entering their email addresses and promoting the giveaway on their social networks for extra points.
People not interested in the books didn't sign-up. Most if not all of the leads he got from that giveaway were targeted leads.
#32: Add A Link To Your Landing Page In Your Email Signature
Email is one of the top forms of communication today. Including your landing page link within your email signature can give it more exposure.
The impact of this method is dependent on how many emails you send in a given day. The more emails you send each day, the more subscribers you'll get from this method.
With that said, avoid getting trapped in your inbox.
#33: Promotion Exchanges
The word exchange has a bad rap in the online world. Most of us are introduced to the word "exchange" in the online marketing sense when people either ask for link exchanges (even though Google doesn't like that) or following a random, non-targeted person just for the follow back.
Promotion exchanges can put your landing page in front of a massive audience if you know how to use them. It is ideal to do a promotion exchange with someone who has a similar audience size as you. There are several promotion exchanges you can use:
Promote each other on your social networks
Send email blasts to your lists promoting the other person's landing page
Interview each other on your podcasts (if you both have podcasts)
The opportunities are endless, but the second option works for growing your email list. By promoting someone else's landing page to your email list, your landing page also gets more exposure. The final result is both of your email lists will grow.
Imagine how much bigger your email list would be if you did this with dozens of people.
#34: Collect Email Addresses At Events
The old-fashioned methods still work. Go to the event with a notepad, pen, and paper. On the piece of people, provide a section where people enter their email address.
Let people know on that piece of paper and through your conversation about the free offer these people will get upon writing down an email address.
You can segment all of these people on a custom list where you thank them for meeting you at the event.
#35: Host A Webinar
Webinars convert very well because they provide free value and are time sensitive. If you have a monthly webinar, your audience will begin to expect webinars.
Some people within that audience will not currently be subscribed, but when you host a webinar they really want to listen to, these people will subscribe.
#36: Host A Webinar With A Guest
Hosting a webinar with a guest is better than hosting a webinar on your own because the guest will do some of the promotion.
You'll get the email addresses of some of your guest's audience members. Have a monthly webinar with an influential guest, and you'll be sure to see a big increase in your email list.
#37: Utilize Social Proof
Not everyone can leverage social proof equally, but leverage it whenever you can. Here's an example of social proof in action.

Within this opt-in box, Buffer indicates that 42,023 people are on their email list. This social proof indicates Buffer is a popular blog, and popular blogs almost always have valuable content.
Buffer is no exception to the rule. If you haven't checked out their blog yet, I recommend giving it a look…after you spend some time here though 🙂
#38: Write Longer Content
This is one of my longer blog posts. At a little over 4,000 words at this point, this blog post is the second longest blog post I have ever written.
Why spend so much time writing a single blog post? They increase the reader's time on your blog. If this blog post only contained five tips, you would have been finished reading a few minutes ago.
However, I stuffed this one with methods up to the gills. It's a power post which is bound to rank higher on search engines. The longer your blog post is, the more search engines love you.
Plus, I wanted to use Brian Dean's skyscraper technique, so I knew this blog post had to be massive and filled with value.
#39: Include The Landing Page Link In Your Social Media Bios
This is an easy change you can make to get more subscribers. Most people link to their blog home pages within their social media bios.
Unless your home page is a beautiful landing page, that URL needs to be changed. Notice how in my Twitter bio, I am promoting a very specific page on my blog.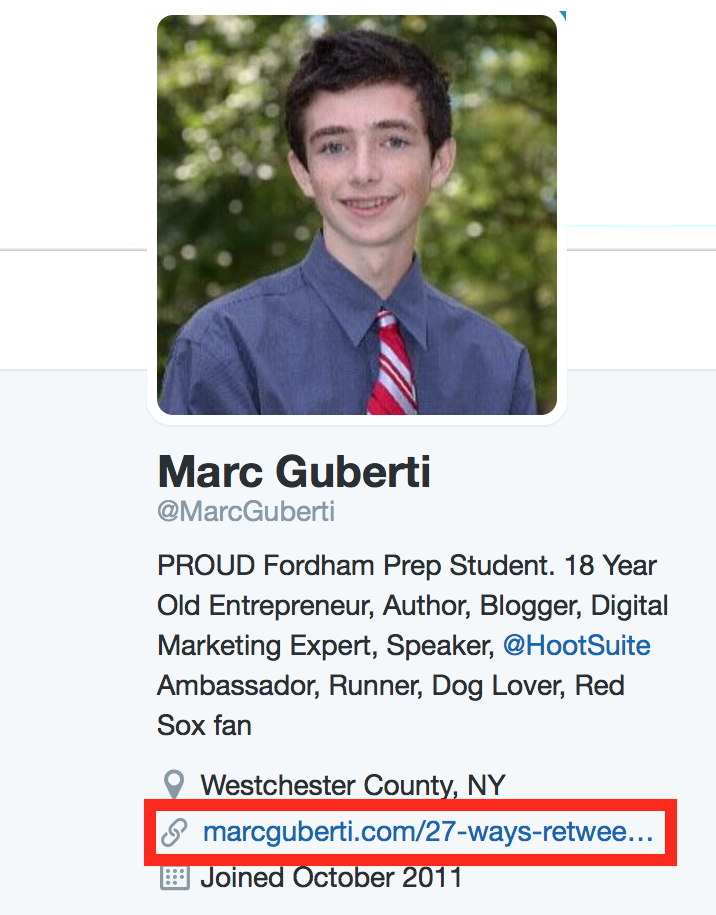 More specifically, I am promoting one of my landing pages.
#40: Make It Easier For People To Share Your Blog's Content
[Tweet "50 Tactics To Grow Your Email List"]
See what I did there? I know that not everyone will tweet my blog post with that plugin. However, some people will, and that creates more exposure.
Don't just stop with the social sharing buttons on the top or bottom of your blog posts. Include chances throughout your blog post for people to share your post.
I used the Click To Tweet plugin by CoSchedule to put in that tweet.
#41: Pay With A Post
I have not used this method myself, but I hear it's powerful.
The way pay with a post works is that visitors can only read some of your blog post. The rest of it gets blocked.
The only way people can get access to the rest of the blog post is by sharing that blog post on one of their social media accounts.
That's how you get the name: Pay With A Post.
The website I recommend based on my research (but not implementation) is Pay With A Tweet. Pay With A Tweet has expanded to include other posting options in addition to tweeting.
#42: Build Relationships With Influencers
Building relationships with influencers helps out in the long-term. If you create a product with a joint venture program, you will know several influencers in advance who would be willing to help you out.
You can also host webinars with influencers as guests, and some of them may promote your content a few times each week on their social media accounts.
Having a relationship with an influencer gives you the potential to spread your message to the people within that influencer's audience.
Some influencers will help you more than others, but any extra visitor you can get should be highly appreciated.
#43: Include An Opt-In Box At Your Blog's Footer
Ever scroll to the bottom of a blog post? Maybe you wanted to go to the next page and see the next batch of blog posts, but you scrolled down too quickly.
Maybe you were looking for the blogger's contact me page.
Some people make it to the blog's footer, and within that footer, you can include an opt-in box. The Buffer Blog's opt-in box which I showed you earlier is at the footer of their blog.
Some of the people who make it to your blog's footer read a bunch of your blog posts to get there. These people will be more likely to subscribe since they stayed on your blog for a longer period of time.
#44: Improve Your Homepage
The homepage is one of the most visited pages on your blog. Most homepages lead to a bunch of blog posts. While this is a great way to get more blog readers in the short-term, it's a disaster for the long-term.
Your homepage needs to make your blog easy to navigate while promoting a can't miss CTA.
On Pat Flynn's homepage, the CTA is to click the "Start Here" button. Scrolling down will reveal more CTAs on his homepage.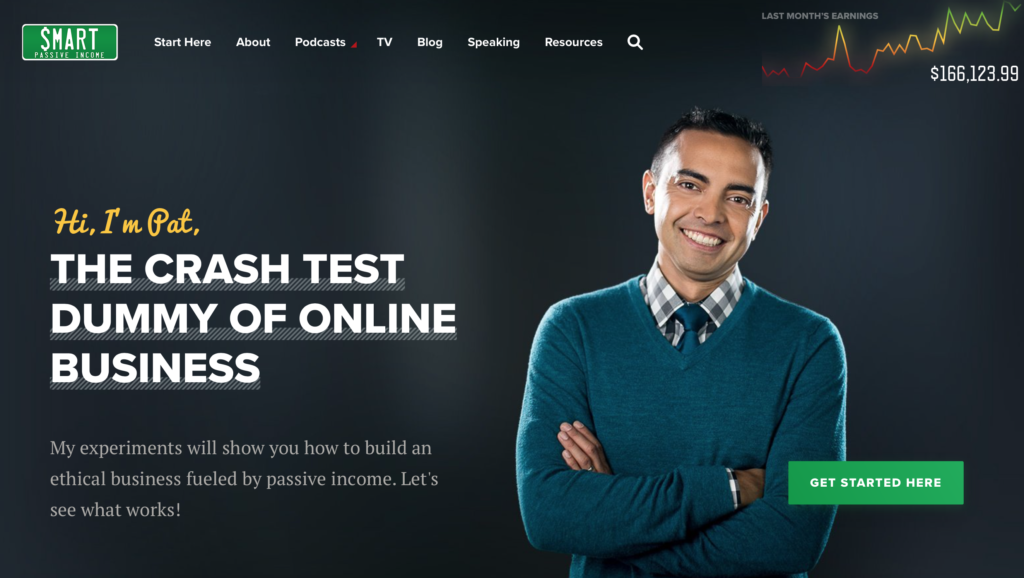 Seth Godin took a simplistic approach with his homepage. There are several CTAs, and if you have been reading Seth's content long enough, you'll probably click on all of those CTAs.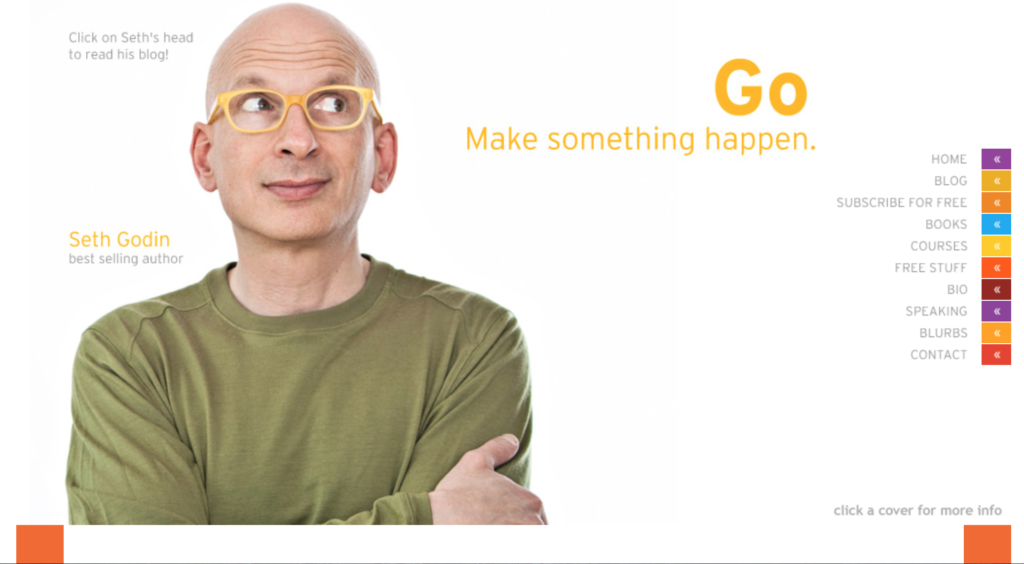 Both of these homepages include CTAs and easy navigation throughout the blog. Seth's homepage includes a subscribe option and Pat's homepage includes a subscribe option towards the bottom.
#45: Create Urgency Around Some Of Your Offers
If you have enough landing page, test creating offers that are time sensitive. Webinars are a great example of this.
People know the webinar will be packed with value and that it won't be up forever. Do that with one of your free offers.
You won't get consistent growth, but you'll get a spike of growth from that one landing page. Your other landing pages can bring in the consistent growth.
#46: Republish Your Blog Posts Elsewhere
This method is designed to get more exposure for you and your content. Including your landing page link within the byline will help you get more subscribers directly from your republished content.
As your republished blog posts appear on more blogs, people will remember you. Some of them may decide to search for you on Google or social media and come to your blog.
Provide these people with an enticing offer and BOOM, you have more subscribers.
#47: Make The Free Offer Better Than Anything Else Out There
I believe this is an underrated tip that can be better understood with a comparison to blog posts.
There are billions of blog posts, and chances are millions of those blog posts are about growing your email list.
In an attempt to make this blog post stand out from the crowd, I went all-in and spend hours of my time on this blog post.
Are you spending hours of your time crafting your free offer? Are you truly going all-in?
There are some blog posts that would dwarf over most of the free offers someone with an email address could get access to.
Create free offers that would dwarf over any blog post imaginable.
Combine that with excellent design, and you'll have an offer that people won't be able to resist.
#48: Create An Infographic With Your Landing Page Link
Infographics have the potential to go viral. This is old news, but how you set up the infographic determines the success you get out of it.
One strategy you can use with your infographic is to include the link to your landing page at the bottom of the infographic.
Most people just include the link to their blog homepage, but the link to your landing page (or a homepage that functions similarly to a landing page) would be better.
#49: Waiting List For Your Upcoming Product
More people than ever are launching their courses to massive success. Depending on the people in your joint venture program combined with your own efforts, it's possible to make seven figures in a few weeks.
But what happens after the launch? What happens to the people who missed out and didn't hear anything about the launch?
After the launch, any pages related to the launch become redirect links.
The redirect links lead to a landing page that encourages people to subscribe so they can be notified when the product is available again.
There's also a free offer included to increase the desire someone would have to provide his/her email address.
#50: Make Your Blog Load Faster
If the landing page takes 30 seconds to load, are you sticking around?
Probably not, and a landing page that's one second slower is bound to get fewer conversions.
Patience is a virtue, but almost none of us have it. In certain scenarios, we want to achieve or get access to something immediately.
To Amazon, site speed time is critical. According to an article from Fast Company, Amazon loses $1.6 billion if the site loads one second slower.
You won't suffer that type of loss if your landing page is one second slower, but you'll definitely get fewer conversions.
I wrote a blog post about boosting your blog speed. I promise it isn't as long as this one. In fact, it may take you less than a minute to read.
In Conclusion
Growing your email list is the best thing you can do for your online business. That's where the money is.
Growing your email list involves creating a bunch of free offers and promoting those free offers to as many people as you possibly can.
You'll have to do most of the work on your own, but it's always good to leverage the help of other marketers when you can.
The next time you consider an opportunity or are utilizing a platform, ask yourself this question: How will I use this to grow my email list?
If you can't think of a way a particular opportunity or platform will help you grow your email list, ignore it or find a way to make it grow your email list.
What are your tips for growing an email list? Did one of these tips resonate with you the most? What are your thoughts on email marketing? Sound off in the comments section below.