I will begin doing monthly recaps at the end of each month. The monthly recaps are designed to let you know what I did this month and what I aim to do next month. I'll share some insights along the way.
May 2016 Summary
May was my last month of high school. I received my diploma and said goodbye to many of my classmates.
I had a slow start in May because I had to finish some end-of-the-year assignments, but once school concluded, I got more productive.
One thing I started to do more of was exploration. I watched a video from Michael Stelzner this month that explained how we need to do more exploration while continuing to put in the work for our businesses.
Finding that time to explore without your business declining is an intricate balance. You want to explore to learn about more opportunities, but too much exploration leads to analysis paralysis.
I decided to explore for a bit and then either implement or forget what I learned. Now that the background has been set, here's what I did in May 2016.
#1: I Changed My Blog's Theme.
I used the same theme for my blog for so long that I didn't think about changing it…until now. Remember when it used to look like this?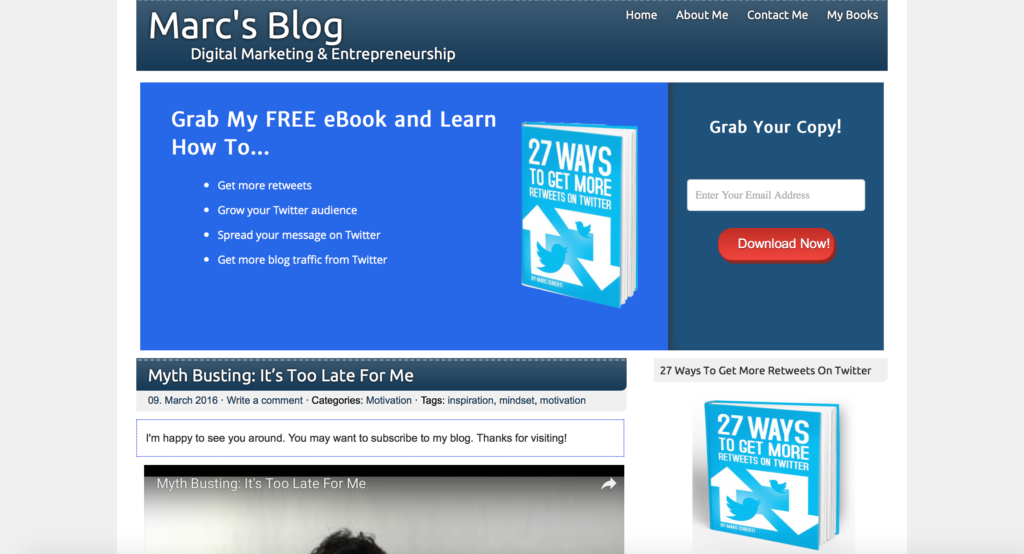 I thought that theme was beautiful until I invested in a Genesis theme ($60 value). Ever since I changed my blog's theme, it has loaded faster which helps out with SEO.
And it looks a lot better.
I only changed my blog's theme a few days ago so there's still some work to be done. I'll go more into detail about that when I discuss my goals for June 2016.
#2: I Created An SEMrush Account.
So many people recommended SEMrush to me. At first, I didn't listen to them because I was under the belief that if your social media traffic was good, then your SEO traffic would be good too.
I decided to invest in SEMrush this month, and I am absolutely blown away. SEMrush is great for finding the perfect keywords to rank for and learning a lot about your competition.
Right now, I have been using SEMrush to fix my blog. I get to see all of the errors that are hurting my blog's SEO ranking. Knowing these errors allows you to identify what needs to get fixed.
Once all of those fixes are made, your blog will start getting more search engine traffic.
#3: I Decided To Finally Start A Podcast. 
Out of everything I did for my business this month, starting the podcast was the best thing I did. The podcast isn't up yet, but I already have over a dozen guests slated for different times and dates. I said I would start a podcast twice. This is the third time, and this time it's happening.
The podcast is about achieving breakthrough success. I find experts who have achieved success and/or know certain expertise that millions of people want to know for themselves.
The focus of each episode will be on the expert's journey towards success (a.k.a. all of the work that led to the breakthrough).
My friend Jeffrey Shaw suggested that I use the Skype Call Recorder and use ScreenFlow as a backup. That's exactly what I am going with for my podcast episodes.
Blog Posts I Wrote:
If you missed the blog posts I wrote in May and want to read them, I have included them here as a reference. I published a bunch of YouTube videos too which can be found on my channel.
The 7 Essentials Of A Successful Online Business: I wish I could have read this blog post before I started. It would have made my journey a lot easier.
4 Ways To Read Twice As Many Books: I enjoy reading books just as much as the next avid reader. My busy schedule seemed to get in the way too much. That's why I came up with four ways to read twice as many books.
The 4 Step Plan To Hulk-Smash The Wall That Holds You Back: I thought of the title in my excitement of Captain America: Civil War. I couldn't think of a way to fit Captain America or Iron Man into the title, so I settled with The Hulk.
5 Ways To Boost Your Kindle Book Sales: A great article for self-published authors looking to boost their book rankings. It's a combination of methods I knew and methods I learned from Chandler Bolt's Self-Publishing School.
That's May 2016 in a nutshell. It's been a whirlwind of activity since the graduation since my time has opened up. This upcoming Sunday will be my last track meet as a high school athlete.
As for what I'll be doing for my business this June, here are some of the highlights:
#1: More Udemy Courses
I was not a fan of Udemy's new pricing system. I saw my income drop, but now I'm back and ready to create more courses.
The thinking is that the revenue will continue dropping, but eventually that revenue will rise as the Udemy Staff predicted. I want my courses to rank on the top of Udemy's search results by the time Udemy is back in its prime form.
To make up for the lost income, I am also putting my Udemy courses on SkillShare. I currently have one course on SkillShare which is doing well with zero promotion on my part. Someday I'll have all of my Udemy courses on SkillShare. It's simply another stream of passive income.
Right now I am in the midst of creating a podcasting course based on what I have learned throughout my journey. I'll probably create an SEMrush course next.
#2: Blog Transformation
The changes I made to my blog are new. I changed my blog's theme less than a week ago and am starting to see the power of SEMrush. I have been going through my content and optimizing it for hours so I can get more search engine traffic.
SEMrush is like SEO learning and implementation on steroids, but you won't get a 50-game suspension.
The other big change I'm making on my blog is giving it a new homepage that looks something like Pat Flynn's homepage: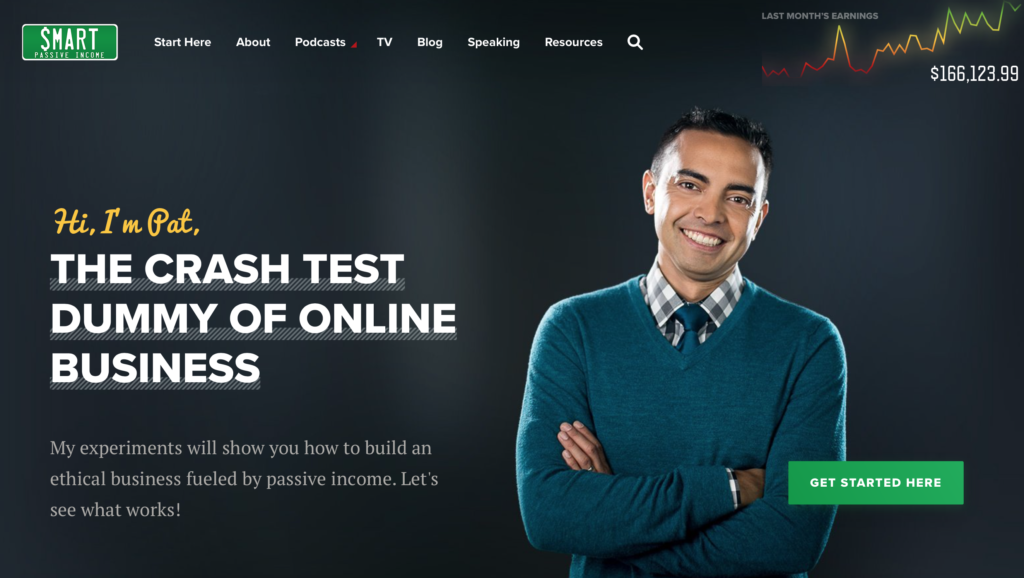 I hope to have a home page like that for my blog in the middle of the month.
I don't fully know what I will do for the sidebar yet, but I know it will look better when I am done.
#3: Guest Interviews
I am interviewing multiple people every week. I am getting as many interviews done in the summer as possible so I would only have to interview one guest per week during college.
While I would like to interview more than one guest per week, there are certain times when that can't happen (i.e. the week of final exams).
That's one of the reasons I am interviewing a lot of people in June. Interviewing people for my podcast will also expand my knowledge and allow me to explore new opportunities.
Podcasting seems to strike the perfect balance between exploration and sustaining your business. You sustain your business by interviewing the guests, and you also learn more by interviewing different guests.
My only regret about podcasting was why I didn't start earlier. The podcast itself will get published before the end of the summer.
#4: More Landing Pages
During my exploration, I came across a fascinating article from HubSpot. Here are some of the facts from that article about landing pages:
Companies see a 55% increase in leads when increasing from 10 landing pages to 15 landing pages.
Companies with 40 landing pages get five times as many leads as companies with only 1-10 landing pages.
More landing pages equates to more search engine traffic
I didn't need any more convincing. Since reading that article, I have created two additional landing pages. I aim to create at least 10 landing pages this month.
The more landing pages I have, the more opportunities I have to get leads. And leads are something that every marketer wants more of.
Even the people with email lists exceeding 1 million subscribers want more leads.
In Conclusion
May was a productive month, but I am expecting June to be a more productive one since it's summer time.
Most of the work I did in May was for my podcast. I contacted guests, had to learn the art of podcasting within two weeks, and had to figure out how I would record the episodes.
The main reasons I was able to explore several new opportunities was because I took rapid action. In April, I would have never thought of changing my blog's theme, using SEMrush, and starting my own podcast (let alone do everything else that I do).
The moment I thought of changing my blog's theme, I bought the Genesis theme. The very next day, I was using that theme for my blog.
Purchasing SEMrush involved no hesitation. I heard about it before and knew it was a great tool. Since I knew it was great, I didn't have to think about buying it. I just bought it and began taking action.
Before I had the chance to give up on my podcast, I sent five emails before I had any time to think it over. One of those people I emailed said yes. I was suddenly committed.
At that point, I emailed dozens of people. Most said yes while others said no. As more people said yes, I was digging myself deeper and deeper into the hole.
This was a good hole to dig myself deeper into. I was committed to podcasting and was forced to take rapid action.
If you set a close deadline for a reasonable goal, you'll push yourself to take rapid action.
Thank you for reading my month in review. I hope you enjoyed it.