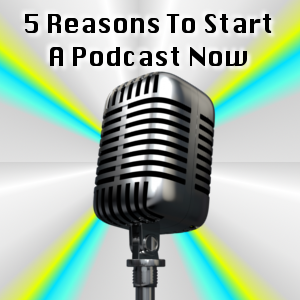 The inner thought grew louder and louder: CREATE A PODCAST!
That's what the inner thought kept saying. So I thought about it, looked at the work it entailed, determined it would be impossible, and gave up. Instead, I continued writing blog posts, publishing books, and coming out with new Udemy courses.
But the inner thought was not satisfied.
CREATE A PODCAST!
No matter how much work I piled on myself, that inner thought still rang loudly. And even after two failed attempts at creating a podcast, it had finally won. I wasn't giving up.
On the path to starting my own podcast, I contacted five people about being a guest. And as soon as I received the first positive response, I found the determination to follow through. Now I want to interview as many people as I can!
Talk about a complete mind shift.
I've finally tapped into the power of podcasting — perhaps the most underrated stream of traffic and revenue on the web — and I think that, deep down, everyone wants to start his or her own podcast. So let me assure you that the workload is quite simple once you get the hang of it.
If you are still on the fence, then this blog post is designed to get you off that fence and into the world of podcasting.
Right now I'm acting as a salesman for podcasting because I know it's so valuable. But I do not currently offer a podcasting product, so don't expect an up-sell.
Here's why it's so beneficial to start your own podcast:
#1: Tap Into A Completely New Audience
If you write blog posts, create training courses, write Kindle books, offer consultation sessions or any of your own services, there are two BIG audiences you will NEVER reach: the iTunes Podcasts audience and the Stitcher audience.
Stitcher has an Alexa rank that hovers between 14,000 and 16,000. iTunes has millions of users (and it's owned by Apple so it's incredibly popular).
You can't get access to that audience with any other form of content but the podcast. And from within your podcast intros and outros, you can lead this new audience to your blog, landing pages, and products.
#2: Learn From The Best
I chose to start a podcast in which I interview guests who can provide valuable insights. My knowledge is limited, and so is yours. There are many people who know many things that neither you nor I know right now.
But the beauty is the knowledge of any person can be expanded and tapped.
I expand my knowledge of my niche by interviewing people on my podcast. Right now, I have interviewed dozens of people. Not all of the interviews are published yet, but that's how many people I have interviewed.
I got a lot of inspiration from Nick Loper's Side Hustle Nation podcast which I have been mentioning here a lot lately. As I listen to more of his episodes, I pay more attention to the guests. Then I contacted some of them and asked them to be guests on my own podcast. Some of those people said yes.
And when I read through Nick's blog posts, I realize just how much he learns from those guests.
The knowledge he learned from one of his interviewees allowed him to go from virtually no Pinterest traffic in two months to more than 10,000 visitors from Pinterest in the following two months.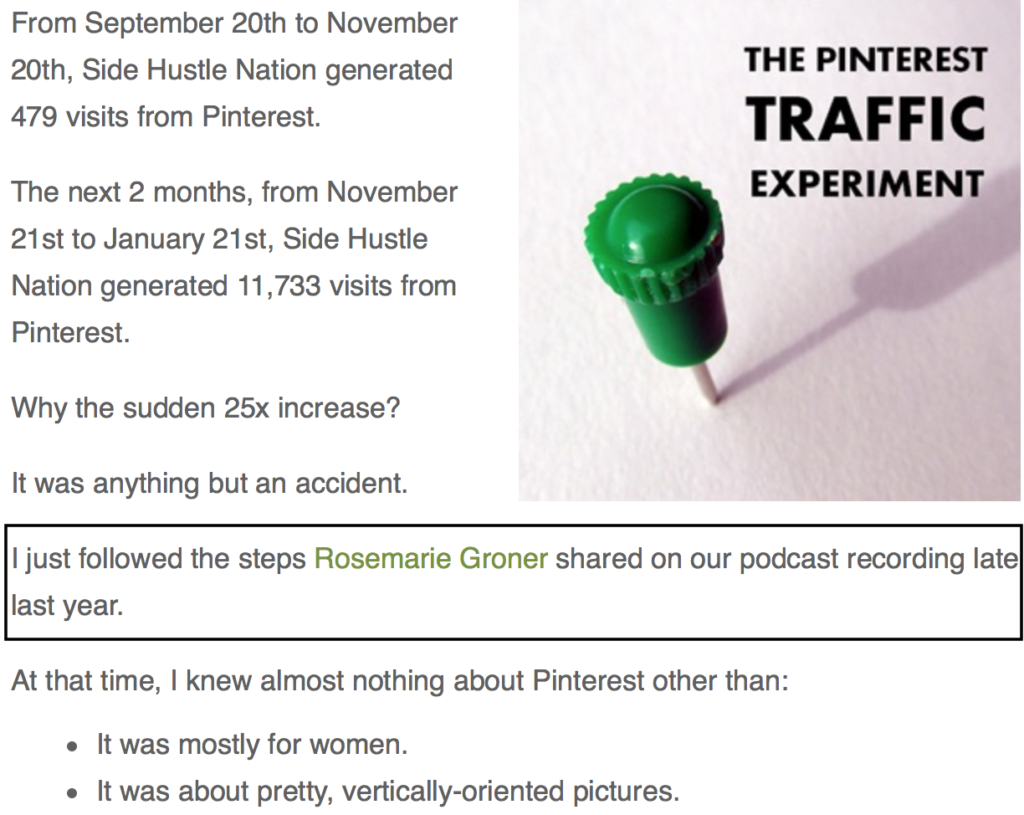 Want to become one of the best? Then surround yourself with the best. Starting your own podcast and interviewing interesting people is a great way to make that happen.
#3: Influencers Will Promote Your Episodes
Many of the guests featured on your show will promote that show to their own audiences. You'll get more traffic from your guests' efforts, and some of that traffic will funnel back to your guests' sites as well.
Some of the people your guests bring over will become devoted subscribers to your podcast. That means each new episode will accumulate more downloads than the last.
All of these downloads will help your podcast rank higher on the iTunes Podcasts and Stitcher search results.
#4: Repurpose Your Podcast Episodes 
You can repurpose a podcast episode into several types of content.
You can turn each of your podcast episodes into a video. If you host a Skype conversation with someone, you can take that Skype call and turn it into a YouTube video. If you only use MP3, you can include your podcast's logo as the image part of the video and then simply insert the audio.
Plus, you can turn every podcast into a blog post. Take a look at how they do it on Social Media Examiner.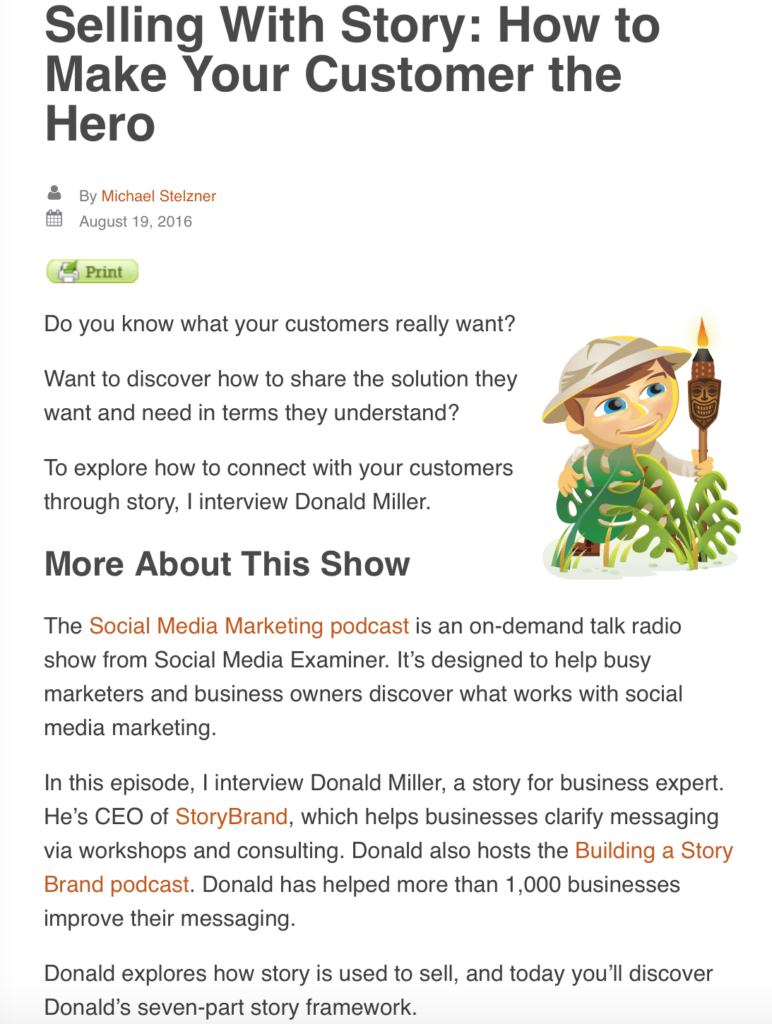 The show notes turn the podcast episode into a blog post optimized for search engines.
These types of blog posts command significantly higher visit times than most blog posts because people who like the podcast episode may be on the same blog post for 30-60 minutes, depending on the length of the episode.
The higher your visit time, the better your blog will rank on the search engines.
You can also publish that blog post elsewhere. LinkedIn Pulse and Medium are two places anyone can put their blog posts regardless of credibility or social proof.
I also get some of my blog posts featured on Business2Community (but getting featured there isn't as easy as creating your own on Medium and/or LinkedIn).
#5: It's Fun!
Finding and contacting guests forces me out of my comfort zone and allows me to learn new things. And building a conversation with the guest allows a relationship to develop. I like those too.
Each time I schedule a podcast into my calendar, I feel like a champ. With my different time-consuming commitments, it's awesome to know that I can still block an hour for an episode.
I love the interviews. I learn, get to know influencers better, and have fun, interesting conversations. Depending on who you invite to your podcast, you can get that epic combination of insight and humor.
If you have a business related podcast and want a guest who can provide awesome insights while making you laugh every other minute, Mike Michalowicz is the go-to guy.
In Conclusion
For a long time, I didn't start a podcast. Now I can't stop talking about it.
Podcasting has allowed me to connect and chat with some of the brightest people within my niche. Through each of these interviews, I have learned more about how I can expand my business and what it takes to achieve success.
What are your thoughts about starting a podcast? Have any stories for us? Sound off in the comments section below.
My podcast Breakthrough Success comes out on August 31st. In that podcast, I'll delve into the backstories of successful entrepreneurs and explore how they achieved their success.