Get the exact process I use to write new books each month that generate passive income and grow my business 👉 https://amzn.to/32q2qO8
Creating content allows you to better serve your audience and reach potential customers. That's no secret.
We know the benefit of creating content and distributing it to our community. However, it's not always easy to remain consistent. For many creatives, time is the big issue. You only have so much time to create AND MARKET your content.
If you're creating but not marketing, then what's the actual point? I don't want to be the guy who creates great content that never sees a soul.
For all of the nonfiction authors out there, you also don't want to be the person who cranks out so much free content but can't find the time to write and market your books.
The biggest block that holds content creators back is creating content without any purpose behind it. And no, serving your audience or being consistent are not viable reasons here.
I'll put it this way.
I didn't decide to write a blog post on this topic because I pulled this topic out of a hat. There's a very intentional reason for me writing a blog post for nonfiction authors which I'll get into shortly (no $997 course upsell here, but I'd be mighty happy if you grab your copy of The Wealthy Author and left a review).
Anyway, I'll cover the three reasons here. By the time you read this entire blog post, you'll know exactly why I decided to write this one.
#1: Hold A 1-2 Hour Workshop
If you can muster more than two hours, then more power to you. However, a one hour workshop gets the job done.
The workshop can either be a webinar or an in-person event. The webinar is definitely easier to organize from a logistics standpoint. Sit in your house and anyone from the world can join your webinar.
The in-person event is more of a hassle since you have to get local attendees and find a local venue, but you can make more money with in-person events AND learn more about your audience than with a webinar.
For the in-person option, it honestly doesn't have to cost you anything. Reach out to local libraries, restaurants, and co-working spaces. For the majority of these venues, the price point will be somewhere between inexpensive and free. All three of these venue owners want more people in their buildings.
Libraries frequently hold events for authors.
If you can get customers inside of the restaurant during their off hours, they're game.
If you can get side hustlers and business owners inside of a co-working space (potential customers), the co-working spaces see the need for you to hold a workshop at their place.
Regardless of how you decide to conduct your workshop, the important thing is to record yourself on video. That way, you've got a 1-2 hour video.
The cool part is that you can take that 1-2 hour video and turn it into a bunch of smaller videos.
I don't think it's farfetched for anyone to do a 1 hour workshop and end up with at least 10 short videos that are ready to be deployed on YouTube, Vimeo, and Facebook.
Imagine if you did a webinar each month and got at least 10 videos from each of those webinars. For most people, that's almost an entire quarter of YouTube videos done. All of that in just 1-2 hours with some editing to create those separate videos later on.
#2: Get More Intentional With Your Free Content
In this picture, there are two book covers. Guess what the books have in common…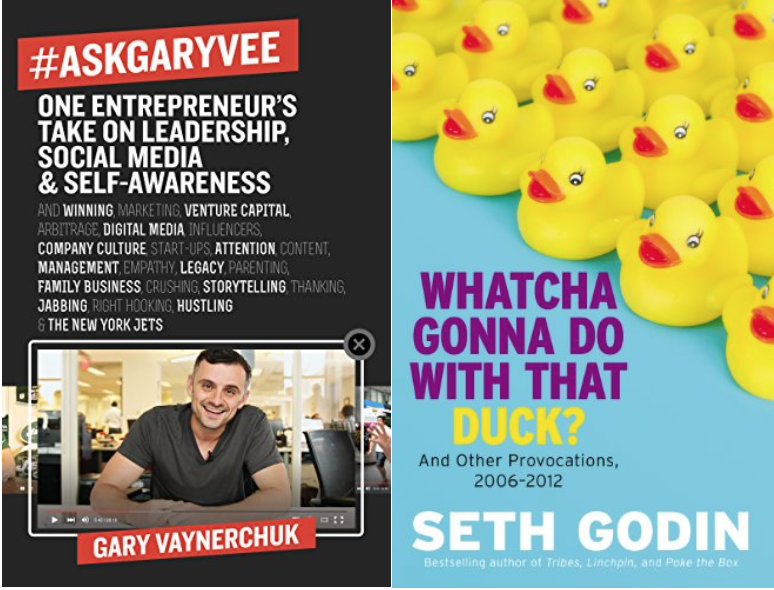 "They're by my favorite authors?" Yes. Fun fact: I own a pair of the Gary Vee sneakers
"These books have valuable content in them?" Yes. You're getting warmer.
"They're successful books?" Yes. That's also true.
"The both have a lot of paper and black ink?" Yes. That's also true, but now we're getting silly
Okay, so there are a lot of things that these two books have in common.
But these two books aren't like every book you'll read.
Why?
These books are based off of the free content that the authors have posted online in the past.
You can find at least 90% of the from either of those books if you look in the right places.
Here's the caveat…who is actually going to do that.
Gary Vee and Seth Godin come out with new content every day. Do you really want to go through thousands of blog posts, videos, podcast episodes, and other fun stuff to find all of the content from each of those books?
Or, if you really wanted to, would you just buy the books instead and save time?
Which brings us to this blog post.
Someday, I will shamelessly place this entire blog post, virtually word for word, in one of my future books.
There are a few reasons the placement will be shameless:
Some readers will first learn about me through my book. This blog post would be new content for them
Some visitors reading this blog post now might forget about it in two weeks. Placing it in the book would reinforce the tactics we've covered
It's a valuable piece of content. I'm not a fan of working so hard on something only to put it on the shelf after its initial promotion
I have two choices for this content. I either include it in the next book and you can't read it for several months until I release the book (that also implies you buy the book). OR, I release the content, provide you with consistent free value, build my tribe in advance, and then get to put it in my book later on.
This blog post is rapidly approaching 1,000 words. That's 5% of the content for a 20,000 word book (I usually aim for between 20k-25k words per book).
Just by being a little more intentional, I now get to write blog posts and books at the same time.
#3: Quote Yourself
"Some really awesome quote." — Me
So far, we've covered video and blogging. We've also indirectly covered podcasting because you can just turn your videos into MP3 files. And just like that, you've got a podcast too.
But there's one form of content we haven't covered yet.
And that's pictures.
Sure, you might have a stash of great pictures on your smartphone that you can share with your tribe.
But a steady stream of quote pictures helps establish you as an expert in your niche.
Whenever I share a new podcast episode on Instagram, I always do it as a quote from the episode. Here's what I'm talking about…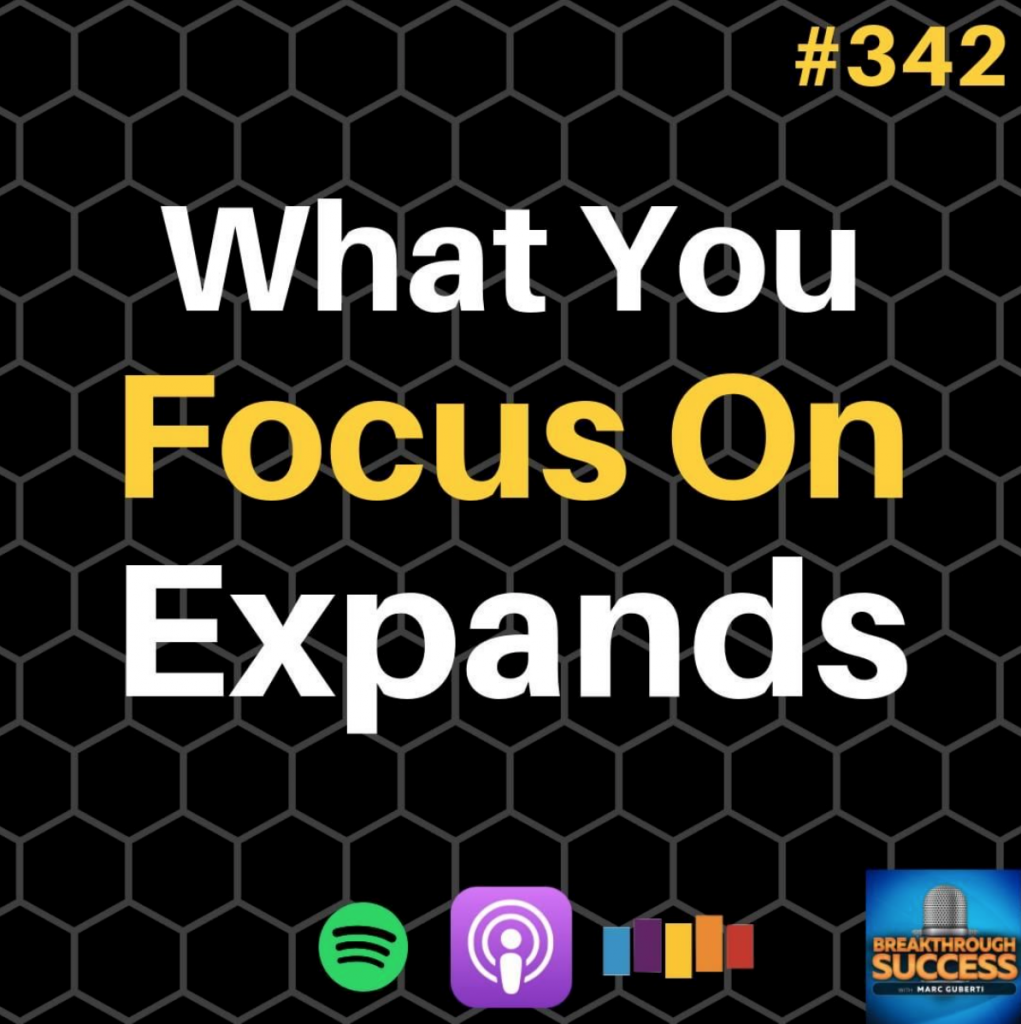 It took me less than five minutes to create that picture in Canva. I have an entire template in there so all I have to do is change the text and episode number.
While this method allows me to provide three great Instagram pictures to my audience each week, it's not enough for my content schedule.
The ideal target for me is multiple Instagram pictures per day.
Two ways I'm doing this are quoting my content (think blog posts, videos, and podcasts, books, and training courses) and posting thought provoking tweets and turning them into branded Instagram posts.
Here's what I usually do for the thought provoking tweets…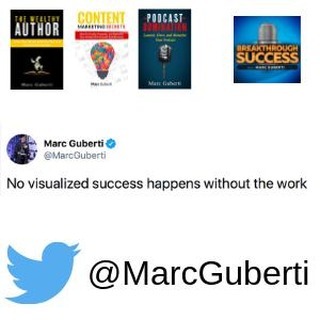 Pictures like these are super easy to create in Canva. And in one picture, I provide value while subtly promoting my Twitter, Breakthrough Success, and the Grow Your Influence Book Series.
You can do this with the content you already have up. Tweet a quote from it and turn that tweet into pictures for Instagram, Instagram Stories, and/or Pinterest.
In Conclusion
The big idea behind content creation is to provide your existing audience with value and reach more people.
However, if we spend too much time creating free content, we don't have enough time to create products or promote ourselves.
Getting more intentional with your content and repurposing often will open up a lot more time and likely boost your income.
What are your thoughts on content creation? Do you have any tactics to share or a question for me? Sound off in the comments below.