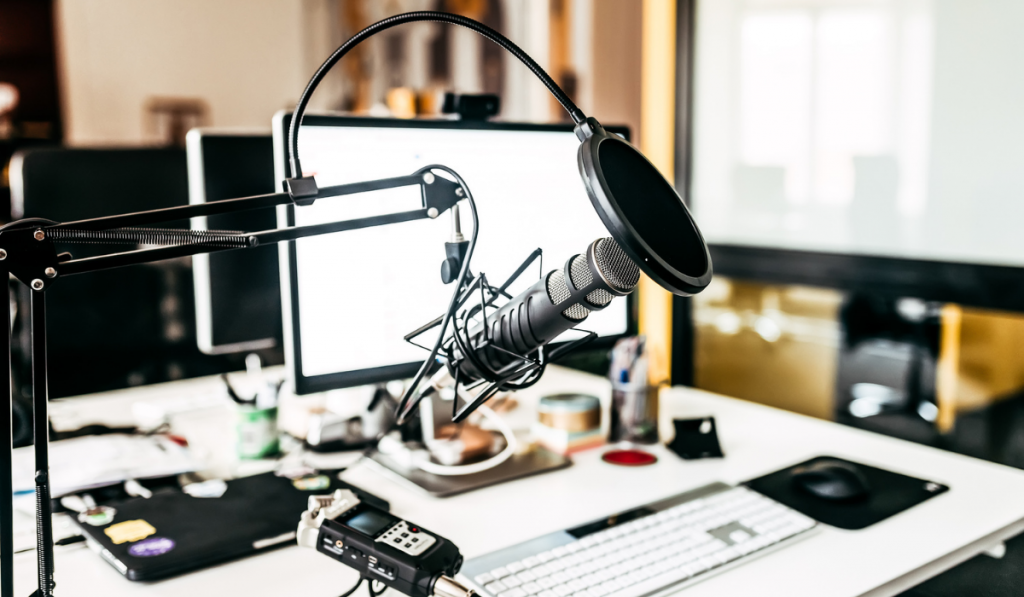 Launching a podcast is exciting. You get to embark on a new project that enables you to meet many people along the way whether it be the guests you interview or the people who listen to your show.
When most people think about launching a podcast from scratch, they get overwhelmed with all of the moving parts. A podcast launch can be as simple or as complex as you make it, but it's important to focus on implementing each individual step rather than the entire picture.
If you've ever considered launching a podcast, this article will provide you a shining path you can use to go from idea to launched podcast.
Start With The Topic
Some podcasters in the making want to launch a podcast but aren't sure which topic to choose. If you're using your podcast as a business, ask yourself what topics you have no problem talking about for the next 10 years.
If podcasting becomes your main source of income, you won't want to stop in the middle of the journey. Continuing to host a podcast becomes more difficult if you stop enjoying the topic or the topic becomes less relevant (i.e. if your podcast is centered around a fad).
If you already have a business, connect your podcast with your business. If you teach people how to paint, host a podcast around painting. The podcasts that are easiest to monetize are the ones connected to existing businesses. That way, you can promote your services to your guests and listeners and start making money before you land your first sponsor.
Get Guests On Your Show
Once you figure out your podcast's topic, the next step is getting guests on your show. For the sake of momentum, it's important to reach out to guests before you figure anything else out…even the tech or how to be a great host.
This is how I launched Breakthrough Success after failing at two previous podcast launches and giving up on them halfway. When you reach out to guests and some of them say yes, you're suddenly committed to learning the tech and how to be a great host within a limited timeframe.
It's a hard deadline you force upon yourself, and we all perform better with deadlines.
When looking for initial guests on your show, look for other podcasts in your industry and reach out to people who have guested on those shows. These people have already been on podcasts and understand the experience. If you can, interview fellow podcast hosts in your show's early days as you can ask them for feedback after the interview and know that you're getting an expert opinion.
You can also reach out to friends and colleagues to be on your show. As you get more comfortable with interviewing guests, get more specific about the types of guests you're looking for.
Some people use their podcasts as lead generation resources and interview guests who fit within their client avatar.
Selecting The Right Hosting Platform For Your Podcast
Before you start recording interviews, it would make sense to determine where these interviews will go. Which platform will you use to publish your podcast?
While there are many options to choose from, my two favorites are Libsyn and Captivate. Libsyn is better if you're only looking for basic stats and publish 1-2 episodes each week. You can start a podcast on Libsyn for as little as $5 per month. The price increases based on gigabyte storage, so uploading many episodes to Libsyn each month may force you to select a higher package.
Captivate is a better option if you want to start multiple podcasts, want some extra assets, help with marketing, and more detailed analytics. Captivate starts at $19/mo and is based on downloads. If you have 3 podcasts that get a combined total of 5,000 monthly downloads, you pay $19 each month versus having to pay $5 per month (or more than that) three separate times on Libsyn. This can add up if you have to select higher packages on Libsyn.
However, if your show becomes massively popular, you'll have to pay more on Captivate although you should be getting sponsors at that point.
If you want to save some extra money with Libsyn, you can use the coupon code Breakthrough to get the rest of this month and the following month for free.
Get Comfortable With Zoom
Zoom has become a popular choice amongst podcasters and podcast guests. Consider doing a practice recording session with a friend so you fully understand how to use the platform.
You will have to provide each guest with your Zoom link and password so they can properly join the meeting. Also, make sure you record the interviews. Forgetting to record the interview will result in a lot of time wasted from you and the guest.
You can either automatically record Zoom meetings once they start or manually hit the record button when you are ready to go. I prefer the latter option as this makes editing much easier. You can keep a sticky note nearby that says "Record" so you won't forget.
Prep For Each Interview
Preparing for an interview isn't as challenging as it sounds. All you need is a topic, your guest's bio, and some questions. It's common for beginner podcast hosts to write some questions in advance, but as you get more experienced, you should stop writing questions in advance.
If you don't write questions in advance, you are forced to listen to your guest and come up with questions based on how the conversation flows. This will also reduce your prep time.
Using a calendar app like Acuity or Calendly or Sprintful to schedule interviews will significantly speed up the communication process and allow the guest to provide their bio for you. I copy and paste the topic and bio the guest gives me and then don't have to do any prep work for my episodes. 
The Post-Production
Once you record an episode, the last steps are editing the episode, writing show notes, uploading the episode, and then publishing it.
I suggest starting with very basic editing where you just cut out the beginning and end. If there is a notable blip in the middle of an episode, you should cut that out as well.
You can speed up your editing and show notes writing process with the Podcast Show Notes Workbook. This workbook is essentially a cheatsheet for every episode where you can write down important points you want to incorporate in your show notes and the timestamps for your editing.
For instance, if someone makes a mistake in the middle of an episode, it's better to know they made the mistake at the 15 minute mark than just "somewhere in the episode."
This Show Notes Workbook allows me to write show notes without going back and re-listening to the episode, a big time consumer for most podcasters.
All that remains is uploading your podcast episodes to Libsyn or Captivate and then publishing them when the time is right.
Podcasting is as simple or as complex as you make it, but if you follow these strategies when launching your podcast, it will get easier and yield more results over time.
Want to learn how to launch, grow, and monetize your podcast. Discover the ultimate podcasting tips and strategies that will help you with all of your podcasting goals!