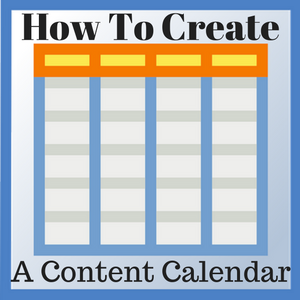 A content calendar is a necessary part of a solid content marketing strategy. From idea generation and promotion to follow through and analysis, an editorial calendar is the engine that drives a strong and successful blog.
Planning what kind content to create, when it should be published and how to promote it eliminates the guesswork and lets you to perform at a higher level.
Let's say you publish a blog post. Your content may be live, but how will you promote it? If you don't know the answer to that question, you're missing an important piece of strategy. Be sure to plan out your promotional efforts before you publish or you will not likely see a return on your time and efforts.
Editorial calendars help you focus on topics that resonate with your audience, pinpoint ongoing themes and anticipate how to market each piece of content.
Include Content Type and Promotion in Your Calendar 
For your blog to really benefit from an editorial calendar, be sure to include content type/idea and marketing. Using a simple template like Trello lets you assign specific topics to particular days of the week throughout the month. You can also plan time for drafts and revisions.
Not only will a calendar decrease the chance of writer's block and save you time on idea generation. It also provides a specific date for each post, video or any other form of content, which helps keep your content fresh and consistent.
Once you've decided on the type and timing of each piece of content, you should turn your focus to promotion. While some of those efforts will overlap, each piece of content is unique and your approach to marketing may change accordingly. Tools like Trello and others allow you to choose where each piece of content will be promoted and with whom, for example, on Twitter, Facebook, Instagram, YouTube, your blog, etc.
Let's say that next Wednesday, you're publishing a blog post about Twitter. You may want to promote it only with the Twitter segment of your email list and/or to share it on Twitter 2-3 times that day or week. You may also choose to share a piece of content on Facebook only, or use paid promotion for something else. Being as specific as possible keeps you organized and makes it easier to take action in a timely manner.
Plan REALLY Far Ahead
Once your blog has become an important part of your brand and business, you should take it as seriously as Elon Musk takes Tesla and SpaceX.
When creating your calendar, try to plan at least three months ahead. Identify what type content you'll produce over the next three months. Then decide when to publish and how you will promote each piece. Planning at least three months in advance makes it easier to align your content with your overall objectives.
In the past, I promoted training courses but my own blog content did not align with those efforts. For example, the week I promoted a copywriting training course I'd also written a blog post about traffic generation. Another time I tried to sell a course on self-publishing but had published a blog post about social media.
This was not intentional, but it was still a mistake. I should have planned my content according to those promotional efforts. Once I became aware of this error, I began planning my own content according to the training courses I promote on a regular basis.
Align Content with Your Overall Objectives
Rather than publish random blog posts, I started writing posts to supplement and reinforce my promotional efforts. I published two such posts, finding time to create a training course and making training course creation a breeze, during the same week I was promoting a course about how to create successful training courses.
The result? Increased audience awareness and retention. By offering content on the ease of creating a training course, and finding the time to do so, my audience was more receptive to the promotion.
While people often resist paid content precisely because of the price tag, most training courses are worth every penny. If you follow the instructor's advice from start to finish you'll end up crushing it. These courses teach you how to achieve a certain goal using every possible method. But I digress.
My new content strategy offered both free and paid content and reinforced the topic in readers' minds. Supplementing paid content with free content increases interest in the subject, provides a teaser and increases expectations and the rate of purchase.
Be Consistent
My content calendar includes a vlog idea on Tuesdays and Thursdays, a blog post every Friday, and a Q&A video every Saturday. Every week, every month. Consistency helps you build and maintain an audience of people who regularly consume your content. An editorial calendar lets you work with weekly and monthly themes and keeps you on point.
Create Content In Advance
I have a policy to have at least one month's worth of content scheduled in advance. Having that month long buffer gives me peace of mind and lets me focus on crafting valuable content without feeling pressed for ideas or rushing through the creative process at the last second.
Once the process in is place and works naturally, double down on your efforts with extra content. For example, record two videos rather than just the one you've scheduled. If your weekly blog posts have been written well in advance, see if you have time to write an extra one. The more content you have in reserves, the more you can begin experimenting with publishing content at an accelerated rate.
In Conclusion
An editorial calendar gives you a clear picture of what content you should produce, when it needs to be published and how to promote it.
Planning well in advance allows you to align your content with your product launches or any affiliate content you promote.
If you are a serious blogger, you absolutely need a content calendar. The cool thing about calendars is that there are many tools available online, and some are free. You can also Google "December 2016 calendar" and simply print out a template.
Whether you use a digital or paper calendar, always print it out and keep it on your desk. This will ensure that your calendar is always visible and accessible, and will strengthen your commitment to following through.
Have you created a content calendar? Are you thinking about creating one? Sound off in the comments section below.