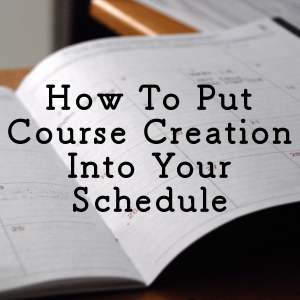 Ever think about creating a training course? Training courses are high in demand right now, and some training courses have made as much as seven figures within a few days.
But the recurring excuse is a lack of time. Some people believe it will take too much time to get over the learning curve. Others believe it will take too much time to crate a high quality course. Both of those can easily be accomplished.
You don't have to commit an entire month to creating a single training course. I have managed to complete some of my training courses in a few hours instead of a few days, weeks, or months.
The purpose of this blog post is to let you know how possible it is for you to create a training course, and better yet, how you can easily get started.
Estimate The Workload
When I create a new training course, I always estimate the amount of work I must put in. For most of my Udemy courses, I only needed 1-3 days to go from course idea to getting published in the Udemy marketplace. Most of my Udemy courses are two hours long.
For my upcoming Total Social Media Domination membership site, I knew I would have to put in more time. My goal is to make TSMD one of the best social media how-to membership sites on the web.
I calculated that I would need to devote at least two hours each day for three days to finish creating all of the videos. To some people, committing two hours to the same activity in a given day seems like a lot.
Considering that this level of commitment is only required for three days to create a superb course doesn't make it seem as time consuming. In three days, you have a high quality training course that you can charge hundreds of dollars for.
In this case, it is better to overestimate your workload than underestimate it. If you underestimate the workload, you'll miss the deadline, feel overwhelmed, and give up.
If you overestimate the workload, you'll have plenty of time to spare and might even finish the training course comfortably.
What Must You Get Done Today?
I have experimented with many workflows for creating a training course. It's best to write a list of all of the topics you must discuss for your training course each day.
During the planning process of TSMD, I identified all of the topics I must completely discuss each day that I did videos. I knew on what day I would completely cover Twitter and on what day I would completely cover Facebook.
In three days, I had to cover 10 key topics, and each topic consisted of several videos.
I did plan out and think about how I would get everything done within three days. However, I didn't plan deep ahead with the creation process because those types of plans are dependent on you staying true to the course each day.
I always focused on completing the video lessons I had to get done for the day. I set my goals for the day very high and then spread out the other video lessons more comfortably. On the following day, I change my plans to make that an intense day and repeat that process until I complete the course.
For TSMD, I had to put in two hours of work for three days which added up to under 10 hours total.
The Power Question
"When will you create the video lessons?"
When I was a kid and my dad asked me when, I'd say, "Soon." Then he'd promptly say, "Give me a time." Depending on the conversation, he'd say, "Give me a time and day of the week."
This type of questioning annoyed me at first but forced me to get set on when I would take a particular course of action.
Being clear on when you will take action makes it easier to carve out time in your schedule. I was very specific with TSMD. I decided that evenings would work best for me.
I'd get everything else out of the way so I had more time in the evening. Podcast interviews were done, blog posts were written, and emails were responded to.
During those evenings, it was just me and TSMD.
Habit Development
If you do something each day for 66 straight days, you turn it into a habit. Every day, I do something for one of my training courses.
I'm creating video lessons, making changes to the membership dashboard, planning out the marketing, or something else. But I'm doing something for one or more of my training courses every day.
Turn training course creation and marketing into a habit by doing a little bit each day. It's better to do a little bit each day than squeeze everything into one day. Doing a little bit each day makes the process more comfortable and allows you to deliver higher value training courses.
I was fine with squeezing TSMD into three days because even when the video lessons were created, I still had a lot more to do. To this day, I continue creating video lessons for TSMD and doing a little bit each day. TSMD won't be one of those publish and forget about it training courses. I'll be updating it every month.
In Conclusion
I created dozens of training courses before graduating high school. Training course creation isn't a privilege exclusive to a small group of people. Anyone can get started and create the training course of their dreams.
Plus, training courses are highly profitable. I make more money from my training courses than any other product or service that I offer. And I'm not alone.
Joseph Michael started creating courses part-time during any extra time he could find. A few years later and Joseph has made over $1 million from his courses.
Joseph was kind enough to provide my readers (you guys and gals) with his course creation bundle. This bundle allowed him to go from training course idea to over $1 million in profit.
Joseph started out as your typical "Average Joe." If Joseph and I can create profitable training courses, then you can too.
The course creation bundle will help make training course creation a breeze, but it's only available for a limited time.
My recommendation is to get it even if you don't want to create a training course. That way, when you decide to create a training course, you have the resource.
Have you created a training course before? If not, what's holding you back? Sound off n the comments section below