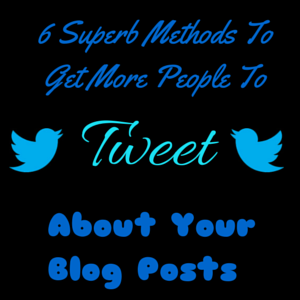 Many bloggers look at Twitter as a way to boost blog traffic. They tweet their blog posts and encourage their visitors to tweet them too. However, most of this results in a small amount of traffic that is not enough to generate and sustain a full-time income.
My blog generates and sustains a strong audience from Twitter. Every month, my blog attracts close to 10,000 visitors from Twitter alone which puts me on pace for over 100,000 visitors from Twitter in 2015. Part of that is a result of my large audience. With over 200,000 Twitter followers at this point, my audience definitely plays a part in how much blog traffic I get from Twitter. However, there is more to getting blog traffic from Twitter than having a large audience. In this article, I will explore six methods you can use to get more people to tweet your blog posts, and as a result, get more blog traffic from Twitter.
#1: Write Better Headlines
When most people tweet articles they find on the web, they tweet the headline. Most of the people who will tweet this blog post will say, "6 Superb Methods To Get More People To Tweet About Your Blog Posts" with the link. Your headlines need to be catchy so they grab other people's attention, and some of that attention will lead to more tweets. We like tweeting stuff that sounds cool, and if we get value from the article, it's practically a guarantee that we share the article with our followers.
What does it mean to have a better headline? For starters, you can include a big number. My blog posts 70 Amazing Twitter Tips and 100 Amazing Blogging Tips are both very popular on Twitter, and people have tweeted about those articles over 500 times. The big number of tips indicate high value which makes people want to read the content and eventually share that content with their audiences.
The best way to get ideas for your headlines is to look at examples. Which blog posts are doing exceptionally well on Twitter? These blog posts don't have to be yours. On the contrary, the blog posts you analyze can be blog posts written by anyone in your niche. See which pull-words they are using and how they encourage visitors to tweet their blog posts.
#2: Twitter Share Button
You can't really expect people to tweet your blog posts unless you have a Twitter share button somewhere in all of your blog posts. I have a Twitter share button at the bottom of all of my blog posts along with the share buttons for a few other social networks. If you want people to tweet your blog posts, you must make it as easy as possible for your visitors to tweet your content.
That's why you need a Twitter share button at the bottom of every blog post. There are few people who are willing to go on Twitter, manually copy your headline into a tweet, and then include your blog post's link in the tweet. Sure, it takes a few seconds, but remember that we have very short attention spans. Clicking a Twitter share button on this blog already gives you a prewritten tweet that you can use or customize. All of the work is done for the visitor. The only thing left to do is click "Tweet."
#3: Click To Tweet
Click To Tweet is a great tool that makes it easy for people to tweet certain parts of your post. When you write something important, you can include a link that automatically leads to a tweet. Click To Tweet led to hundreds of extra visitors for just one of my articles. It is one of the most underrated ways to get more people tweeting about your blog [Click To Tweet].
This Twitter tool simply makes it easier for people to tweet your content. The easier it is for someone to tweet your content, the more likely a visitor is to tweet your content.
#4: Tweet This WP Plugin
The Tweet This WP Plugin is one of the best plugins I have on this blog. After getting inspired by Kim Garst to download the plugin, I decided to give it a try. Since I used the plugin, more people have tweeted my blog posts. In fact, I currently use it in every blog post that I write. The Tweet This WP Plugin is so successful because it is practically impossible for a visitor to skip over it while reading your blog post. Downloading this plugin only takes one minute. Using the plugin on one of your blog posts will take two minutes at most. The Tweet This WP Plugin can massively increase the amount of tweets your blog posts get.
[tweetthis twitter_handles="@MarcGuberti" url="http://bit.ly/1CLXKBY"]The Tweet This WP Plugin can massively increase the amount of tweets your #blog posts get.[/tweetthis]
Although the plugin is great to get more people to tweet your content, it should not be overused. The Tweet This WP Plugin works like an exclamation point. It grabs our attention if it is only used once or twice in an article. However, if you use the plugin too many times, it will take your visitors' attention away from your content. You want people to tweet your content, but you don't want to come out as the person who says, "Please, please, please tweet my content."
#5: Tweet Your Own Blog Posts
If you are not willing to tweet your blog posts, then there is no point in expecting others to do the same. Whether you have hundreds of followers or thousands of followers, tweeting your blog posts allows those blog posts to reach an audience of people who may retweet and share your blog posts.
Tweeting my blog posts has allowed me to interact with many people, and many of these people  repeatedly share my blog posts. None of this would have happened if I decided to not post tweets about my blog posts.
#6: Grow Your Twitter Audience
This tip may not come to you as a surprise. However, many people stop by saying "Grow your Twitter audience" as if that statement is perfectly understood. There is more behind that statement than the four words you see.
If you want to double your blog traffic from Twitter without tweeting any more than you already do, then you need to double your Twitter audience. This may sound like common sense knowledge, but this knowledge allows you to realize what you have to do in order to achieve a certain goal.
Not only is it important to grow your Twitter audience, but it is also important to grow a targeted, engaged audience. A targeted follower is the best type of follower to have because that person is already interested in the niche you are in prior to following you. Your content will perfectly fit into their interests. These are the people who will account for a majority of the retweets for your blog posts.
In Conclusion
You want as many people as possible to tweet your blog posts. Few visitors start reading a blog post and immediately think of tweeting it. Visitors first get attracted by a headline and want value from the content. Then, you must make it easy for your visitors to tweet your content. Give your visitors multiple opportunities to tweet your blog posts. One opportunity is no longer enough. That's why I always use the Tweet This WP Plugin in my blog posts, and I occasionally use Click To Tweet too.
Which tip was your favorite? Do you have any additional tip to get more people to tweet blog posts? Please share your thoughts and advice below.