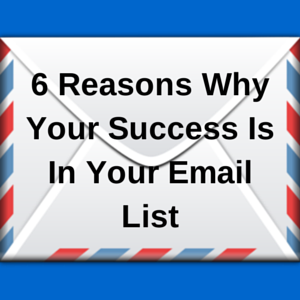 I am sure you have heard of phrases like, "The money is in the email list" and "Your blog must have a way to collect email addresses." When I was a new blogger, I did not fully understand the power of an email list. I initially thought it was just a strategy surrounded by too much hype. I did read the types of phrases I mentioned before, but few articles with those phrases would go deep into why growing an email list is important.
It was just "understood" that a blog must have a way to collect email addresses. Few articles went deeper than that when discusses how important it is to grow an email list, and that resulted in me not taking my email list seriously for a long time (big mistake).
Other than me saying that not growing my email list was a mistake and that the money is in the list, here are six reasons why it is important to grow your email list.
#1: Higher click through rate.
If you craft your emails effectively, you will get a much higher click through with an email list than with a social media audience. Based on the number of tweets I send out, the number of followers I have, and the number of visitors I get from Twitter, my tweets as a lump sum get a click through rate lower than 1%.
Although my Twitter presence does equate to hundreds of daily visitors, my email list is proving to bring forth a greater click through rate. For the typical email, at least 10% of the people on my list end up clicking the link in the email. The higher your click through rate is, the more traffic your blog will get, and emailing your list is a great way to produce a high click through rate.
#2: Scalar traffic
Touching upon higher click through rates, scalar traffic is another great reason to grow your email list. If you get 10% of the people on your list to click on the emails you send, then you would get more clicks as your email list grows.
If you have 100 people on your email list, that mathematically means you are getting 10 clicks. If you have 1,000 subscribers on your email list, that mathematically means you are getting 100 clicks. Just keep on adding the zeroes, and you will quickly realize how powerful an email list is.
One of the most successful marketers in the world is Brendon Burchard, and he achieved a big portion of his internet fame through a big email list. Burchard boasts an email list of over 1 million people, and if 10% of those people are clicking on the links he sends out, he is getting 100,000 visitors each time he sends out another link.
#3: More sales
In order to effectively utilize your email list, you need to interact with the people on that list. One of the ways you can do this is by promoting one of your products. My recommendation is to only have one promotional email every month and make sure the rest are informative, but sending out that one promotional email every month has the power to bring in more sales.
Since your subscribers are seeing you often and reading through your content, it is quite possible to promote one of your products and expect to bring in more sales. All you have to do is send them emails before that point.
Another great way to get more product sales is by creating an autoresponder that sends out a series of emails that are several days apart from each other. Your autoresponder sequence has the power to entice people to buy your products and let them know about your story. Here is the order that you should create your autoresponder to bring in more sales:
An email about an aspect of your story that relates to something your readers may be facing.
An email that provides value such as a lengthy report or blog post for free.
An email about the product itself and what it is all about.
An email that pushes for the sale.
In the first three emails, you should reference the product but not push for the sale. Just include a P.S. here and there about your product and what it has done for others.
The reason the autoresponder sequence takes four emails to pull off is because you want potential customers to be in the right mindset when buying your product. Imagine how likely you would be to buy a product if the salesman rushed over and said, "Buy my product." Then imagine what would happen if another salesman told you to buy his product who you felt related to and recognized as an expert. You would be more likely to buy from the second salesman than the first one.
#4: Powerful product launches
The product launch is one of the most important phases, and some would argue that it decides whether a product becomes successful or not. Your email list is a great way to get more sales which also means it is a great way to have powerful product launches.
For training courses that you create, this can mean a massive amount of customers quickly buy it, and that means you will quickly get new testimonials. For Kindle authors, a powerful product launch means Amazon will start to promote your book more throughout their site. Having lower sales ranks for their books allow Kindle authors to get more sales.
#5: Word of mouth
In a world filled with the internet, social media, and mobile phones, word of mouth marketing still emerges as a great way to get noticed. High school gossips still go around, and as a student myself, I know that most of those gossips still take place through word of mouth.
In addition to still existing and reaching out to a variety of people, word of mouth marketing is an extremely valuable form of marketing. When someone tells their friend about you, it's not in Facebook post that can easily get overlooked. Instead, these people are talking to friends, and when these types of conversations take place, each friend is paying more attention than they would be to a social media post.
Sending emails to an email list will allow you to develop the type of bond with your subscribers that results in word of mouth marketing. Think of word of mouth marketing as something similar to click through rate. Although you cannot track word of mouth marketing statistics, it is possible to create an estimate.
Let's say that 10% of the people on your email list will tell their friends about you. Then, you can play around with the numbers I mentioned when referring to scalar traffic to determine how many people would tell their friends about you. If you have 1,000 people on your email list, 100 people are going to tell their friends about you. That is 100 extra people who know about you and may end up on your email list. Then, some of these 100 people will tell their friends and some of those friends will tell their friends. It is an infinite loop of people telling their friends about you, your email list growing larger, and you getting more traffic and sales.
Growing an email list helps word of mouth marketing and word of mouth marketing helps your email list.
#6: People will remember you
Just because someone reads your blog and enjoys your blog posts does not mean that person is going to be a returning visitor. Some people may forget about your blog while others may get preoccupied by other things. The reason is that there are few visitors who have an extraordinary desire to visit your blog every day, let alone once every 30 minutes.
Since most people do not have this strong desire to visit your blog that frequently, it is possible to see a blog visitor one time and never again. However, if you get a visitor to subscribe to your email list, that person will be able to remember you.
The people will not automatically remember you by subscribing to your blog. Instead, you will remind people of who you are by sending emails to them. If you are someone who cannot remember to all of the blogs you have subscribed to over the years, then you are not alone. I do not remember all of the blogs I have subscribed to since the beginning of my journey, but each time I get an email from that blogger, I am reminded of the following:
Who that person is
Why I subscribed to this person's blog
The desire to revisit this person's blog so I can read what I missed
Being remembered is an important way to build an authority on the web, and an email list allows more people to remember you. We are obsessed with our emails. Most of us check our inboxes multiple times every day while some of us are even checking our inboxes once every 15-30 minutes. Insane? Yes, but having your message in other people's inboxes will almost ensure that numerous people read that message and go to your blog.
In Conclusion
Your email list is where the money is, and it is essential for any blogger who wants to make it big on the web. You may have known that already, but now you also know why growing your email list is important.
Just to know that something is important is not convincing enough to take action. I learned that the hard way by not taking my email list seriously for a long period of time. I only took my traffic numbers seriously, but that also meant some people were visiting my blog and not coming back. Some people didn't come back simply because in their busy worlds, they couldn't remember me. Being able to send an email to these people's inboxes would have resulted in them remember who I am and visiting my blog more often.
There are free emailing options available such as WordPress' Jetpack option, but growing a big email list requires an investment. That is why I invested in iContact which I use to grow my email list.
Are you taking your email list seriously?