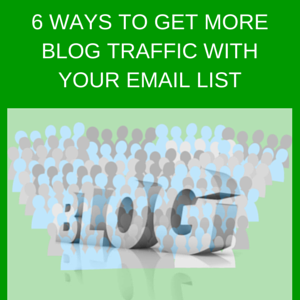 Have you ever heard of the saying, the money is in the list? Not only is the money in the list, but a stable increase in blog traffic is also in your email list. By interacting with your subscribers in an effective manner, you can potentially double or even triple your blog traffic depending on how many subscribers you have. Your email list consists of many of your best supporters who appreciate what you do and enjoy reading your blog posts.
Getting these subscribers on your blog will lead to more traffic for your blog. I look at all of my blog posts' engagement, and I notice that when I send an email blast about my latest blog post, that blog post gets more social engagement, social shares, and comments than the blog posts that I do not promote to my email list. When I look back at my WordPress statistics, I can easily tell which days I sent an email based on the spike in traffic.
I will assume at this point that you use a service like iContact, Aweber, Mail Chimp, Constant Contact, or something similar for your email marketing. You must use one of these services because they provide many capabilities that free emailing services do not provide. In addition to providing various capabilities, the top tools for email marketing (i.e. Optimize Press) require that you use one of these popular emailing services to get the best experience possible. Optimize Press is responsible for the bulk of my subscribers in the form of landing pages and other tactics I use to build my list.
As you continue to build your list, it is important to interact with your subscribers in a way that would entice them to visit your blog more often so your blog generates more traffic from the initial email and generates more traffic indirectly because of the email blast. Here are six ways that you can get more blog traffic with your email list:
#1: Send Out More Email Blasts
One of the biggest mistakes people make is that they do not communicate with their email lists enough. You should send an email blast to the people on your list multiple times every week. The most successful bloggers appear in your inbox at least two times each week. Why do the most successful people send multiple email blasts every week? The answer is that these people want you to remember them. The moment these people stop sending emails, the more difficult it will be for subscribers to remember that person. Although you should avoid being excessive, you should definitely send out more than one email blast to your list every week.
#2: Use The Same Link Twice
In all of my email blasts that promote blog posts, I include a link to the blog post at the very beginning of the email and towards the end of the email. After running multiple split-tests, I discovered that when I included the second link at the beginning of the email, my email blasts got a higher percentage of clickthroughs.
It makes sense for an email to generate more clicks when a second link is added. Some of your subscribers who read your email won't need to read the entire email to know they want to read your blog post. The title of your blog post may be convincing enough to get some people to read it. For these people, you want to include a link towards the beginning of your email. These people want expedited access to your content in the same way that people want Amazon expedited shipping—the only difference is that an email blast, your version of expedition is free. Some people won't be convinced right away and will read the rest of your email to get an idea of what your blog post is about before clicking on the link and reading the content. I entice people to continue reading my blog post with a quick introduction of the blog post and a clickable link at the end of the quick introduction that leads to the actual blog post.
#3: Utilize Email Segments
Some people want specific advice more than others. There are some people on my email list that only want blogging advice while others only want social media advice. I occasionally send email blasts to individual segments for their individual desires based on which email list they signed up for. If you signed up on the landing page that promoted my free eBook 27 Ways To Get More Retweets On Twitter, then you will occasionally get emails containing Twitter tips that are exclusive to the people within that segment. I rarely do this, but I see a higher percentage of engagement when I send an email that specifically relates to one of my email segments.
#4: Promote Your Blog In Your Autoresponder
In all of my autoresponders, I send a series of emails that contain past blog posts that still provide value. These types of blog posts are referred to as evergreen content, and the engagement that the blog posts generate to this day show that people still appreciate them. By sending these types of emails to the people going through the autoresponder sequence, the relationship between me and that individual is strengthened. Many of the people who get my autoresponder end up visiting my blog numerous times. With an autoresponder that sends emails several times before its completion combined with frequently emailing your subscribers, it will be easier for people to remember you, your services, your products, and what you do.
#5: Look At What Works For You
When I send an email blast to all of the people on my list, I analyze that email to see how it did. Then, I compare that email blast with some of the email blasts I sent in the past. When I see an email blast perform particularly well, I use the same form in my next email blast to see if it produces a similar result. There are countless ways to test your email blasts to see what leads to more engagement. You can change the subject line, where the links show up, how you start your email, and how you finish your email just to name a few of the methods you can use to enhance your email blasts.
#6: Look At What Works For Others 
I am not the only marketer with an email list who writes about the wonders of a large email list. No matter how large my email list becomes, I will continue reading other marketers' articles and analyzing their results. When I read an article that indicated remarkable results that came from making a few small changes, I test out those methods and see if I get an increased clickthrough rate, open rate, or any other metric that I may be looking for at the time. Just because something worked for someone else does not mean it will always work for you, but when it does work out for you, you will know how to create a more optimized email blast designed to generate a massive amount of traffic.
In Conclusion
Your email list is a secret weapon that allows you to build a loyal audience of readers who come back to your blog often. I learned about building an email list late in the game, and because of this, I would have some really good months of traffic and then some really bad months of traffic. An email list gives you a platform you can use to consistently increase your traffic over a long period of time, and if you grow your email list large enough, you may get thousands of daily visitors to your blog just from your email list. Imagine the implications of getting all of those initial visitors. Some of them would share your blog posts on their social networks which would mean more social media traffic, and good social media engagement helps out with SEO. The email list is the not-so-secret to success.
What are your thoughts about using an email list to get more blog traffic? Do you find better uses for it? Do you have any tips on optimizing email blasts so clickthroughs and open rates increase? Please share your thoughts and advice below.