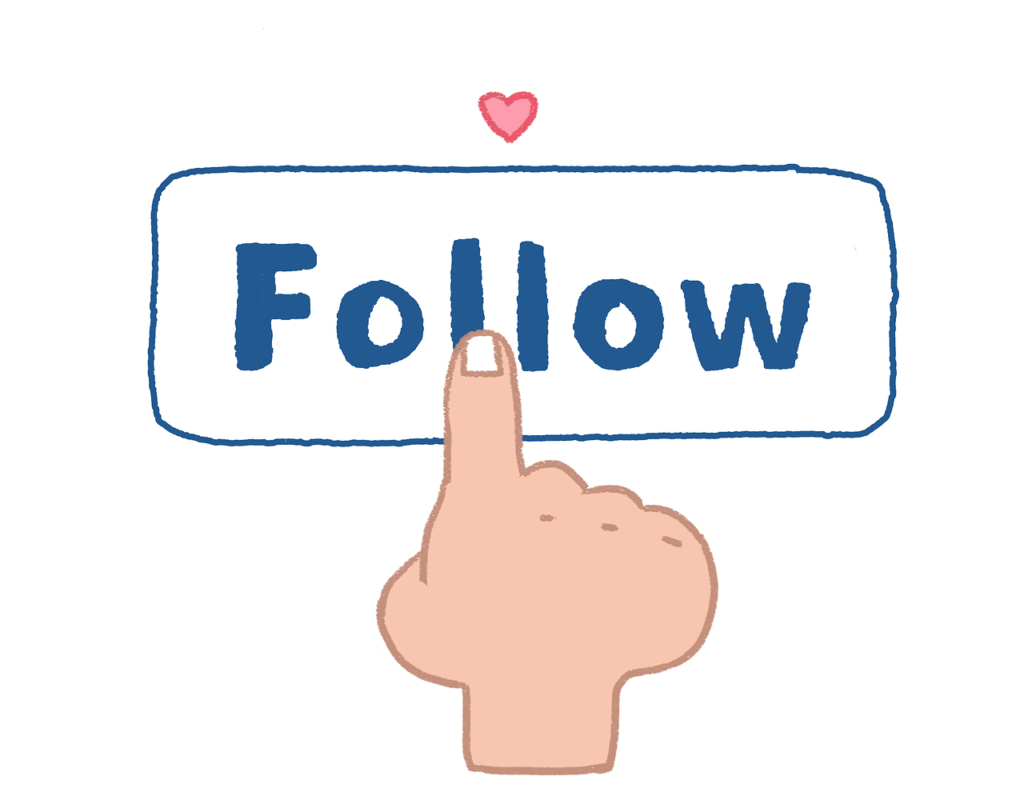 Photo: (cc) Pixabay
How hot is Instagram for businesses? Well, the social network boasts over 300 million daily active users and engagement is through the roof compared to other social networks. So what's the trick to increasing your Instagram followers?
I recently posted a picture to my 2,000 Instagram followers that was liked over 40 times. That high level engagement is normal on Instagram. If any of my tweets was retweeted or favorited that many times, I'd be overjoyed.
That's why brands are scrambling to master Instagram as quickly as possible. They want large, targeted, and active audiences who will fall in love with their pictures and products.
I recently started taking the social network more seriously and was happy to discover that many Instagram growth methods are similar to those used for growth on Twitter. If you know how to get more Twitter followers, then you have an edge when it comes to Instagram.
But there are also some differences that I will discuss within this post. Here are seven ways you can get more Instagram followers:
#1: Follow The Right People
You could technically follow many Follow4Follow accounts to increase your following. However, those followers are more interested in adding you to their own list of follows than your content.
You don't want an audience of real, yet non-targeted and non-interested followers. Rather, you should be looking to build an audience of targeted individuals who have a strong interest in your brand. Here's how you find those people:
Find a person in your niche with a big audience.
Go to that person's most recent post.
Follow the people who liked that photo.
Repeat the process with more influencers' accounts.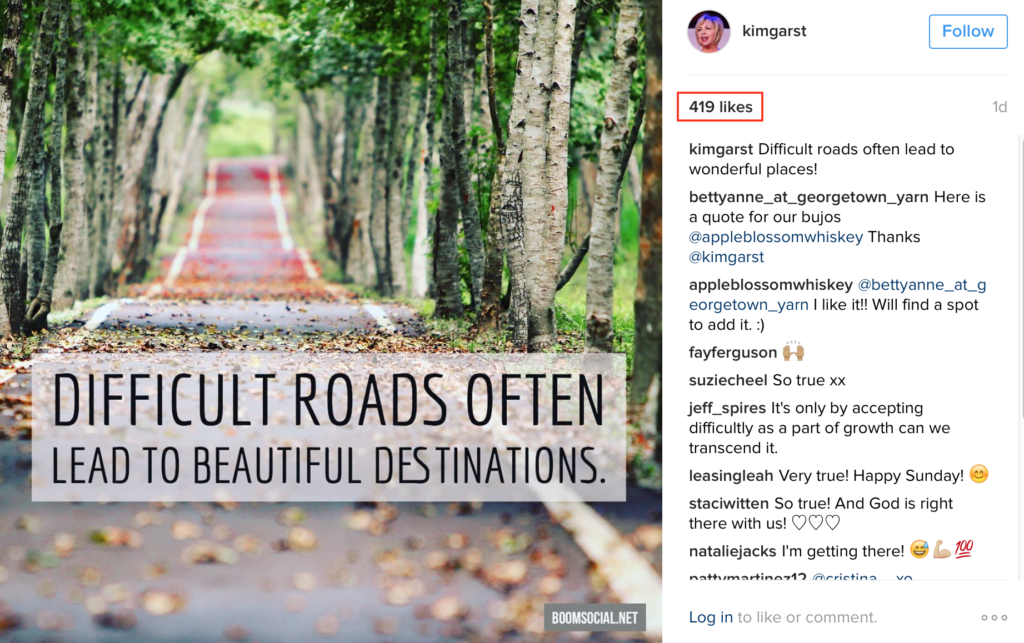 While Instagram requires a few additional steps compared to the Twitter approach, you'll be following people who are:
Interested in your niche.
Active.
Engaging with content related to your niche.
Making a careful selection of who to follow will help you build a relevant audience that engages with your content. Try to be sure that the people you follow will be likely to follow you back.
Not only is it possible to find targeted and engaged users who are likely to follow you back, it's also easy.
#2: Like The Right Pictures
Google the phrase "how to get more Instagram followers" and you'll come across the tip I previously mentioned: follow users who like content related to your niche. More people are clicking on particular images to see who has liked them, then following those users.
This is a method people use to gain liked-minded followers. Liking hundreds of pictures related to your niche will put you in front of thousands of potential targeted followers.
Like photos posted by influencers in real time. The sooner you like the picture, the more exposure you'll get. If you know an influencer posts pictures at a certain time each day, be sure you're logged into Instagram at the same time so you can be one of the first people to like his or her post.
#3: Post Consistently
Engaging with other people's pictures and following their active users will put your account in front of more people. But unless your account makes an impression on visitors, you won't get many followers.
Posting consistently makes your account more impressive. Consistent posting makes it clear to potential followers that you are an active user. Until recently, there was no free way to schedule your Instagram posts. Now you can get the job done with HootSuite, but keep in mind that you must be logged in to the Instagram app in order to post it.
HootSuite doesn't actually schedule the Instagram post. Rather, it notifies you to post to Instagram according to your schedule. So if you schedule a post for 6 pm, but don't log into Instagram for the entire day, your picture won't get posted.
Posting consistently on Instagram requires a bit more work, but it is also more rewarding. Far more people engage with Instagram posts than with Twitter and Facebook posts.
I have two predictions: the first is that the scheduling problem won't last very long. My second prediction is that Instagram will keep growing, and you'll want to post consistently now (and let other people complain about the technological restraints).
#4: Optimize Your Bio
Let people know what you do professionally, and who you are personally. List some of your personal interests and professional accomplishments. People who have never heard of you before should immediately get a sense of who you are just by reading your bio.
And no bio is complete without a link to your blog or website. This link will help you increase your traffic from Instagram, and that traffic can equate to subscribers and sales. So should you link to your post or landing page?
If you post your blog post pictures on Instagram and want people to read your content, simply include "Read this post by clicking the link in my bio" at the end of the post description.
If you prefer to include your blog's link within your Instagram post descriptions, link to your landing page in the bio. Social media is a means to an end.
Successful Instagram users aren't getting more followers just for the sake of having a pretty number and bragging rights. The purpose of Instagram varies for each person. Some people view Instagram as a way of building an audience and getting more blog traffic, while others want to funnel as much of their Instagram traffic to their landing pages as possible.
If you are using Instagram to grow your email list, then why link to your blog? Link to one of your landing pages to expedite the process.
Of course, if you view Instagram only as a means to an end and don't bother interacting with your audience, your Instagram experience won't be a smooth one. No matter which social network you use, interaction is a must.
#5: Include Hashtags
Use Hashtags to get your content found on Instagram. They're the SEO for Instagram. Choose the right hashtags and your pictures will get in front of all of the people searching for that hashtag.
I like to use at least three hashtags in a given Instagram post. Before I choose hashtags, I'll put the hashtag into Instagram's search engine to see how they rank.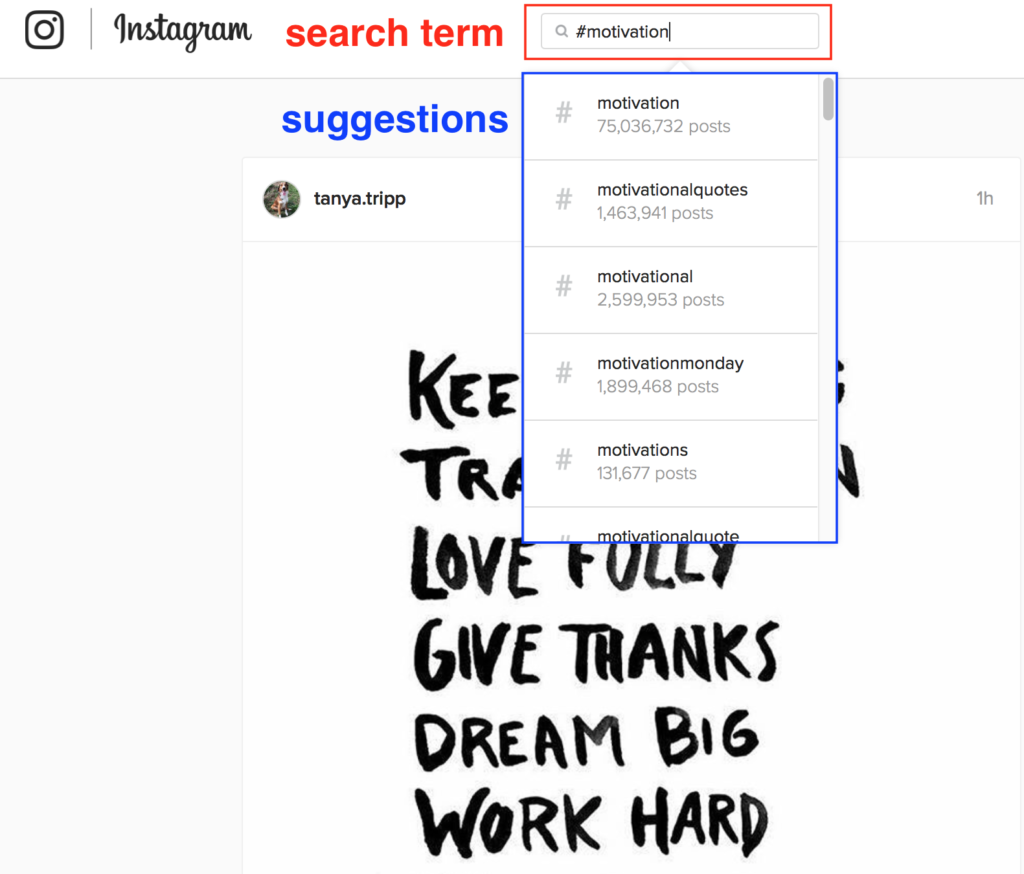 When choosing my Instagram hashtags, I'll mix in the most popular hashtags with hashtags that aren't as popular. Often less popular hashtags still get a lot of visibility.
Getting a lot of engagement for those hashtags boosts social proof and helps out with the more popular hashtags.
#6: Comment On Other People's Pictures
Here's a fun activity. Find a successful Instagram picture related to your niche. Then see how many people liked the picture and how many people commented. I decided to do this with one of my pictures:
Foundr Magazine is crushing it on Instagram. I decided to look at the stats of one of their Zig Ziglar pictures: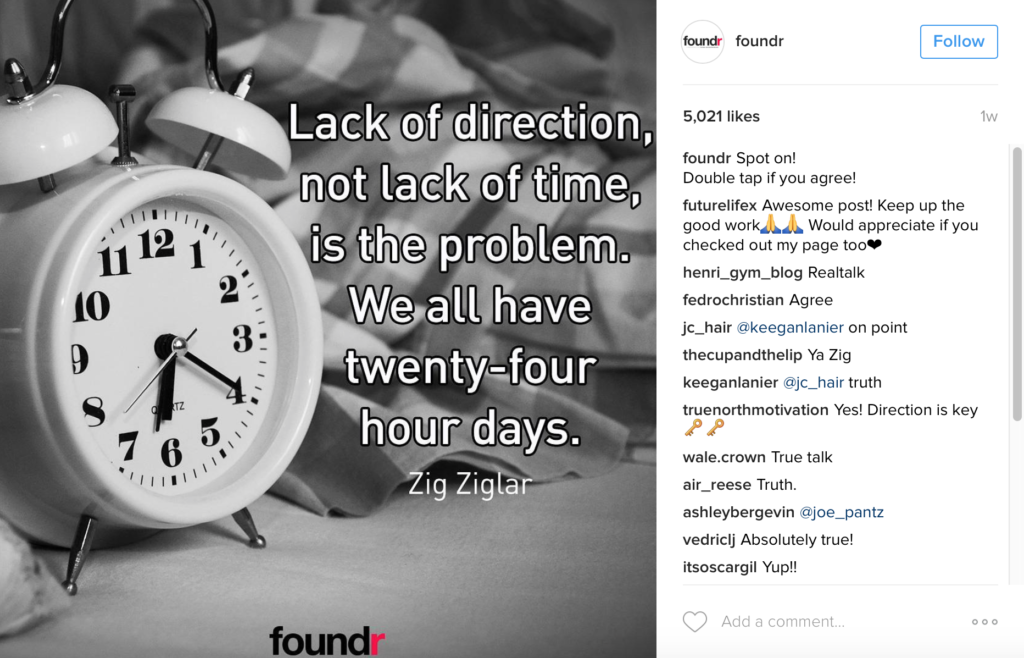 Why does this fun and insightful game help you obtain more Instagram followers? Instagram pictures don't get nearly as many comments as likes, which makes the comments section an easier place to stand out.
Post a meaningful comment, and you'll get more followers from that person's audience.
Foundr Magazine currently has over 800,000 Instagram followers but the case study post only received five comments. So if you add comment #6, you are automatically exposed to thousands of people. You won't get in front of Foundr Magazine's entire audience, but a few thousand people seeing your comment isn't so bad 🙂
#7: Post Awesome Pictures
Not all pictures are created equal. In the end, there are only three types of pictures that I post on my Instagram account.
The first type is something personal. I like it when people can connect with me on a more personal level. I've had numerous conversations with my audience about running, dogs, and the Red Sox. I love those types of conversations.
Not only does my audience get to know me better, but I get to know them better, too.
The second type of picture is a motivational quote. I like to inspire my audience so much that I created an inspirational quotes board that currently has over 4,000 pins. I am that serious about inspiring others (to be fair, I've got almost 600 contributors helping me with that board).
The third type of picture I post is a picture of one of my blog posts in order to drive more traffic to my blog.
Understand what types of pictures you want to craft and make them epic. For personal pictures, I like candid shots take in the moment. I hire a freelancer for my blog pictures because choosing those images is not my strong suit. For motivational quotes, I edit images using Canva (although I may begin outsourcing those as well).
In Conclusion
Instagram is a social network seething with new opportunities. You'll tap into a powerful, highly engaged audience that can take your brand to the next level and beyond.
Foundr Magazine is doing very well, and the owner attributes much of the magazine's success to Instagram. If you take action, you may attribute much of your business' success to Instagram as well.
What are your thoughts about using Instagram for your business? Have any tips for us? Sound off in the comments section below.