For video marketing, LinkedIn is one of the lowest hanging fruits imaginable. You can see it in these three videos.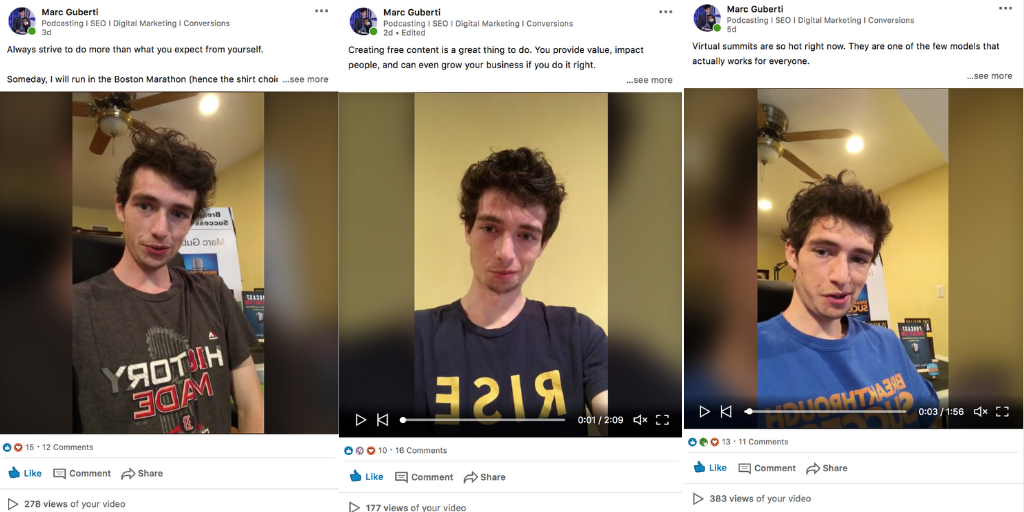 They're all around two minutes with most of the videos I put out a little under that mark. The background isn't as nice as the YouTube videos and there's literally no editing.
The video I did about virtual summits all the way on the right has almost 400 views.
All of these videos have over 10 comments and over 10 likes, hearts, etc.
And did I mention I spend very little time promoting these videos? Yep, just 2-3 minutes for each video, and these are the results.
YouTube is a different story. I have to grind hard just to get 100 views in a given day. Edited videos and a ton of promotion. I haven't always reached the 100 daily views mark, especially in the last 28 days you're seeing below.

It's a good day if I get 100 views in one day for my entire channel. On LinkedIn, 100 views for my latest video isn't just good. It's become an expectation at this point.
And it's not like I have a much bigger LinkedIn audience either.
On LinkedIn, I have a little over 4,000 connections
On YouTube, I have a little over 3,400 subscribers
AND I publish far more content on LinkedIn. On YouTube, I come out with 2-3 videos each week. On LinkedIn, I come out with 1-2 videos per day.
I did hire a YouTube coach so you can expect the subscribers and views per day to grow on YouTube. I believe YouTube is still a great place for video marketing which is why I am still committed to that platform.
However, the fact that I'm getting more views on LinkedIn than on YouTube with relatively little effort just shows how low of a hanging fruit LinkedIn is.
Important Lesson: YouTube & LinkedIn Visibility
The reason I have to work much harder to get 100 views on a YouTube video compared to 100 views on a LinkedIn video is because far more people know about YouTube.
When people think about video marketing, they immediately think about YouTube. Some may think about Facebook and Instagram.
But LinkedIn? No one's thinking about LinkedIn right now. And that's where the opportunity lies…for now.
As more people catch on, it might be harder to get an easy 100 views on LinkedIn than it is now.
So strike while the iron is hot.
How To Do It
The moment you've been waiting for. How I almost effortlessly get 100 views for each video I put out (these numbers would be higher if I published less frequency, but I prefer to create more content since we're just talking about 1-2 minute videos).
Step 1 is easy. Just create the video, give it a nice description, and publish it. Including hashtags can help you get more discoverability and is strongly recommended.
Having over 4,000 connections on LinkedIn helps but isn't the entire story. What's been helping me is being with a group of people who are committed to engaging with each other's posts.
Each time one of us posts something new, we go to that person's post and engage with it. This group I'm in has about 10 people which means more engagement for my post.
This engagement helps my LinkedIn videos get in front of more of my 4,000 connections. And when I look through my likes and comments, I notice that it's not just people in the group liking and commenting on my content. It's also a bunch of people within my LinkedIn audience who aren't in that group who like and comment on my videos.
Of course, you need an awesome post to get good engagement. I usually write a few paragraphs for each post I put out and stick in a few hashtags when appropriate.
But this is basically how I get 100+ views for each video I put out.
In Conclusion
YouTube is the top player in video marketing, but the top player isn't always the one that will give YOU the best results. Right now, LinkedIn is really hot for me, and since it's working right now, I'm doubling down.
Who knows when more people will discover LinkedIn or LinkedIn decides to make an algorithm change. Let me know your thoughts on LinkedIn and if you plan on using it for your video marketing.
If you want to work with me so you can get more visibility and make more money with your content, schedule a free strategy call with me here.