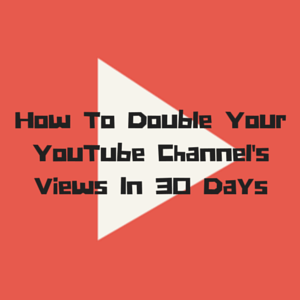 In order to go viral on YouTube, your videos need to get more views. Imagine what would happen if you were able to double your YouTube views in the next 30 days. You may not go viral right away, but doubling your YouTube views in 30 days would give you a stronger presence on the third most popular website on the web. Imagine how different your channel would look if it got 50 views every day instead of only 25 views every day. Then imagine what it would look like if your YouTube channel got 100 views every day instead of only 50 views every day.
It is important to remember that although quality is important, quantity is also king. It is much easier for 100 YouTube videos to get a combined total of 100 views (each video gets 1 daily view) than it is for 1 YouTube video to get 100 views all by itself. You need to be able to upload at least 1 video on YouTube every week so you can ensure quantity but not a decline in quality. Implementing this method would result in 4 YouTube videos by the end of the month. Let's say you have 2 YouTube videos that get a combined total of 20 views every day. At this rate, each YouTube video would need 10 daily views. However, if you upload and publish four additional videos, then all six of your videos only need 6-7 daily views in order to get a combined total of 40 views.
Another way to boost up your views is by getting more subscribers. One of the most powerful ways to get more subscribers is by including an annotation in your YouTube video that automatically subscribes someone to your channel when it gets clicked. One month after adding the annotation to my videos, I saw a 120% increase in the number of subscribers I got. As I got more subscribers, I also noticed an increase in my YouTube views. Your views will not go up dramatically as you see a big increase in subscribers, but you will see a gradual increase that shows no signs of decline.
The key to getting more viewers is to get more returning viewers. Subscribers are valuable because they become returning viewers. However, there are some people who do not necessarily subscribe to any channels but still become returning viewers. These types of viewers are the ones who need to see a couple of your videos before they finally decide to subscribe to your channel. In order to make these people more likely to subscribe to your YouTube channel, you need to increase the retention rates for your videos. If people stop watching your videos after a few seconds, you need to learn from that mistake and create better videos. An easy way to increase your retention rate is by having a three second or less introduction to your YouTube videos. It is a very helpful feature that automatically makes your YouTube videos more professional.
30 days may not seem like a lot of time to double your YouTube channel's views. It is how you utilize these 30 days that will ultimately decide where your YouTube traffic ends up from this month to the next month. I would love to hear about anyone who is taking the challenge as well as the progress they are making.