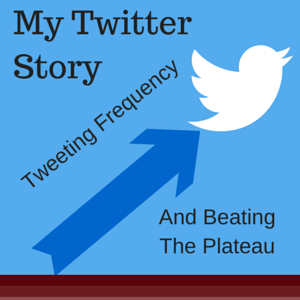 I have experimented with Twitter more times than I count. I experiment with my bio, my tweets, the pictures I use, and other things to provide the best possible experience for my audience while achieving incredible results.
One part of Twitter I am always experimenting with is tweeting frequency. Many experts have different advice about tweeting frequency. Some will say that sending more than 10 tweets per day is excessive. Other people will say that you should send one tweet every hour to account for different timezones.
I have utilized different tweeting frequencies ever since I created my Twitter account. In the beginning, I was a very inconsistent tweeter. I tweeted whenever I felt like it. I had great things to say, but I wasn't committed to Twitter yet. If I didn't want to write a tweet, I didn't.
Then, I came across HootSuite and the entire concept of scheduling tweets fascinated me. I started with manually scheduling 10 tweets per day.
Sure enough, my engagement picked up. For the first time, I was consistently sending tweets every day at the same times throughout the day. After seeing engagement pick up, I discovered I had a chance with Twitter.
After getting the initial engagement, I exclusively experimented with scheduling tweets instead of tweeting whenever I felt like doing so. Scheduling tweets build my commitment towards using the platform.
The next major step was schedule 24 tweets per day. While that would mathematically add up to one tweet per hour, I decided to send one tweet every 30 minutes from 9 am to 9 pm eastern.
My engagement spiked within those times. After the last tweet got sent at 9 pm, I would gradually lose engagement and then regain momentum at 9 am.
I went along with this pattern for a while. Then, I decided to tweet every hour. It was at this point—with a little over 10,000 Twitter followers—that I started to get over 100 daily visitors to my blog from Twitter alone.
I then tweeted once every 30 minutes. After getting more traffic that way, I decided to send one tweet every 15 minutes. My traffic increased even more.
Then I hit a plateau. I was also slowly going downhill.
When I got my 100,000th Twitter follower, my blog got a little over 300 daily visitors from Twitter. When I got my 200,000th Twitter follower, my blog got a little under 300 daily visitors from Twitter.
It's safe to say I was discouraged. I knew the second batch of 100,000 Twitter followers were not rogue people. Many of them engaged with me just like the first 100,000 Twitter followers I got.
How was I getting less traffic even though I doubled my audience? I was using the same tweeting cycle. I was setting the same group of tweets that worked with my first 100,000 Twitter followers.
I discovered the problem in the most unlikely of ways—by submitting an application to be an Inc Magazine columnist. One thing Inc Magazine recommended is that applicants share their content on social networks and engage with Inc Magazine's social media accounts.
I had read the magazine for a while. I decided to send three tweets promoting Inc Magazine every day. I read more articles and tweeted the ones I liked. For the first time in over a year, I rose above my plateau.
On the day I tweeted three articles from Inc Magazine, my traffic from Twitter exceeded 350 daily visitors. That was my initial peak during the plateau. In a few more days, I was up to 400 daily visitors from Twitter. I had never done that before, and now I was doing it every day.
After I realized I could pass my plateau, I explored other methods to rise farther above my original plateau. I changed up the tweets I sent based on which tweets were getting the most (and least) amount of engagement. I started to tweet more of what worked and less of what didn't work.
That change resulted in me consistently getting over 450 daily visitors from Twitter. That adds up to 13,500. At my plateau, I ranged anywhere from 8,000 to 9,800 visitors from Twitter every month. I never reached 10,000 in one month.
1,000 Daily Visitors From Twitter?
That's the next goal I am going after. By making a few small tweaks, I went from a plateau of anywhere from 275-325 daily visitors from Twitter to over 450 daily visitors from Twitter.
Part of the change is more of my followers engaging with my content. Part of it is that my content is now shared more often.
I now manage multiple accounts that I use to promote my blog. By the end of the year, if I can outsource them, I easily imagine myself with seven different Twitter accounts. I already have four.
Now that I broke past my plateau, I am looking at more ways to grow.
Takeaways
Here are some takeaways to get from my Twitter story:
Tweet more often. I send one tweet every 15 minutes. That doesn't include when I actually engage with my followers. If you look at my statistics on TwitterCounter, don't be shocked if you see days when I sent over 150 tweets.
Plateaus don't exist in business. Plateaus in business are simply illusions. For a long time, I thought I would keep on getting 275-325 daily visitors from Twitter—regardless of how large my audience became. Making some small changes allowed me to get a 33% increase in traffic overnight. In three weeks after making this change, my weekly blog traffic increased by over 30%.
Always experiment. One reason I hit my plateau is because I didn't experiment as much. I had little time to experiment during my junior year, so I made the experimentation (and discovery) in the summer. To find more time to experiment during school, I have outsourced many of my activities to my assistants.
In Conclusion
Twitter is my favorite social network. It presents great opportunities for building connections and getting a massive amount of traffic. The moment you see yourself plateauing on Twitter, it's not because Twitter is broken or that you can actually plateau.
The reason people plateau on Twitter is usually because they stop experimenting and trying new things. Look at your Twitter strategy and see what small tweaks you can make to get better results. Sometimes—like in my case—the smallest tweak can be the difference between an extra 5,000 monthly visitors.
What are your thoughts about using Twitter? Do you get blog traffic from Twitter? Have you hit a plateau? Sound off in the comments section below!