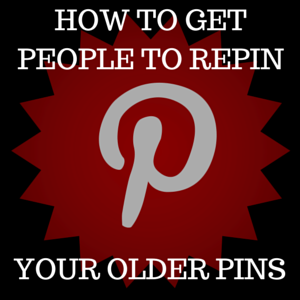 An important way to get more followers on Pinterest is to be an active user on Pinterest. However, as your activity increases, new pins will push your older pins towards the bottom of your boards. This results in less people seeing your older pins, and also, less repins. There is a way to solve this problem, and I am going to show you exactly how to do that.
The first thing you need to do is create irresistible boards. Quality boards are not enough in a world that couldn't stress quality more than it already has. In order to get more repins for your older pins, your boards need to be about something that people will not want to leave. My most repinned boards are 3D Printed Creations and Inspirational Quotes. Since 3D Printing is the big innovation and inspirational quotes make people feel good about themselves, those are the two boards where my followers view my older pins. Some of my followers pin more than 100 pins on those two boards because these boards are irresistible. These two boards have exactly what my followers wanted to see.
Another way to get people to repin your older pins is by embedding pins on your blog. Even if you start off by pinning your new pins, those new pins are going to get old. A pin I sent out in November 2013 was at one point a new pin. Now it is an old pin, and just like this pin, all new pins will eventually become old. By embedding these pins on your blog, more people will be able to see the pins. When more people see your older pins, that will also result in more repins.
Create boards that are irresistible so your followers are scrolling down until they get to the end of the board. Write compelling blog posts with embedded pins that grab attention and lead your visitors to your irresistible boards. Once you do these two things, your older pins will get repinned more often.