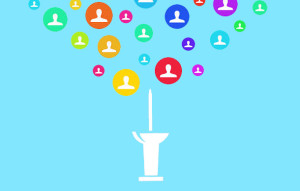 There are over 70 million people on Pinterest, and the number keeps on growing as the days go by. Pinterest continues to grow, and the bigger you are able to make your audience at this stage of the game, the more popular you will be when Pinterest exceeds the big milestones such as 100 million, 200 million, or even 500 million users. Pinterest has been growing at a rapid rate, and it shows no signs of slowing down. That is why now is exactly the right time to grow your audience on Pinterest. That is why I am going to provide you with six ways for you to do that:
Pin every day. The more times you pin, the more chances you have of getting more repins and spreading farther on Pinterest.
Follow other people. Chances are some of these people will follow you back.
Create a variety of boards. This allows you to have multiple target audiences who get attracted to specific content that you pin.
Use Pinterest messaging. Pinterest messaging is a great feature to take advantage of to spread and interact with your followers, and

I went more into detail on how to do that in this article

.
Repin other people's pins. Not only does this give you more variety, but some people will decide to follow you back for repinning their pins.
Use ViralWoot.

ViralWoot

, the Twiends for Pinterest, is a great way to build your Pinterest audience.
Those are the six ways to grow a big audience on Pinterest. What are your thoughts on the list? Do you have a seventh tip? Please share your thoughts and advice below.