Switching from one email service to another isn't an easy decision. But after using iContact for years, I switched to the rapidly growing ConvertKit. Founded in 2013, the company has quickly become a million dollar business recommended by Pat Flynn, John Lee Dumas and others.
When I decided to take a look at ConvertKit, this is what I found:
No Limit On Emails Sent
One of my biggest pet peeves with iContact was the limited number of free emails I could send. Some of my marketing efforts were cut short because I didn't want to spend the extra money.
Once I sent an email blast that put me over my limit, and I had to pay an additional $100. Needless to say, I was not pleased when that bill arrived. Since ConvertKit has no limits, I no longer worry about getting hit with those charges.
The removal of this limit has helped me think differently about email marketing and how many emails I should send on a given day. Some of the people I've come to admire appear in my inbox more often than others. For instance, messages from Neil Patel and Jeff Bullas show up in my inbox every other day.
With each message, relationships grow. And now I too can send messages every day or every other day without worrying about extra fees. If I tried doing that on iContact, it would have cost me hundreds, if not thousands, of dollars.
Superior Automation Capabilities
Automation on iContact lets you schedule email blasts, get your subscribers on the right lists and send your subscribers a series of messages in an autoresponder based on those lists.
You can do all of those awesome things on ConvertKit, but with some caveats. For example, ConvertKit lets you create rules that control how subscribers move through your sales funnel.
One thing I try to be careful about is sending additional messages to people who already receive my autoresponder. I am so careful, in fact, that I've created a segment on iContact that contains only the people who've completed the autoresponder.
The only problem is that I have to remember to manually update this autoresponder. I put people on that segment based on the date they joined my account. I'd have to change the date every week to reflect the additional people who've completed the autoresponder.
ConvertKit now does that for me with a simple rule I've set up. Anytime someone completes my Twitter Domination sequence, they then end up on my Twitter Domination tag.

This allows me to identify all of the people who have completed the Twitter Domination autoresponder. I can then email the people who completed the Twitter autoresponder and avoid emailing those who've already completed the autoresponder.
Here are the automation options ConvertKit provides.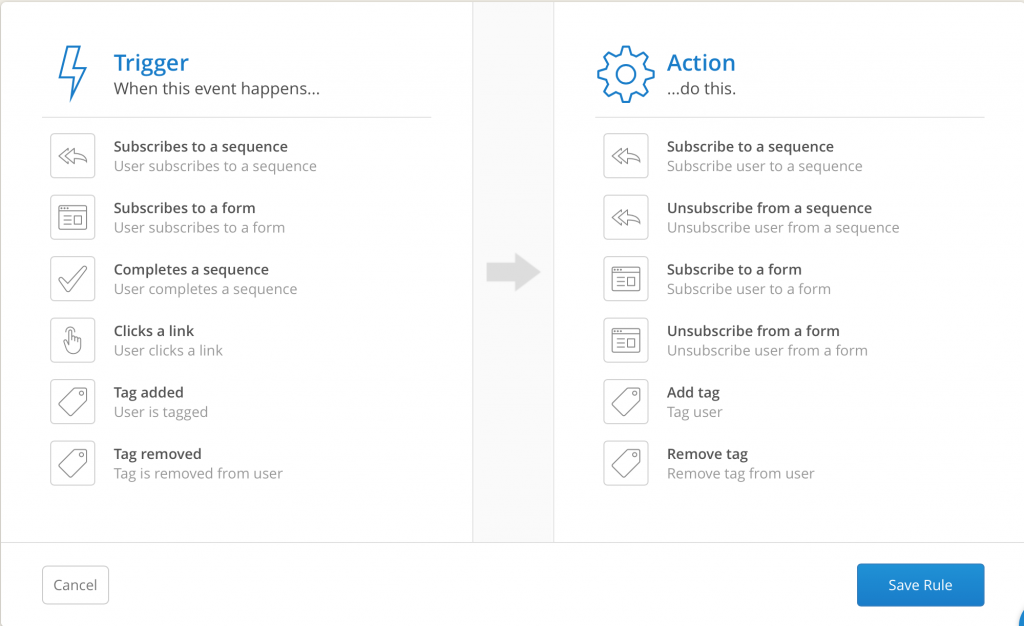 Price
The powerful automation ConvertKit provides is similar to that of InfusionSoft. Before ConvertKit, InfusionSoft was one of the only players that enabled that type of automation.
Two big complaints about InfusionSoft are price and user experience (some see InfusionSoft more as a CRM network than an emailing service). ConvertKit is cheaper and simpler.
But let's go back to iContact vs. ConvertKit. Which one is cheaper? Well, that depends on your account type. For this blog post, I decided to see what iContact and ConvertKit charge for someone with 10,000 subscribers.
You'll pay $119/mo for ConvertKit and get all of the cool stuff the service has to offer.
On iContact, you'll pay $79/mo for a regular account; I used this version throughout my time on iContact but it didn't have nearly as many cool features as ConvertKit. iContact Pro, however, seems to offer similar features as ConvertKit such as workflows, triggered messages, and more. But it will cost you $189/mo.
The services on both platforms are spot on. But based on price, ConvertKit is the better buy.
Easier Emailing Format 
Sending emails is easier on ConvertKit. iContact requires extra steps like choosing among templates whereas ConvertKit sends you straight to a text box similar to a blog post. Just write the email and that's it.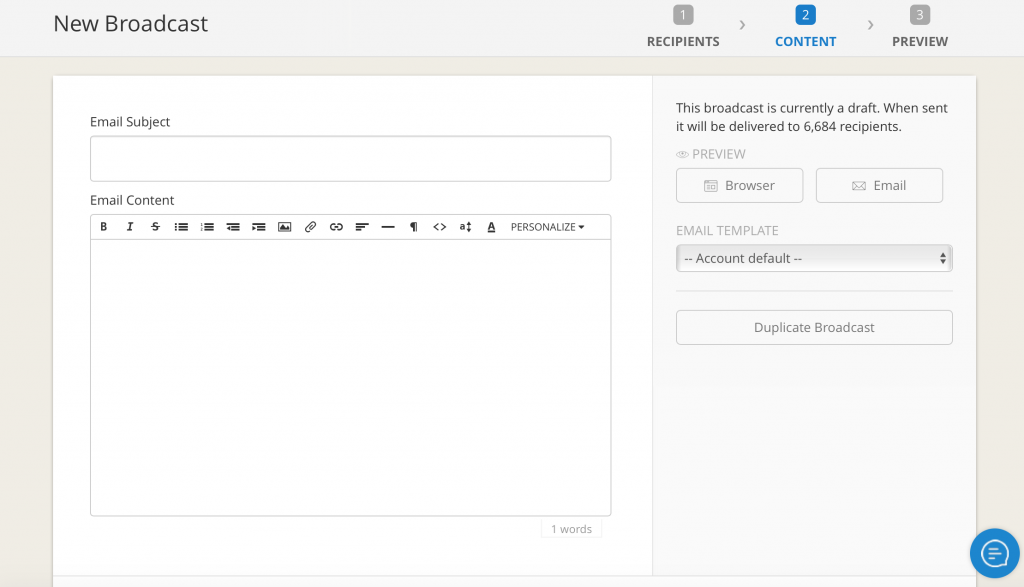 Plus, immediately after you create the email, you can see a preview. The best part is that you can click on your links to be sure they're working. Double checking the links takes only a few seconds and ensures that you don't make a careless (and critical) mistake.
In Conclusion
Migrating from one email service to another can be a tiresome process, especially when you have numerous landing pages and subscribers. But while the switch may be bothersome in the short-term, the long-term benefits are worth it.
ConvertKit is very promising. I started using it last summer and completed the switch by October. Migrating email lists isn't the most enjoyable activity, but in the end it was well worth it.
What are your thoughts about ConvertKit and iContact? Do you prefer another email service? Sound off in the comments section below.