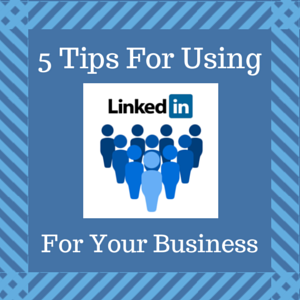 Although LinkedIn is commonly used as a way for someone to find a good job in their area, it has many benefits for businesses as well. There are many businesses that use LinkedIn to get customers and appear on big media outlets. One person I know used LinkedIn to get written about in Forbes. If your business is not on LinkedIn now, you need to get on, and if you are on LinkedIn but don't know what to do, here are five tips that you can implement so your business does better on LinkedIn.
#1: Build connections with the right people
Although there are many millions of LinkedIn users, there are only two types of connections that are the right ones to have. The first type of connection is a connection with a targeted person. Targeted people are the type of people who would be interested in your business' message right when they connect with you, and these people could also become customers. If you write books about social media, and the person you connect with wants to learn more about social media, that person will be attracted to your books.
Some businesses, brick-and-mortars in particular, should make sure most of the people they connect with live nearby. If you are have a brick-and-mortar store in California, most of the people you connect with should be from California who would want to buy the products in your store. The great thing about LinkedIn it that you can find and connect with people based on their country, state/province, and city. That means if you are the brick-and-mortar store in California or anywhere else in the world, it is easy to find the connections who live nearby.
If you want to see how likely someone would buy one of your products, take a look at that person's bio, posts, and some of the people who that person talks to. If you can conclude that the person has an interest in products or businesses similar to yours, these people may be open to your business and buying products from you.
The second person to build a connection with is the person who would give you a business opportunity. If you want to be a public speaker, connect with the people who have hosted public speaking events before.
#2: Interact with those connections
Just because someone connects with you does not mean that person is going to immediately buy your products. That's because you need to establish a certain level of trust that entices this person to buy your products. Creating a friendship between you and this connection is essential towards building that trust.
It is a universal fact that we like to do things for someone else if we have a great conversation and develop some type of friendship. You are more likely to buy a product from your best friend than someone who you do not know. You want to interact with those connections so you are able to develop friendships.
Regardless of whether you have a few dozen or a few thousand connections, you should make it a point to interact with as many of your connections as possible. Some of these people may buy your products because they enjoy having conversations with you while others will present you with new opportunities. You never know how these friendships will pay off later in your journey.
#3: Promote your blog and products
LinkedIn is a great place to promote your blog and products. LinkedIn allows you to include links to your blog and products in your bio and leave descriptions for them both. Promoting your blog and products gives your connections a place to go after the conversation develops.
The ideal strategy is to promote your blog above all of your products. Then, make sure your blog is optimized to get email addresses and sales. The people who visit your blog long enough may decide to go back to your LinkedIn profile and see what products you have. The more enticing your description is, the more likely someone will be to buy one of your products.
#4: Create a LinkedIn Group
A LinkedIn group is a place where like-minded people are able to talk about a common niche. Like-minded people may buy products from you, and many of them will be great people to interact with. You will be able to learn more about your niche and empower others at the same time!
One of the perks to creating your own LinkedIn Groups is that you are able to make announcements which get sent to everyone's inboxes. This could be a way for you to tell people about a discount for a product or promote the launch of another product.
However, with great power comes great responsibility. You want all of these like-minded people to stay in your group. That means constantly telling people about your products will make your group seem more like a way for you to do a big sales pitch than anything else. You should only send 1-2 announcements each month that promote one of your products and have other announcements that do not promote your products.
#5: Post status updates often
Let people know what you are doing next so you are able to build buzz for what you are doing. How is your next product going? Do you have any discounts your customers should know about? Did you recently write a blog post and want to share it with everyone? Posting status updates may also spark email conversations which are the best kinds of conversations to have to get more sales and subscribers.
When you post status updates, keep it related to your niche. LinkedIn is a very business savvy social network compared to the others which means most of the people who go on your LinkedIn account will want to learn more things about the niche you are in. Instead of telling people what you ate for breakfast this morning or going off-subject, constantly talk about your niche so your connections know what to expect when they view your LinkedIn posts.
In Conclusion
LinkedIn is a powerful social network that has a variety of possibilities. Using LinkedIn for your business has the potential to boost sales and bring more traffic to your blog. What are your thoughts on using LinkedIn for your business? Do you have any other methods that you use LinkedIn for? Please share your thoughts below.