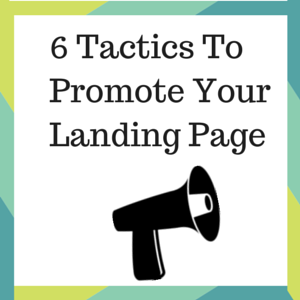 Did you know that a landing page is one of the most important pages on a blog for making a strong income? Landing pages collect email addresses, and when lined up with the right technology, free prizes and a sequence of emails can automatically be delivered to your subscribers' inboxes.
Unfortunately, most landing pages do not get a large amount of traffic. Most landing pages get a small portion of the traffic that the blog attracts as a whole. Before I started to promote my landing page, it got a small percentage of my blog's daily visitors. After implementing a few changes to my landing page, I was able to increase my landing page traffic by 600% in just one week.
The size of my audience aided with the big increase, but it is important to note that I got these results overnight. Regardless of how large your audience is, implementing these six tactics has the potential to lead to massive results in a relatively quick period of time.
#1: Pin Your Landing Page To The Top Of Your Twitter Account
Twitter now gives its users the option to pin one tweet on the top of their feeds. This pinned tweet always gets displayed as the first tweet even if you send out a new tweet. You could pin a tweet from 2011 to the top of your feed, and it would show before all of the tweets you posted this year.
In order to promote your landing page, you can pin a tweet to the top of your feed with a link to the landing page. That way, each time someone looks through your feed, the tweet with your landing page shows up at the top. You can use a hashtag, add a picture, and keep your tweet in the 70-100 character range to get more engagement for those tweets. Utilizing those three tidbits in your tweet has been statistically proven to increase the amount of retweets that a tweet gets.
#2: Use HelloBar
HelloBar is a cool WordPress plugin that allows you to display a scroll-down message at the top of your blog. Using HelloBar to promote my latest landing pages allows them to get more exposure because a scroll-down message is hard to ignore.
The great thing about HelloBar is that you can write a clear message that scrolls down without the message taking up too much space. I have seen some services similar to HelloBar, and these bars are ginormous. Some of the scroll-down bars bloggers use take up half of the screen. Large scroll-down messages are bad because they don't encourage visitors to stick around. Instead, visitors who see a giant bar will feel more inclined to click the back button than read any of the content (let alone click on the link in the scroll-down message).
You want to make your message short and sweet so it only takes up one line. If your HelloBar takes up two or more lines, it will practically cover a quarter of the screen. Remember that if your HelloBar eats up a good chunk of your computer's screen, then it probably covers the entire screen of an iPhone (people won't be able to read the content on your blog).
The landing page I promote on HelloBar gets dozens of daily visitors just from that scroll-down message. Many of these visitors end up subscribing to my blog. I know this because at one time, I was only using HelloBar to promote my first landing page with the free eBook 27 Ways To Get More Retweets On Twitter. At the time, I was averaging 20 daily visitors to the landing page (all of them came from HelloBar), and I got 4-8 subscribers every day. Depending on the day, that's a 20%—40% conversion rate once people click on the HelloBar button and get led to my landing page. Considering most landing pages get 2.5% of their visitors to convert, utilizing HelloBar is a great way to get more traffic and increase your landing page's conversion rate.
[tweetthis url="http://bit.ly/1K85AHD"]HelloBar is a great way to get more traffic and increase your landing page's conversion rate.[/tweetthis]
#3: Use A Picture On The SideBar That Leads To Your Landing Page
The sidebar of your blog is a great place to display a subscription button, the archives, pictures of products, pictures of you, and other things as well. However, your sidebar is also a great place to promote your landing page. If you know your landing page has a high conversion rate, you should be focused on getting people to visit that landing page instead of seeing a subscription box with a low conversion rate that says something like, "Enter your email address." Promote the stuff that works before everything else.
I promote my landing page on my blog's sidebar with the picture of my free eBook 27 Ways To Get More Retweets On Twitter. When people click on the picture of my book, they are immediately brought over to my landing page that has a higher conversion rate than my blog's subscription box.
#4: Promote Your Landing Page At The End Of Every Blog Post
Most of the people who read blog posts to the end stuck with the blog post because it provided value. At this point, your visitor probably appreciates the value you provided in your blog posts. Some of these visitors may feel inclined to subscribe to your blog, but they need calls-to-action. At the end of your blog posts, promote a landing page related to that particular blog post. This landing page can promote a free eBook of a continuation of the blog post, a lengthy guide about a different aspect of the topic you discussed in that blog post, a short video about that topic, or something else.
Many visitors who appreciate the value of your content, read to the end, and then see the call-to-action will click on the link, go to the landing page, and then enter their information. You can also have a form at the bottom of every blog post asking for an email address to get people to subscribe without going to your landing page (just be sure to talk about the free prize the visitor will get after subscribing to your blog).
#5: Post Your Landing Page On Your Social Networks Every Day
No matter how big or small your social media audience is, that audience consists of a group of people who reads your content. If you repeatedly promote your landing page every day, your social media audience will eventually notice and click on the link to your landing page.
If you decide to promote your landing page every day, you should be sending at least 10 different posts every day about articles and topics other than your landing page. You want to promote your landing page, but you don't want your feed to simply consist of post after post with you constantly telling your audience to subscribe to your blog. If you occasionally tell your social media audience to subscribe while providing valuable content, the people in your social media audience will be more likely to visit your landing page and join your email list.
#6: Include It In Your Email Signature
The email signature in my opinion is one of the most underrated ways to market yourself. Email conversations tend to be the longest interactions we have with people on the web. The longer these interactions build, the more likely someone will be to join your email list.
However, the only way to get someone to join your email list is with a call-to-action. Few people go into a long conversation thinking, "When I have time available, I just have to subscribe to that person's blog." That is why the call-to-action comes in handy. At speaking events, bloggers encourage the attendees to subscribe to their blogs. At the bottom of your email signature, you can encourage people to visit your landing page and subscribe to your blog. When you promote your landing page in your email signature, be sure to use P.S. because that is the second most read part of an email. A P.S. is like a second headline.
[tweetthis url="http://bit.ly/1K85AHD"]The P.S. part of an email is the second most read part of the entire email.[/tweetthis]
In Conclusion
Your landing page is one of the most important pages on your blog, but in order for it to get numerous conversions, that landing page needs to attract visitors. Just like any blog post, YouTube video, or any other piece of content on the web, a landing page cannot survive on its own. Landing pages need to be promoted on your blog, social network, and other areas just like any blog post on your blog. If you do not have a landing page, I highly recommend making one now. In case you were wondering, I use Optimize Press to create my landing pages.
Which tactic for promoting landing pages did you like the most? Do you use any other tactics to promote your landing pages? Please share your thoughts and advice below.