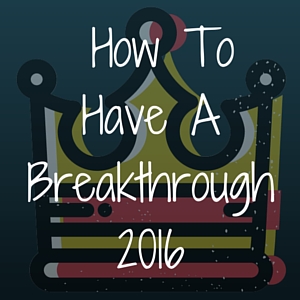 I can't start this blog post without wishing everyone a big HAPPY NEW YEAR!! The beginning of the year always gets me pumped.
I look back at my achievements from 2015 and look forward into what I can achieve in 2016. I look back at my mistakes to see what I can avoid in the future.
I have been doing a lot of looking back lately. I graduate high school in May.
In a few days, I'll be celebrating my 18th birthday. I am already in the process of changing all of my bios from "17 Year Old" to "18 Year Old" because I definitely don't want to do that on my birthday.
That was just me walking down memory lane and looking at what is to come. The main point of this blog post is how you can have a breakthrough 2016. Last year was kind to me. This year is going to be epic.
Maybe I sounded overconfident there. However, to have a breakthrough 2016, you need to have a strong amount of confidence towards yourself. It's better to be overconfident than it is to lack confidence.
It's okay to be confident in your ability to achieve your goals.
However, confidence alone won't get you to the finish line. You can feel confident that you will finish the marathon, but taking action and running the marathon is what actually results in you crossing the finish line.
This is where most people mess up. We gain confidence when we write our New Year's resolutions on paper. A few weeks later and that same sheet of paper is nowhere to be found.
Intentionally lost in the shuffle.
New Year's resolutions work when you combine that high level of confidence with taking action the right way. Taking action does not mean forgetting your resolutions and remembering them in November.
Taking action the right way means taking consistent action to achieve a certain goal.
View your New Year's resolutions as a skyscraper with 365 floors. Every floor on the building has something or someone important for you to achieve your New Year's resolutions.
Maybe on one of the floors, you do some videos before going back into the elevator. Maybe on another floor, you meet with a partner who can help you move forward. You spend more time on certain floors than others.
You consistently go up one floor at a time. The consistency becomes a habit and soon the work becomes effortless. I used to struggle to write blog posts like these. After writing blog posts for several years, I have gotten better—only because I continued to consistently write content.
Writing content went from a tedious task to an effortless habit.
Showing up every day and putting in the work are two key elements of highly successful people. Not once per month or once per week. Every day.
"But I Don't Have Time For That Much Work"
Most excuses revolve around a lack of time. The New Year's resolutions look good on paper, but as some people say, "When life gets in the way," those resolutions suddenly look impossible.
Life getting in the way and a lack of time are excuses. Nothing more.
Blog posts like these tend to share the general tone of not making excuses and that excuses are lame.
If you make excuses the right way, they can present opportunities for growth.
One of the goals I had in the middle of 2015 was to get back on Udemy and create courses. I had less than 10 courses on Udemy. But I couldn't go back on Udemy right away.
Why? Because I didn't have enough time.
I knew Udemy would help my business and that I could do it, but I had an excuse that seemed to make sense.
Then I asked myself the most important question I have ever asked myself as an entrepreneur.
"How do I find more time?"
I took an excuse that was holding me back and asked myself how I could make that same excuse illegitimate.
The answer for me was outsourcing a large percentage of my business. In less than a week, more than half of my business was outsourced.
I repurposed my extra time towards creating and marketing more Udemy courses. By the end of the year, I had a total of 20+ Udemy courses.
Spoiler Alert: I plan on doubling that total in 2016.
It's not lame to make excuses. It's only lame if you make an excuse but then don't do anything about it.
"I can't run the marathon because I'm not in shape. How can I add more workouts to my schedule?"
"I'm not talented enough to sing. How can I learn more about proper singing right now?"
"I can't achieve my dreams. How can I push that thought away and start chasing my dreams?"
Recurring excuses create shame. Eliminate any of those excuses and it becomes a habit that surges your confidence.
A Breakthrough Year Require Breakthrough Goals
There's no way around it. I have goals that to some people may sound crazy. They may sound impossible and too ambitious. They sound like they will never happen.
I like those types of goals. I approach them with full force. I don't care about what people say I can and cannot do.
In that respect, all that matters is what I say I can and cannot do.
I understand that some people are conscious about what others think about them and their goals. Some of us are fearful of what people will think about our ambitious New Year's resolutions.
Some of us are afraid of getting dragged down and being told that we can't do something. Then why do you have to tell anyone your most ambitious New Year's resolutions.
If you keep them to yourself, those particular goals will boil within your heart. Soon enough, accomplishing those goals will become your top priority.
The other option is to tell people your New Year's resolutions, even the most ambitious ones. Maybe people will comment about the unlikelihood of those goals happening. You can use other people's doubts as the fuel to your fire.
You can either choose one of those two approaches. Think about how you would feel if you told people your New Year's resolutions and then choose the best approach for you.
If you choose to tell people about your resolutions, then make sure you also have a group of people to keep you accountable. The people who keep you accountable will motivate you to stay true to those resolutions.
Breaking Out Of The Traditional 366 Mindset
It turns out that this year is a Leap Year. So there are 366 days instead of 365.
Making a breakthrough also requires that you break through the status quo of thinking. Most New Year's resolutions follow this cycle:
They bring hope on New Year's Day
They "mysteriously" disappear in the middle of February
They are rediscovered in November
December 31st: "Back to the drawing board"
Why do most New Year's resolutions go through this cycle? The answer is that since there are 366 days in a leap year, we believe that we can take a few months off. The result is resolutions not getting accomplished, and then on December 31st, back to the drawing board.
The simple solution is to change the deadline. Most people view December 31st as their deadline. You need to view each month as a deadline.
What must you do in January to get closer to your New Year's resolutions? What must you do in February? The closer the deadline, the more productive you will become.
If you make the deadline much closer than December 31st, then you will be more productive and move towards accomplishing your 2016 resolutions.
In Conclusion
The New Year is always an exciting time filled with possibility and hope. The challenge with any New Year is to maintain the excitement and hope throughout the year.
By changing the way you view a typical year and how you accomplish your goals, you will discover that it is easy to accomplish your resolutions.
I end this blog post with a tidbit I heard last month. Maybe it's the greatest tidbit for productivity, but many tidbits nowadays hold that title.
I recently read an article about the mindset of a Navy SEAL. The Navy SEAL mindset is this:
When your body says you are done, then you are really just 40% done.
The Navy SEAL who shared this mindset has run several 100+ mile races—and in some, as one of the top finishers.
It's very hard to not find that impressive.
So the next time you feel like you are done, in reality you are just 40% done. Don't limit yourself in any way. Strive to tap into the other 60% so you can go from good to great.
What are your thoughts about achieving New Year's resolutions? Do you have any tips for us? Do you have New Year's resolutions? Sound off in the comments section below.