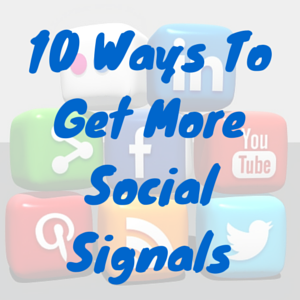 Social signals—retweets, likes, repins, and anything similar on social media—let Google know people are engaging with your blog. Social signals have grown in importance for search engine ranking.
If you don't want to take SEO seriously yet but want to get search engine traffic anyway, becoming successful on social media is the best way to start. A little fact about my traffic: when my Twitter traffic increases, so does my SEO traffic.
Getting social signals helps your blog rank well on search engines, but social signals also help you get more engagement on social media. That translates to more followers, more social signals, and ultimately, more blog traffic.
How exactly do you get more social signals for your social media content? Here are 10 ways:
#1: Be Active On More Social Networks
The more active you are on a social network, the higher the probability of you picking up social signals. The main reason being active helps you pick up more social signals is because your followers will have an easier time remembering who you are.
Think about it this way. Would you remember the person who posted something on social media once every month or the person who posted something on social media every day? The person who posts every day has more chances to appear on your home feed.
Posting daily also gives someone the ability to consistently show up on other people's home feeds. When people see you enough times—and value your social media posts—they will eventually go to your profile and scroll through your social media posts.
Imagine you had large audiences scrolling through your Facebook posts, tweets, and pins. You can be sure that those same people are liking, retweeting, repinning, and commenting on your social media posts.
#2: Engage With Your Audience
Getting mentioned counts as a social signal. Having conversations with our audiences allows us to build relationships with the people who build our success. Some conversations bring forth opportunities such as speaking events, TV appearances, and attention from big media outlets.
Why then do few people engage with their audiences.
It turns out most people who use social media are lurkers. Only 10% of social media users actually take the time to interact.The other 90% watch the interactions happen.
If you do not take the time to engage with your audience, then you don't really know who your audience is. Engaging with your audience lets you know their problems. That helps you create better solutions.
I make it a point to engage with my audience every day. I thank people for sharing my content, spark conversations about my interests, and share my expertise. I can't tell you how many conversations I have had about running, dogs, and the Red Sox.
Engaging with your audience helps you get more traffic. Engaging with your audience helps people remember who you are. Want more blog traffic and social media followers? Engage with your audience.
#3: Post Awesome Content
Okay, we've all heard this one a lot. We want to post awesome content so people come back for more.
But what is awesome content? Here's a better question: What do your followers think awesome content is?
My followers and a sports analyst's followers have two different definitions of awesome content. The sports analyst's followers define awesome content as fascinating information about a sport or athlete.
I don't like speaking for everyone in my audience. But based on what I know, digital marketing and audience growth are two things many of my followers define as awesome content. Once you know how your followers define awesome content, keep on posting that type of content.
Every month, I always look through the tweets that I sent. I look at what worked and what did not work. The tweets that got dozens of retweets and the tweets that didn't lead to a single click. I stop tweeting what doesn't work and continue tweeting what does work.
The result was a dramatic increase in traffic. The first time I implemented this strategy, my daily Twitter traffic increased by over 70% in just two weeks. Ever since the change, I have maintained that increase.
Remember that just because you think something is awesome does not mean your audience will think it is awesome. Before publishing a social media post, ask yourself whether your audience would appreciate the content in the same way that you do.
#4: Post Often Throughout The Day
I don't get dozens of clicks from each of my tweets. In most cases, I am lucky if I get more than a dozen clicks per tweet. However, since I send over 100 tweets every day, it is easy to imagine why I get hundreds of daily blog visitors from Twitter.
Posting often throughout the day allows you to get consistent traffic and see a consistent rise in your social signals. If you wanted to get 50 retweets every day, would you feel more confident with sending one tweet per day or sending 50 tweets per day. If you send 50 tweets per day, then each tweet only needs one tweet to achieve your goal.
I am not advising you to send hundreds upon hundreds of social media posts every day just to achieve your goal. And while I do send over 100 tweets per day, I would never send over 100 Facebook posts per day. The way Twitter users engage with the platform makes it possible for me to send over 100 tweets per day without annoying my followers.
You should make it a point to send out at least 10 social media posts every day. That way, you will get more engagement, and it will be easier for people to remember who you are.
#5: Outsource Some Of The Work
Remember the time when a scheduled pin got published on my account? I do. While I don't remember scheduling that pin, I remember outsourcing it to someone else.
I can easily send 100 tweets every day because of HootSuite's game changing bulk scheduler which lets me schedule a day's worth of tweets (over 100) in just six clicks. Pinterest on the other hand isn't nearly as easy. Some pins that I scheduled on my own took more than five minutes for me to schedule.
Then I outsourced, and now I can schedule one pin for every hour without putting in the work. It is okay to trade money for time even if you know how to do something. I know how to schedule pins, but I choose not to.
Since I have someone scheduling pins to tens of thousands of my Pinterest followers throughout the day, I get more engagement and social signals from Pinterest.
#6: Use Keywords and Hashtags In Your Posts
Utilizing keywords and hashtags within your posts makes it easier for people to find your social media posts within the social media search engines. Most people are so caught up with ranking well on Google that they forget about ranking well on Facebook, Twitter, and the other social networks.
Facebook, Twitter, and every other social network are search engines in the same way that Google is. You search information and then get a bunch of results.
Using the right keywords and hashtags in your posts will lead to more visibility and social signals. To find the right keywords and hashtags in your social media strategy, take a look at what keywords and hashtags similar people in your niche use.
#7: Include Pictures In Your Posts
The human mind understands an image 60,000 times faster than text. It's no wonder that social media posts with pictures get more engagement than social media posts without pictures. Some people report that their social media posts with pictures get five times as much engagement as social media posts without pictures.
Want to double, triple, or even quadruple the amount of retweets and Facebook likes you get? Taking the extra minute to add a picture in your social media post can make all of the difference.
#8: Cross-Promotion
One reason new businesses have been staying away from Facebook lately is because of Facebook's algorithm changes. These changes have enforced a pay-to-play atmosphere that favors the big guy at the expense of the little guy.
I created a Facebook Page and largely forgot about it. When I started to use that Facebook Page more often, it had a little over 100 likes. On Facebook, I was the little guy.
Since Facebook wasn't bringing in any blog traffic yet, I held off on Facebook ads. I wanted to see what I could do to grow an audience on my own without spending money. So I went to my other social networks to promote my Facebook Page.
I included the link to the Facebook Page in YouTube video descriptions and made sure I tweeted about the Facebook Page every day. The result was that the page quickly went from getting no likes per day to getting several likes per day. What I post on the Facebook Page also got more attention, likes, and comments.
There are some days when I get as many as seven Facebook likes every day. It's not game changing, and at that rate, it will take me a while to reach my first 1,000 Facebook Page likes. However, it's a start. At one point, I gained no more than 10 Twitter followers per day. Now I always find myself in the 300-500 range for daily Twitter followers.
#9: Host Contests and Giveaways
You can give away almost anything—Amazon Gift cards, consultation sessions, or vacations to Bermuda—and your followers will engage. When you host a giveaway, make it clear that someone only gains entry by giving you certain social signals.
On Twitter, I would ask for retweets, and retweets only. On Facebook, I would ask for likes and shares. On Pinterest, I would ask for repins and likes.
You want to ask for the social signals that would put your content in front of other people's audiences. A favorite on Twitter does not do that type of justice.
#10: ADVANCED TIP—BE CAUTIOUS
Approach this tip with caution. If used at the right time, it can skyrocket your social media growth. If used at the wrong time, your social media results will fall flat.
Create multiple social media accounts on the same social network.
On Twitter, I have multiple Twitter accounts, not just @MarcGuberti. My accounts have thousands of followers, and I use these accounts to promote my blog posts. One of my accounts is @Tips4Tweeting, and I promote my blog with tweets like these: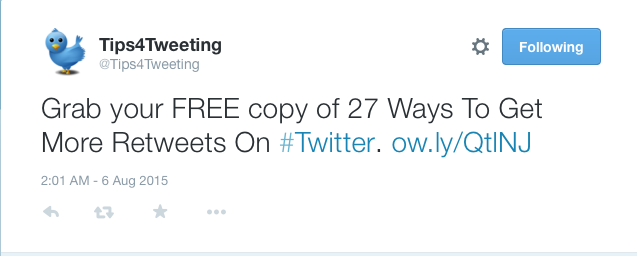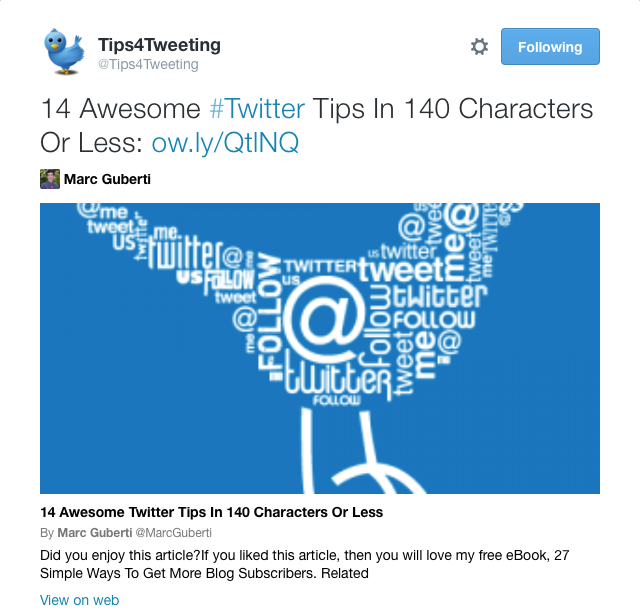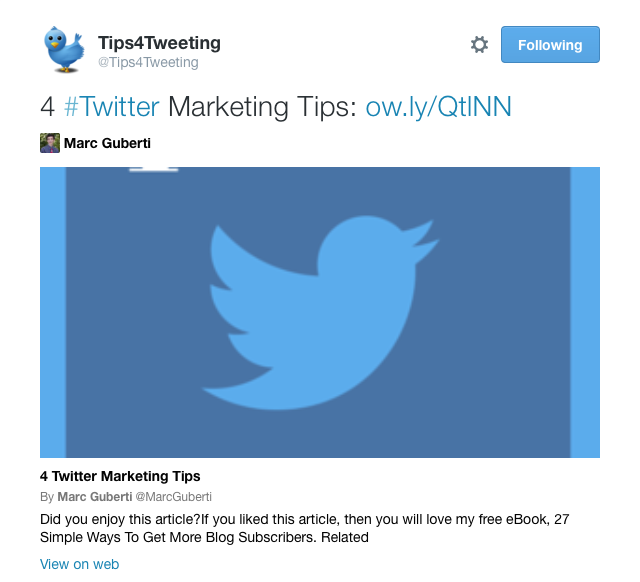 Those links lead to some of the blog posts on my blog. These tweets count as social signals for Google, and the tweets themselves also get some engagement.
I interact with my @Tips4Tweeting audience in the same way I interact with the people who follow my main account. While this is a great strategy for some people, it can eat up too much time for other people.
You shouldn't approach this method until you have at least 10,000 followers on a social network and have discovered a way to use that social network in the most time efficient way possible—either using time efficient tools or by outsourcing.
I am not alone. Some businesses have more than a dozen different accounts on the same social networks, and chances are you've heard of some of them.
Mashable
The Huffington Post
Twitter
MLB
NFL
Two things to note is that powerful businesses implement this method and that they all outsource the work. They have ridiculously deep pockets which makes it possible for them. That is why it is important for you to master one social network in a time efficient manner before you approach this advanced tip.
In Conclusion
Social signals are important for search engines. They result in search engines ranking your content higher. The result is more traffic from search engines but also more traffic from your social networks.
How do you get social signals? Do you think SEO is overrated? Which tips will you be implementing first? Have any other tips for us? Sound off in the comments section now!