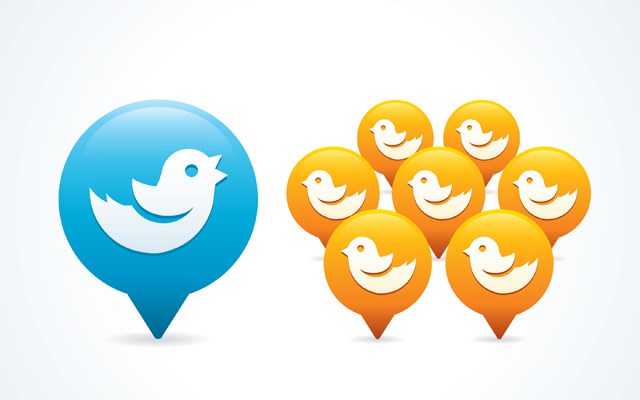 There are countless Google searches for phrases like, "How To Get More Twitter Followers," "How To Get More Twitter Followers Fast," and similar phrases as well. Searching through millions of articles can prove to be very tedious, and the more time you spend searching, the less time you spend implementing. I am going to end your searching journey by providing 10 real ways to get more Twitter followers. Instead of continuing to search for ways to get more Twitter followers, just implement these tactics.
Follow targeted people who are likely to follow back. If you want to be the rock star with 100,000 followers while only following a few of your friends, then I have some bad news. Unless you buy fake followers (that don't engage with you at all) or become a celebrity, that fantasy will not happen. You need to follow targeted people who are likely to follow you back so more people can know about you.
Spread on Twitter. In order to spread on Twitter, you need to have a larger audience that will retweet more of your tweets. However, a large audience is not a do or die stage towards getting a lot of retweets. You can get more retweets by tweeting content that people would want to retweet such as informative articles, news stories, or motivational quotes.

Here are some ways to boost your chances of getting more retweets

.
Strategically favorite and retweet other people's tweets. Sharing other people's content is powerful to build stronger connections with those people and get more followers at the same time. Since Twitter users send out 1 billion tweets every five days, there will be many tweets that are retweet worthy. However, it is important to avoid retweeting something just for the sake of retweeting it. Instead, retweet the tweets from people who you want to build strong connections with. There may be an expert in your niche with 100,000 followers who is following 60,000 people. Retweeting that person's tweets and interacting with that person may result in that person following you back, sharing their advice, and promoting your content later on.
Have a clear avatar of either you or your company's logo. Having the right avatar builds authority on a crowded social network. People will trust you more if you have a picture of yourself or your company's logo. If you have the default egg picture for your avatar, then that picture needs to get changed now.
Have a good background picture. This background picture needs to further emphasize what you do. If you are a social media expert, then your background picture needs to further emphasize that you are a social media expert. You can also pay for someone to design a professional background that has a call to action, one of your products being displayed, and/or your contact information (other social networks, email address, etc).
Have a powerful bio. Your bio is a very important factor that decides whether someone follows you or not. You have less than 10 seconds to impress someone with your 160 character bio. Your bio needs to explain what you do professionally, when you are not working, and some of your hobbies.

These are some tactics to help your bio shine

.
Be an active tweeter. Being an active tweeter will allow yourself to appear on more people's timelines at a greater frequency. If you tweet quality content, then your followers will enjoy receiving your tweets. You may wonder if being inactive may be a good thing. Being inactive means appearing on less people's timelines which makes you less likely to get unfollowed on Twitter. However, there are a variety of popular tools such as ManageFlitter (which, by the way, has over 2 million users) that identify all of the inactive tweeters that people are following. When inactive tweeters get identified, the people following those tweeters realize that those tweeters are not offering any valuable content. As a result, those inactive tweeters get unfollowed. You should be tweeting at least once every day, but I highly recommend tweeting as much as you can. I tweet once every 20 minutes because I am able to schedule my tweets in advance. Scheduling tweets in advance is also a great way to

get more engagement from your audience

.
Offer a giveaway. You don't need to give away a Mac Book Air to get more engagement and followers from this giveaway. All you need to do is give away a $25 Amazon Gift Card. As strange as it may sound, a $25 Amazon Gift Card is a better giveaway than $50 in cash. People make cash from their jobs so $50 won't mean much. However, they don't get as many Amazon Gift Cards. Hosting a giveaway once every quarter will give people who followed you for the giveaway a reason to continue following you. While these people continue to follow you, chances are some of them will turn into customers.
Have a blog. You can use this blog to promote your Twitter account, but more importantly, having a blog gives you a home on the web. You can write blog posts on your blog and then use Twitter to promote that blog. Then, when people visit your blog, you can include pictures of your products on your blog's sidebar so you turn your visitors into potential customers.
Tweet about the same topic 80% of the time. In order to get more followers, you need to focus most of your time on one topic. It is better to become the best person at one thing than it is to be decent at 10 things. In addition, your followers will not like it if you only tweet about sports on one day and then only tweet about fashion the following day. A confused follower clicks the unfollow button.
Your searching queries are now over. Instead of spending more time searching for ways to get more followers on Twitter, all you need to do is implement these tactics. No matter how much time you spend searching, there will be a point where you will have to implement what you learned. These are the tips to implement, and if you remain patient while implementing these tips, your following will eventually dramatically increase as the days go by.